Regional Dynamics in a Decentralized Indonesia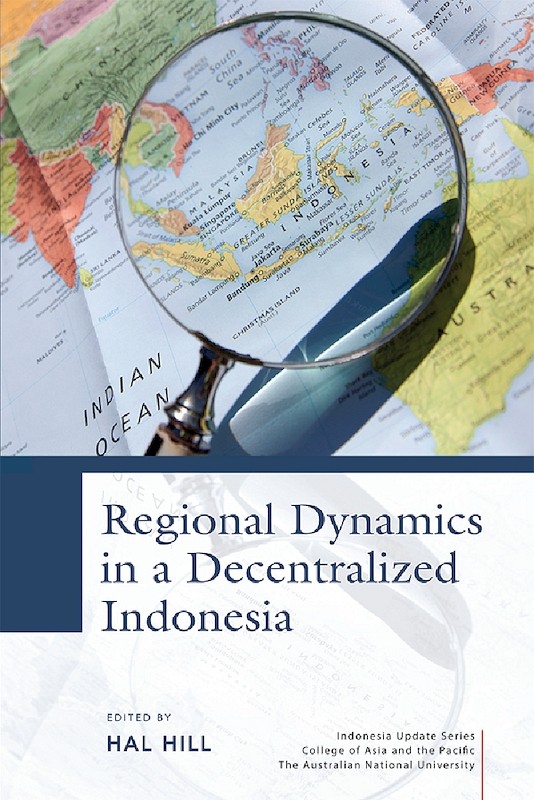 Date of publication:
2014
Publisher:
Institute of Southeast Asian Studies

Ebook is available
Reviews

Fadjar I. Thufail. Pacific Affairs. Vol 89:1, March 2016.

".... Such a diverse topic has made this edited book an indispensable and important reference to the study of decentralization in Indonesia. In fact, the book's important contribution goes beyond the study of Indonesian politics and economy. It stands as a critical comparative contribution to the literatures on similar processes of decentralization and centre-local relationships taking place in other countries in Asia, such as in the Philippines, Malaysia, Thailand, or India.

This book has done a good job of portraying and examining this process in post-New Order Indonesia."

Fikri Zul Fahmi, The Bulletin of Indonesian Economic Studies (BIES), Dec 2015.

"Indonesia's decentralisation and associated reforms have been complex and highly nuanced, and questions remain over whether decentralisation has in fact improve regional development. This edited book, which came out of the 2013 Indonesia Update conference at ANU, compiles interesting, high-quality studies of the implications of decentralisation for regional development dynamics amid Indonesia's enormous physical, socio-cultural, and economic geographies."

Journal of Current Southeast Asian Affairs

"Overall, the volume covers a wide range of political, socio-economic and urban issues, with methods from econometrics, spatial planning and environment approaches. The book also emphasises two important issues in decentralisation: 1) the asymmetrical autonomy of Aceh and Papua and how the special treatment of those two regions has influenced each region's development and 2) the movement of goods and the trading patterns between regions in Indonesia. Each chapter, with its respective focus on political, administrative and/or fiscal decentralisation, successfully captures certain dynamics of regional development. This includes urban issues in Jakarta, the politics of special autonomy in Aceh and Papua, and the diversity of economic structures among the many provinces and districts of Indonesia".

About the publication
Indonesia is the world's largest archipelagic state. In 2001 it embarked on a "big bang" decentralization involving a major transfer of administrative, political and financial authority to its districts, now numbering more than 500. Together with the rapid transition from authoritarian to democratic rule in the late 1990s, this initiative has transformed the country's political, social and business life. While national government is the major area of contestation, power has shifted irreversibly away from the centre. How this significantly increased regional autonomy works will have a crucial bearing on the future of the Indonesian nation-state.

This volume features contributions by over 40 writers with deep expertise on Indonesia. The book provides a timely, comprehensive and analytical assessment of the country's regional development dynamics in the post-decentralization environment. It explores historical, political and development patterns at the regional level; the relationship between decentralization and governance; local-level perspectives; migration, cities and connectivity; and the challenges confronting the peripheral regions of Aceh and Papua.

The e-chapter on "An Introduction to the Issues" by Hal Hill is downloadable free of charge.

Contents
Regional Dynamics in a Decentralized Indonesia
[Whole Publication, ISBN: 9789814519175], by Hal Hill,

author

PART I: HISTORICAL, ECONOMIC, POLITICAL AND SOCIAL PATTERNS

2. Before the 'big bang': Decentralization debates and practice in Indonesia, 1949-99, by Anne Booth,

author

3. Indonesia's decentralization: The rise of local identities and the survival of the nation-state, by Marcus Mietzner,

author

PART ii: DECENTRALIZATION AND GOVERNANCE

6. Twelve years of fiscal decentralization: A balance sheet, by Blane D. Lewis,

author

9. What determines the quality of subnational economic governance? Comparing Indonesia and Vietnam, by Neil McCulloch, Edmund Malesky,

authors

PART III: LOCAL-LEVEL PERSPECTIVES
PART IV: MIGRATION, CITIES AND CONNECTIVITY

13. Migration patterns: People on the move, by Salut Muhidin,

author

15. The dynamics of Jabodetabek development: The challenge of urban governance, by Tommy Firman,

author

PART V: CHALLENGES FOR INDONESIA'S PERIPHERY

19. Special autonomy, predatory peace and the resolution of the Aceh conflict, by Edward Aspinall,

author

20. Aceh's economy: Prospects for revival after disaster and war, by Peter McCawley,

author