Urbanization in Southeast Asia: Issues and Impacts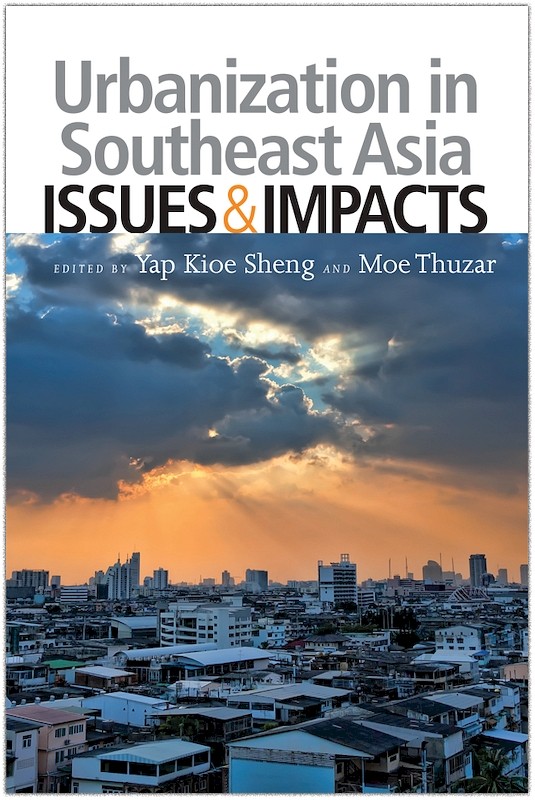 Date of publication:
2012
Publisher:
Institute of Southeast Asian Studies

Ebook is available
Reviews
"This book attempts to identify the challenges of urbanisation in Southeast Asia and promote strategies for sustainable economic growth. [It] also emphasises the importance of networks and cooperation among cities and local governments, and that environmental improvement in Southeast Asian cities should concern not only policies and regulation but also the politics and governance of policymaking itself. The book offers an excellent overview of the state of current urban landscape development in Southeast Asia... it would be valuable reading for urban planners, local governments, and other stakeholders" (Bulletin of Indonesian Economic Studies).

About the publication
Urbanization occurs in tandem with development. Countries in Southeast Asia need to build — individually and collectively — the capacity of their cities and towns to promote economic growth and development, to make urban development more sustainable, to mitigate and adapt to climate change, and to ensure that all groups in society share in the development. This book is a result of a series of regional discussions by experts and practitioners involved in the urban development and planning of their countries. It highlights urbanization issues that have implications for regional — including ASEAN — cooperation, and provides practical recommendations for policymakers. It is a first step towards assisting governments in the region to take advantage of existing collaborative partnerships to address the urban transformation that Southeast Asia is experiencing today.
---
"Urbanization in Southeast Asia: Issues and Impacts is a landmark study on the increasingly urbanized condition of Southeast Asia. It is important because it presents a powerful argument for the role of regional action in developing policy and practical responses to the challenges of urbanization. Thus it offers important lessons for other parts of the world. This study, written by expert authors from within the region, outlines the challenges of urban sustainability, liveability and economic growth that Southeast Asia faces in the 21st century. Thus it provides a valuable roadmap for all concerned with the future of urbanization in Southeast Asia."
—Professor Terry McGee
Professor Emeritus, University of British Columbia, Vancouver, B.C., Canada
Co-publication: Institute of Southeast Asian Studies
Institute of Southeast Asian Studies
Contents
Urbanization in Southeast Asian Countries: Issues and Impacts
[Whole Publication, ISBN: 9789814380041]

1. The Challenges of Promoting Productive, Inclusive and Sustainable Urbanization, by Yap Kioe Sheng, Moe Thuzar,

authors

CITIES AS ENGINES OF DEVELOPMENT

2. ASEAN Transport Policy, Infrastructure Development and Trade Facilitation, by Anthony Chin,

author

3. Competitive Cities and Urban Economic Development in Southeast Asia, by Toh Mun Heng,

author

4. Public-Private Partnerships and Urban Infrastructure Development in Southeast Asia, by Nutavoot Pongsiri,

author

5. Regional Cooperation and the Changing Urban Landscape of Southeast Asia, by Myo Thant,

author

INCLUSIVE CITIES

6. Addressing Urban Poverty in ASEAN: Diversity of Conditions and Responses, Unity of Purpose, by Anna Maria M. Gonzales,

author

7. The HDB Community: A Work in Progress, by Tan Ern Ser,

author

8. Rural-Urban and Intra-Urban Linkages in Southeast Asia: Old Field, New Dynamics, by Chuthatip Maneepong,

author

CITIES AND THE ENVIRONMENT

9. Climate Change and Southeast Asian Urbanization: Mitigation and Adaptation Considerations, by Victor R Savage ,

author

10. Urban Green Spaces and Liveability in Southeast Asia, by Tan Peng Ting,

author

11. Decentralized Waste Water Management for the Waste Water Revolution in Urban Areas to Support the Engines of Development in Southeast Asia, by Felix Seebacher, Ti Le-Huu,

authors

GOVERNANCE, DECENTRALIZATION, AND URBANIZATION

14. Governance and Accountability in Southeast Asian Cities, by Goh Ban Lee,

author

URBANIZATION FROM AN ASEAN PERSPECTIVE