Indonesia Assessment 1994: Finance as a Key Sector in Indonesia's Development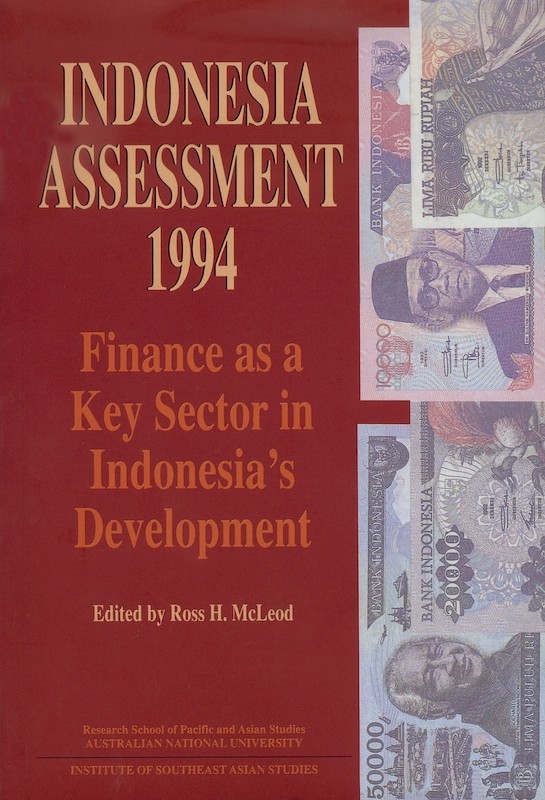 Date of publication:
1994
Publisher:
Institute of Southeast Asian Studies
About the publication
This volume is based on "Indonesia Update 1994", the latest in the series of anual conferences on Indonesia held at the Australian National University. It presents overviews of economic and political developments, together with a collection of papers on the role of the finance sector.Indonesia Assesment 1994 contains the Keynote Address to the conference by Professor Dr Ali Wardhana, Special Adviser to the President, former Minister of Finance, and former Coordinating Minister for Economics, Finance and Industry. Three present or former directors of the central bank joint Professor Wardhana to contribute wide-ranging discussions of the process of financial policy reform as seen from the inside. They are joined by a range of other contributors drawn mainly from academic circle in Indonesia, Australia and elsewhere, and some from the private sector.Indonesia Assesment 1994 provides the most complete available coverage of the current state of the financial sector in Indonesia and the policies which affect it. This volume will be an invaluable reference for policy-makers, academics, and all those interested in the finance sector and in economic and political developments in Indonesia. The editor is a Fellow at the ANU's Indonesia Project, with many years of research and consulting experience in the Indonesian financial system.
Contents
Indonesia Assessment 1994: Finance as a Key Sector in Indonesia's Development
[Whole Publication, ISBN: 9789814379458]

PART A: ECONOMIC & POLITICAL DEVELOPMENTS

3. Organising the Transition: Indonesian Politics in 1993/94, by Richard Robison,

author

PART B: FINANCE AS A KEY SECTOR IN INDONESIA'S DEVELOPMENT - (I) THE REFORM PROCESS

4. Financial Reform: Achievements, Problems & Prospects, by Ali Wardhana,

author

6. The Sequencing of Economic Deregulation in Indonesia, by George Fane,

author

PART B: FINANCE AS A KEY SECTOR IN INDONESIA'S DEVELOPMENT - (II) MONETARY & EXCHANGE RATE POLICY

7. Problems of Implementing Monetary Policy in Indonesia, by Boediono,

author

PART B: FINANCE AS A KEY SECTOR IN INDONESIA'S DEVELOPMENT - (III) BANKING SECTOR REFORMS

8. Banking Sector Reforms in Indonesia, 1983-93, by Anwar Nasution,

author

9. Bank Soundness Requirements: A Central Bank Perspective, by Hendrobudiyanto,

author

10. Bank Soundness Requirements: A Commercial Bank Perspective, by Manggi Habir,

author

PART B: FINANCE AS A KEY SECTOR IN INDONESIA'S DEVELOPMENT - (IV) DOMESTIC & INTERNATIONAL CAPITAL MARKETS

13. Indonesian Capital Market Development & Privatisation, by David K. Linnan,

author

V SMALL SCALE FINANCE