Indonesia beyond the Water's Edge: Managing an Archipelagic State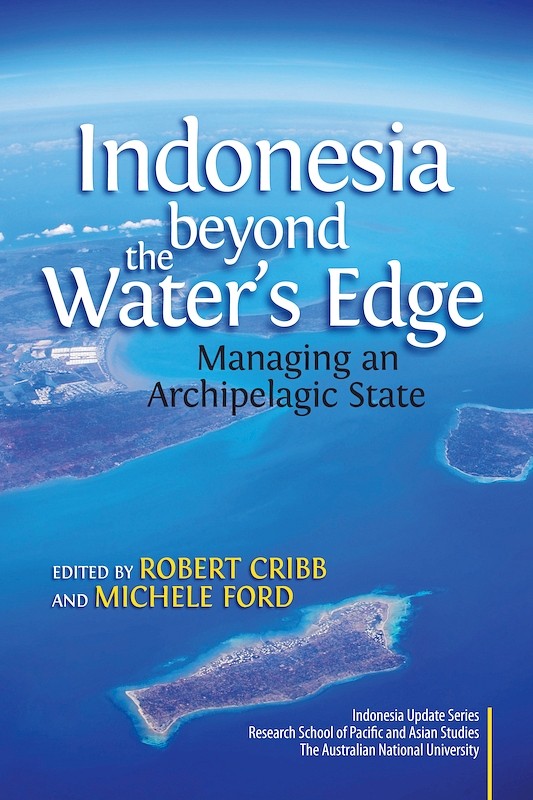 Date of publication:
2009
Publisher:
Institute of Southeast Asian Studies

Ebook is available
Review
"Delivering an update implies that the focus is on current affairs. Accordingly, the volume does not present much historical analysis, although most of the topics have long-term dimensions. This does not preclude the significance of these essays for historians. The topical essays may suggest research into the continuities and discontinuities from colonial times to the present. This also regards the concept of an archipelagic state, which has its preconditions in the maritime world of pre-colonial and colonial eras. The volume also provides a clear overview of early twenty-first-century maritime conditions of Indonesia for future historians" (
International Journal of Maritime History
).
"The mix of both Indonesian and non-Indonesian contributors brings to light a range of considerations and optics. There is no conventional conclusion but, as the editors herald in the introduction, if Indonesia's maritime management has been technologically 'dismaying', its political efforts in the creation of a maritime regime have been impressive. In a similar vein, we could also conclude that Australia has not been entirely reactive in its maritime policies as well. This collection adds up to a valuable resource, enhanced by visually good maps and graphics" (Asian Affairs).
"This collection of essays examines how the world's largest archipelagic state manages its territorial and jurisdictional rights -- and obligations -- over the sea. Written by eminent Indonesian and Australian scholars, officials and others -- the book remains a comprehensive source for understanding ocean management in Indonesia. The book covers maritime boundaries; the development of archipelagic principles in international law; the establishment of Indonesia's archipelagic sea-lanes; the extension of the outer limit of Indonesia's continental shelf; shipping and maritime safely; law enforcement; and marine conservation" (Bulletin of Indonesian Economic Studies).
"... this volume on managing Indonesia's territorial sea tackles a subject of central significance to Indonesia's domestic and foreign outlook, but one that may not have garnered the attention from Indonesia watchers that it deserves. It may be unavoidable that there is occasional overlap between chapters in this volume, but this remains a nicely crafted book. The introduction in particular is a well-written scene setter for the substantive chapters and does a remarkable job of weaving the themes into a single narrative rather than the more standard blow-by-blow summary of chapters one usually finds in edited volumes" (New Zealand Journal of Asian Studies).

About the publication
Indonesia is the world's largest archipelagic state, with more than 18,000 islands and over 7.9 million square kilometres of sea. The marine frontier presents the nation with both economic opportunities and political and strategic challenges. Indonesia has been affected more than most countries in the world by a slow revolution in the management of its waters. Whereas Indonesia's seas were once conceived administratively as little more than the empty space between islands, successive governments have become aware that this view is outmoded. The effective transfer to the seas of regulatory regimes that took shape on land, such as territoriality, has been an enduring challenge to Indonesian governments. This book addresses issues related to maritime boundaries and security, marine safety, inter-island shipping, the development of the archipelagic concept in international law, marine conservation, illegal fishing, and the place of the sea in national and regional identity.
Contents
Indonesia beyond the Waters Edge: Managing an Archipelagic State
[Whole Publication, ISBN: 9789812309815]

2. Becoming an Archipelagic State: The Juanda Declaration of 1957 and the "Struggle" to Gain International Recognition of the Archipelagic Principle, by John G Butcher,

author

5. Extending Indonesia? Opportunities and Challenges Related to the Definition of Indonesias Extended Continental Shelf Rights, by I Made Andi Arsana,

author

6. Indonesian Port Sector Reform and the 2008 Shipping Law

7. Piracy and Armed Robbery against Ships in Indonesian Waters

8. The Indonesian Maritime Security Coordinating Board, by Djoko Sumaryono,

author

10. Governance in Indonesia's Marine Protected Areas: A Case Study of Komodo National Park, by Rili Djohani,

author

11. Rising to the Challenge of Providing Legal Protection for the Indonesian Coastal and Marine Environment, by Sarah Waddell,

author

12. Legal and Illegal Indonesian Fishing in Australian Waters, by James J Fox,

author