The Impact of State Restructuring on Indonesia's Regional Economic Convergence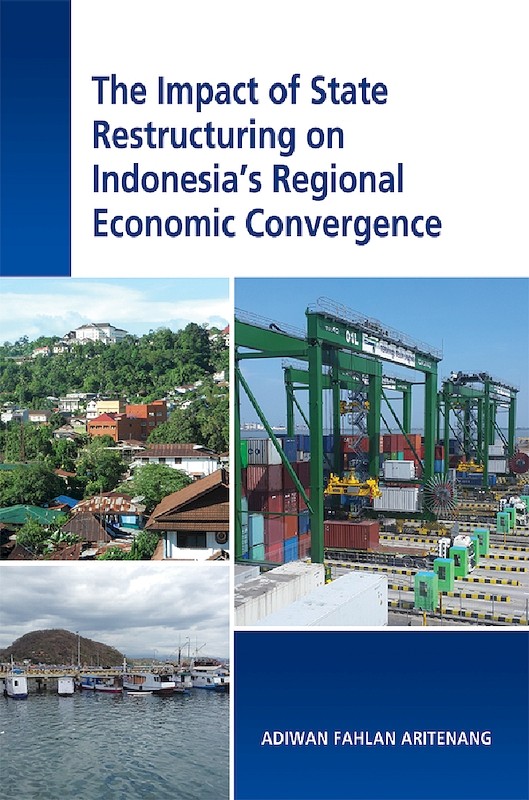 Date of publication:
2016
Publisher:
ISEAS – Yusof Ishak Institute

Ebook is available
Review
Robert L. Curry Jr. Pacific Affairs, Vol. 90, No, 4, Dec 2017.
"The author identifies and brings together in a creative way two key concepts: state restructuring and economic convergence. The main task he undertakes in the book is to show that there are linkages between Indonesia's state restructuring and its national economic convergence, as well as with the broader economic convergence taking place among some Southeast Asia economies. Aritenang undertakes his task by analyzing the country's restructuring activities at both the local and national levels. This is no easy feat because the factors responsible for restructuring are neither simple nor apparent. Despite the difficulties, Aritenang does identify the variables: the key one is Indonesia's decision to move aways from centralized government regime towards one that exhibits more decentralization.
The author's writing is compact: it requires a disciplined reading but the effort is worthwhile. The book is well researched and thoughtful. It will interest policy analysts, academics, and advanced students. Not only is the book creative and scholarly, it is also practical and timely.
Aritenang's research conclusions offer a set of ideas that could aid policy makers. The ideas conform to the visions underlying both OTOP and the AEC: that is, it's wise to take advantage of local human and physical resources, knowledge, and institutions, because doing so leads to long-run comparative advantages, lower market prices, a movement towards economic convergence, and most of all, enhanced economic wellbeing."
About the publication
The creation of ASEAN Free Trade Area (AFTA) in 1992 and decentralization in 1999 mark the state restructuring in Indonesia. This book analyses the impact of state restructuring on regional economic development in Indonesia between 1993 and 2010. Regional economic analysis shows persistent and severe regional disparities throughout the period. Particularly, econometrics study found that decentralization has accelerated regional disparities whilst the AFTA effect is insignificant on regional economic growth.
Furthermore, historical institutionalism analysis on two cities — the manufacturing industry in Batam and the creative economy in Bandung — shows that past and embedded local institutions provide the capacity to adapt and create new development paths. The book suggests the importance of local-specific policies that embrace local knowledge and institutions to develop regional specialization and competitive advantage. This book fills the gap in Indonesian literature that lacks studies on the integrated impact of decentralization and trade liberalization, both economically and politically.
Contents
The Impact of State Restructuring on Indonesia's Regional Economic Convergence
[Whole Publication, ISBN: 9789814620383], by Adiwan Aritenang,

author

2. State Restructuring and Regional Convergence: A Review of Theories and Debates

3. Indonesia and Its Regional Development Since the 1980s: An Inheritance from the New Order Regime

4. Dynamics of Regional Economic Convergence

5. Decentralization and the ASEAN FTA Impact on Regional Economic Convergence

6. The Institutional Effects on Regional Policies and Development: A Historical Institutionalist Perspective

7. State Restructuring in Indonesia: Towards a Balanced Regional Economic Development