Asian Development Experience Vol. 2: The Role of Governance in Asia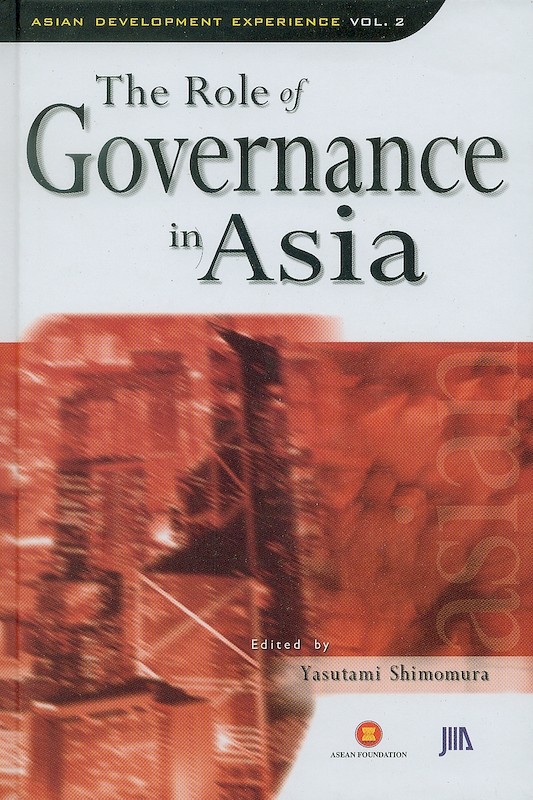 Date of publication:
2004
About the publication
This volume investigates the missing link, the complicated realities of the relations between governance and development through case studies of ASEAN countries. Its main objective is to explore a theoretical framework to overcoming the limitations of mainstream approaches by employing case studies on decentralization, crisis management, corporate governance and foreign aid management of both public and private entities.

From the beginning of the 1990s onwards, the international aid community has increasingly stressed that good governance, together with democracy and protection of basic human rights, is indispensable for sustainable economic development. The terms, however, are complex, broad, and arguable. They largely refer to discipline of government institutions and the capacity of the public sector.

While a wide variety of empirical studies has been done on the relations between good governance and development, it is still unclear how the differences in governance influence development performance in a real world.






Contents
Asian Development Experience Vol. 2: The Role of Governance in Asia

1. Regional Governance in Asia: Comparative Analysis of Experiments of Decentralization and Deconcentration in Indonesia, Thailand and Korea, by Hideaki Shiroyama,

author

3. Local Governance in Indonesia's Decentralization Era: Prospects and Challenges, by Tommi A Legowo,

author

4. Corporate Governance in Indonesia: A Study on Governance of Business Groups, by Yuri Sato,

author

5. Governance Factors in Indonesian Economic Development, by Juichi Inada,

author

6. In Search of En dogenous Elements of Good Governance: The Case of the Eastern Seaboard Development Plan in Thailand, by Yasutami Shimomura,

author

7. Health Sector Management and Governance in Thailand, by Kyoko Kuwaijima,

author

8. Economic Viability and Local Governance: The Political Economy of Decentralization in the Philippines, by Jorge V Tigno,

author

9. Economic Governance in Malaysia and its Links with the Asian Crisis, by Mahani Zainal Abidin,

author

10. State Bureaucrats, Economic Development, and Governance: The Case of Singapore, by Ikuo Iwasaki,

author

Other Books in this Series