Indonesia Rising: The Repositioning of Asia's Third Giant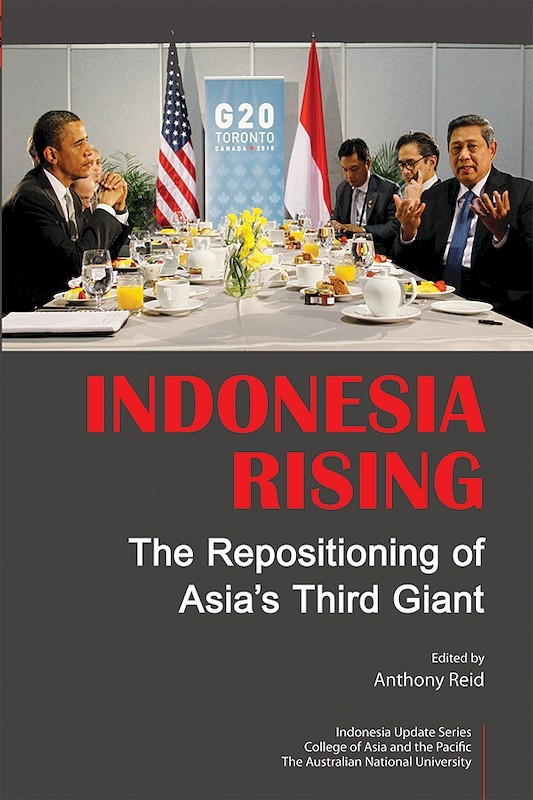 Date of publication:
2012
Publisher:
Institute of Southeast Asian Studies

Ebook is available
Review
"Indonesia has been rising rapidly in the global stakes. Indonesia Rising, a collection of nine talks by experts made into short essays and edited by Anthony Reid of the Australian National University, is a primer for those trying to assess its new significance. Reid explains that the book is 'intended to weigh the arguments about Indonesia's present and future standing in the world today'. Anthony Reid, in his introductory essay, puts his finger on why the West has been somewhat slow to pay attention to Indonesia's rise. Indonesia, he explains, is one of the least effective countries in the world at explaining itself to the world. This is a pity because Indonesia under President Yudhoyono 'has sought to be a good international citizen with a "million friends and zero enemies"'. Indonesia's rise is not just economic. It is the way in which its 240 million people have enthusiastically embraced democracy, devolution and an open society. These are subjects that the book might usefully have addressed in more detail. However, the book does an expert and much needed job of setting out key aspects of Indonesia's international position today. It will be of considerable benefit to those doing their homework on the country" (Asian Affairs).

"For years, many have anticipated Indonesia's rise as an economic power and an important player in international affairs. Keating (2010) used the term 'the Indonesian tiger' and Roubini (2011) enthusiastically pronounced 'goodbye China, hello Indonesia' (in Reid, 2012). Amid this optimism, Anthony Reid's edited book, referring to 'Indonesia's rise' in quotes, presents a more balanced, and often contrasting, portrayal of the country's current state by engaging the perspectives of various experts. This volume provides more than an update on Indonesia. It raises a key question on whether the country, nearly seven decades after its independence, has yet to address fundamental issues that propelled its founding. As Reid observers, Indonesia based its national identity on the anti-imperialist struggle, rather than past achievements or its many cultures (p. 7). An imagination of a foreign entity, whether ally or enemy, echoes throughout the different sectors each chapter focuses on. How this unfolds in the future will depend on how the next leader uses this to his or her advantage. This warrants revisiting Reid's closing statement in the opening chapter alluding to the idea that Indonesia's 'lack of self-assurance' may be ending, 'with consequences that may not be stabilizing for the region' (p. 12)" (Bijdragen tot de Taal-, Land-en Volkenkunde).


About the publication
There are reasons for thinking that this is at last Indonesia's moment on the world stage. Having successfully negotiated its difficult transition to democracy after 1998, Indonesia has held three popular elections with a low level of violence by the standards of southern Asia. Recently its economic growth rate has been high (above 6 per cent a year) and rising, where China's has been dropping and the developed world has been in crisis. Indonesia's admission in 2009 to the G20 club of the world's most influential states seemed to confirm a status implied by its size, as the world's fourth-largest country by population, and the largest with a Muslim majority. Some international pundits have been declaring that Indonesia is the new star to watch, and that its long-awaited moment in the sun may at last have arrived.
Those who know Indonesia well, like the experts writing in this book, are less easy to convince. In this volume they weigh the economic evidence (Ross Garnaut and M. Chatib Basri); the political equation between democracy and the massive obstacles to progress in corruption, inefficiency and legal inadequacies (Rizal Sukma and Donald K. Emmerson); and Indonesia's unrealized potential as a leader in matters environmental (Frank Jotzo) and Islamic (Martin van Bruinessen). The volume is rounded out by Scott Guggenheim's analysis of the potential for better performance in education, and by the longer-term considerations of Anthony Reid and R.E. Elson. Overall, the conclusion is one of cautious optimism, well aware of past disappointments.
---
"Perhaps, as the contributors to this eminently readable and thought-provoking volume suggest, Indonesia is finally emerging as the globally significant nation-state that it surely is. A timely and important publication that deserves to be widely read."
— Hal Hill, H.W. Arndt Professor of Southeast Asian Economies, The Australian National University
Contents
Indonesia Rising: The Repositioning of Asia's Third Giant
[Whole Publication, ISBN: 9789814380416]

1. Indonesia's New Prominence in the World, by Anthony Reid,

author

2. Indonesia in the New World Balance, by Ross Garnaut,

author

3. Indonesia's Role in the World Economy: Sitting on the Fence, by M Chatib Basri,

author

5. Domestic Politics and International Posture: Constraints and Possibilities, by Rizal Sukma,

author

6. Can Indonesia Lead on Climate Change?, by Frank Jotzo,

author

8. indonesia's Quiet Springtime: Knowledge, Policy and Reform, by Scott Guggenheim,

author

9. Problems of Identity and Legitimacy for Indonesia's Place in the World, by R E Elson,

author