Post-Soeharto Indonesia: Renewal or Chaos?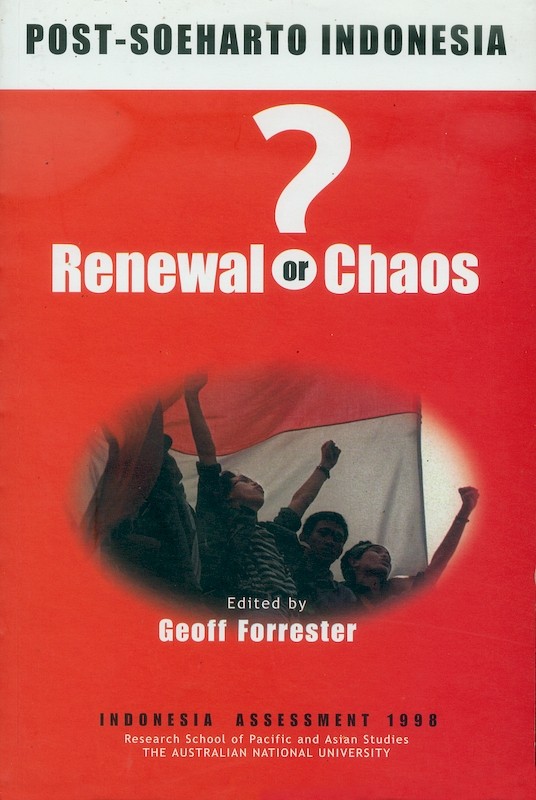 Date of publication:
2000
Publisher:
ISEAS / KITLV / Crawford / SMP
Reviews
"... the diversity of backgrounds and responsibilities of the authors -- journalists, academics, Australian and Indonesian officials, politicians, and policy intellectuals -- assures a diversity of explication of the empirical facts and interpretation of their significance." R. William Liddle in The Bulletin of Indonesian Economic Studies.
About the publication
Indonesia's economy has been ravaged by the Asian economic crisis. Its leader for 32 years, President Soeharto, was forced from office in May 1998 amidst rioting and student demonstrations. What are Indonesia's prospects over the next ten years?
This book examines the political and economic trends which are shaping Indonesia's future.
The contributors are leading politicians, business people -- academics and international journalists with a deep knowledge of Indonesia. They include Dr Dewi Fortuna Anwar, Assistant to the Secretary of State for Foreign Affairs and adviser to Soeharto's successor, President Habibie. Another contributor is Dr Amien Rais, a potential candidate for the presidency in the 1999 General Elections. Sofjan Wanandi, a leading Indonesian businessman, reports on the current business environment. Professor Jamie Mackie of the Australian National University discusses the Chinese problem. (For customers in Europe, a soft-cover edition [ISBN 90.6718.144.7] is available from KITLV. For customers in Australia and New Zealand, a soft-cover edition [ISBN 1-86333-175-1] is available from Crawford House Publishing. For customers in North America and Hong Kong, a hard-cover edition is available from St Martin's Press.)


Co-publication: ISEAS / KITLV / Crawford / SMP
Institute of Southeast Asian Studies / KITLV Press / Crawford House / St Martin's Press