Gender Equality and Diversity in Indonesia: Identifying Progress and Challenges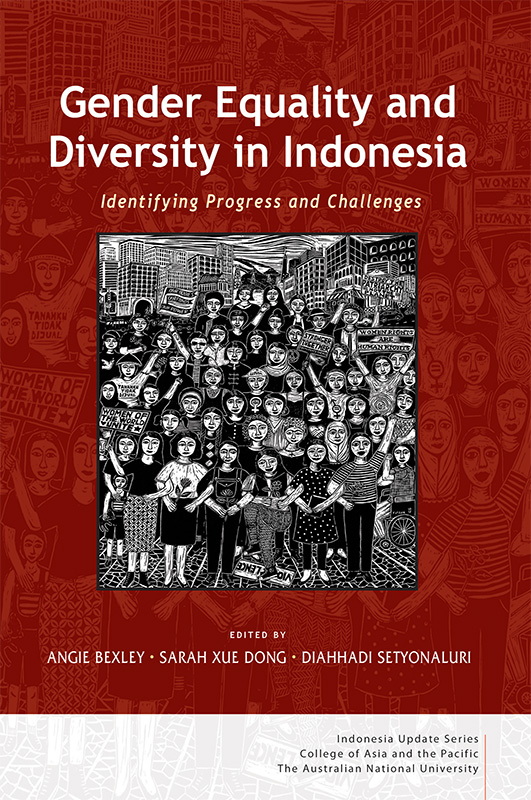 Date of publication:
2023
Publisher:
ISEAS – Yusof Ishak Institute

Ebook is available
About the publication
Over the past 20 years, gender relations and the expression of power and authority between men and women in Indonesia have been shaped by the forces of reformasi, decentralisation, a reassertion of central power, and economic transitions. These changes have given rise to policy reform, an increase in women's political representation, and new expressions of diverse gender identities. But to what extent has the 'gender order' of the New Order, where women's role as a mother was the basis of citizenship, been challenged or just found new articulations? What shape do contemporary contestations to gendered power take? The chapters in this volume bring gender to the centre stage and provide reflections on the political, economic, social, and cultural progress and barriers in achieving gender equality and diversity in Indonesia.
Contents
PART 1: GENDER IDEOLOGIES: PUBLIC AND PRIVATE REALMS

2. Dismantling the Old Gender Order: A Work in Progress, by Kathryn Robinson,

author

3. Gendering Islamic and Islamist Movements in Contemporary Indonesia: KUPI Gender-Just Ulama and Hijrah Movements, by Eva F Nisa,

author

4. Transgender Citizenship and Public Gender in Indonesia, by Benjamin Hegarty,

author

5. Gender Diversity in Parliament, Cabinet and Ambassadorial Appointments: A Work in Progress?, by Ella S Prihatini,

author

PART 2: ECONOMIC EQUALITY: OPPORTUNITIES AND LIMITATIONS

8. Women and Digitisation: Promises and Challenges of Internet Use in the Indonesian Labour Market, by Niken Kusumawardhani,

author

PART 3: SOCIAL POLICY REFORMS AND AGENDAS: CHALLENGES TO POLICY IMPLEMENTATION

10. In Anticipation of Perennial Contestation: Progress and Challenges to National Laws and By-Laws Concerning Sexual Violence and Sexuality in the Reformasi Era, by Andy Yentriyani,

author

11. Indonesia's Social Protection Landscape: Women, Exclusion and Deservingness in Social Assistance, by Vania Budianto,

author

PART 4: GENDER EXPRESSION, REPRESENTATION AND PRACTICE

13. Perempuan Mengkaji Seni: Gender, Activism and Indonesian Visual Arts, by Wulan Dirgantoro,

author

15. Male Caregiver Protagonists on the Silver Screen: A Middle-Class Biased Shift of Ideal Masculinity, by Evi Eliyanah,

author

List of Indonesia Update Series