Democracy in Indonesia: From Stagnation to Regression?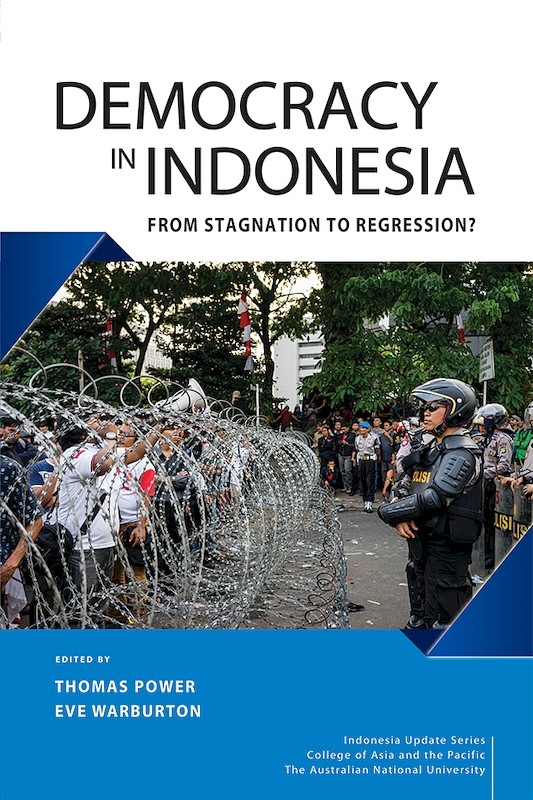 Date of publication:
2020
Publisher:
ISEAS – Yusof Ishak Institute

PDF is available
Review
R. William Liddle, Asian-Pacific Economic Literature, 2021.
"How far has Indonesian democracy regressed during the administration of President Joko Widodo (Jokowi), 2014 - present, after stagnating during the two terms (2004 - 2014) of President Susilo Bambang Yudhoyono (SBY)?
This is the central question of this book, based on papers presented at the 2019 annual Indonesia Update at the Australian National University. Answering it requires us to accept many premises, some or all of which may be false. Comparative and historical introductory chapters by Allen Hicken and Dan Slater are a helpful start. Hicken assesses Indonesia's democracy as 'generally healthy', but warns of two vulnerabilities: 'weak political parties and high levels of electoral clientelism' and, most troubling, 'the increasingly polarized political and social environment' (p.43).
Slater reminds us of 'the egalitarian version of the nation that the country's revolutionary generation first defined ... which takes a long time to build.' .... Slater's case is powerfully made by Power in his signature chapter 'Assailing accountability.'
About the publication
Indonesia has long been hailed as a rare case of democratic transition and persistence in an era of global democratic setbacks. But as the country enters its third decade of democracy, such laudatory assessments have become increasingly untenable. The stagnation that characterized Susilo Bambang Yudhoyono's second presidential term has given way to a more far-reaching pattern of democratic regression under his successor, Joko Widodo.
This volume is the first comprehensive study of Indonesia's contemporary democratic decline. Its contributors identify, explain and debate the signs of regression, including arbitrary state crackdowns on freedom of speech and organization, the rise of vigilantism, deepening political polarization, populist mobilization, the dysfunction of key democratic institutions, and the erosion of checks and balances on executive power. They ask why Indonesia, until recently considered a beacon of democratic exceptionalism, increasingly conforms to the global pattern of democracy in retreat.
Contents
Democracy in Indonesia: From Stagnation to Regression?
[Whole Publication, ISBN: 9789814881524], by Thomas Power, Eve Warburton,

editors

PART 1: HISTORIC AL AND COMPARATIVE PERSPECTIVES

2. Indonesia's Democracy in a Comparative Perspective , by Allen Hicken,

author

3. Indonesia's Tenuous Democratic Success and Survival , by Dan Slater,

author

PART 2: POLARISATION AND POPULISM

4. How Polarised Is Indonesia and Why Does It Matter? , by Eve Warburton,

author

5. Divided Muslims: Militant Pluralism, Polarisation and Democratic Backsliding , by Nava Nuraniyah,

author

6. Is Populism a Threat to Indonesian Democracy? , by Liam Gammon,

author

PART 3: POPULAR SUPPORT FOR DEMOCRACY

8. Electoral Losers, Democratic Support and Authoritarian Nostalgia , by Burhanuddin Muhtadi,

author

PART 4: DEMOCRATIC INSTITUTIONS

10. Indonesian Parties Revisited: Systemic Exclusivism, Electoral Personalisation and Declining Intraparty Democracy , by Marcus Mietzner,

author

11. The Media and Democratic Decline, by Ross Tapsell,

author

13. A State of Surveillance? Freedom of Expression under the Jokowi Presidency , by Ken M.P. Setiawan,

author

PART 5: LAW, SECURITY AND DISORDER

14. Assailing Accountability: Law Enforcement Politicisation, Partisan Coercion and Executive Aggrandisement under the Jokowi Administration , by Thomas Power,

author

15. In the State's Stead? Vigilantism and Policing of Religious Offence in Indonesia , by Sana Jaffrey,

author