The Indonesian Economy in Transition: Policy Challenges in the Jokowi Era and Beyond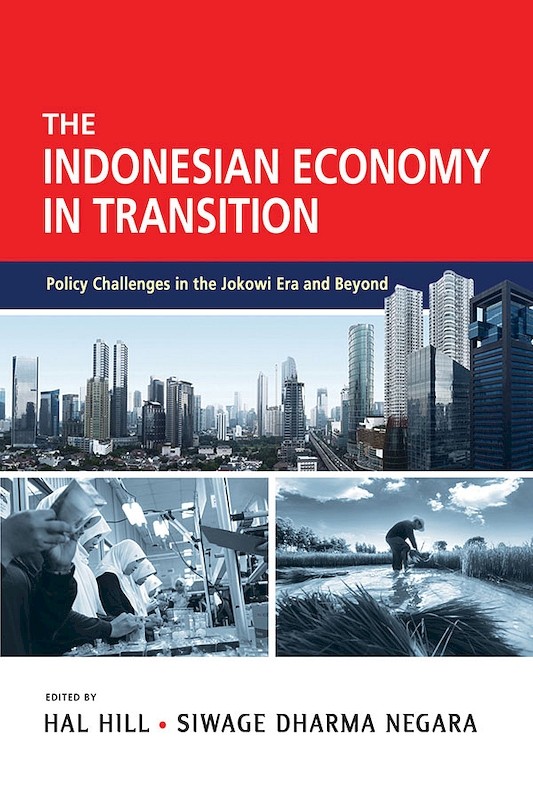 Date of publication:
2019
Publisher:
ISEAS – Yusof Ishak Institute

Ebook is available
Review
Yuri Sato, International Journal of Asian Studies, 2020.
"This book is a collection of papers addressing key dimensions of the Indonesian economy in the era of President Joko Widodo (Jokowi), particularly the first 3 years of his administration.
The book comprises an editor's overview (chapter 1) followed by fourteen chapters by 23 authors, mostly Indonesians, discussing respectively, developmentalism, macroeconomic management, fiscal decentralization, the financial system, trade policy, the manufacturing sector, the service sector, infrastructure, education, the labor market, poverty reduction, social protection, food policy, and environmental policy. Overall, it offers a multifaceted understanding of Indonesia's current economic position, particularly because most authors compare the country's performance under Jokowi with that under preceding administrations, and with that of peer countries in Asia.
The book brings many valuable insights [and] ... is essential for anyone interested in the Indonesian economy."
Anne Booth, Southeast Asia Research, March 2020.
"This volume originated from a conference held in Singapore in March 2018, the purpose of which was to review the achievements of the Jokowi administration up to 2018 and to set out policy challenges for the future.
To sum up, this book deserves the attention of all those with an interest in Indonesia's economic and social development over the last twenty years and the policy challenges which face Jokowi in his second term.
In his thoughtful remarks in the forward to this volume, former vice-president Boediono stresses the need for longer-term planning for education, infrastructure and bureaucratic reform; he also argues that it is time for a radical restructuring of the cabinet, with the co-ordinating ministers having much tighter control over the various ministries under their jurisdiction. He advocates the establishment of a stronger independent audit office. The extent to which Jokowi is either willing or able to implement these suggestions remains to be seen."
Howard Dick, Bulletin of Indonesian Economic Studies, Vol 55, No. 2, 2019.
"ANU emeritus Hal Hill and ISEAS fellow Siwage Dharma Negara ... have brought together a new cast of 26 authors, mostly Indonesians, in order to review the nation's economy 20 years and five presidents after the New Order. Resulting from a 2018 ISEAS conference,'The Indonesian Economy under Jokowi: A New Development Model?', this book of 15 chapters raises a broad set of questions about the trajectory of the Indonesian economy, no longer a 'basket case' but a large, middle-income economy of G20 size and status.
This book and its diverse chapters offer many insights into policy-making under the first Jokowi administration and should be a useful addition to any library on Indonesia."


Iwan Jaya Azis, Asia-Pacific Economic Literature, Vol. 33 Issue 2, 2019.
"A volume written by an array of different authors, each focusing on different topics, always represents a challenge. Hal Hill and Siwage Negara have taken up that challenge and do a good job in providing introductory and summary background of the various chapters in The Indonesian Economy in Transition: Policy Challenges in the Jokowi's Era and Beyond ....
The Indonesian Economy in Transition is a treat for those interested in Indonesia's recent policy and progress. The selection and coverage of the topics make it particularly useful and, therefore, it is recommended to both academics and policymakers interested in policy trends and transition of the Indonesian economy in the Jokowi era and beyond.
About the publication
By any indicator, Indonesia, the fourth most populous nation on earth, is a development success story. Yet 20 years after a deep economic and political crisis, it is still in some respects an economy in transition. The country recovered from the 1997–98 crisis and navigated the path from authoritarian to democratic rule surprisingly quickly and smoothly. It survived the 2008–09 global financial crisis and the end of the China-driven commodity super boom in 2014 with little difficulty. It is now embarking on its fifth round of credible national elections in the democratic era. It is in the process of graduating to the upper middle-income ranks. But, as the 25 contributors to this comprehensive and compelling volume document, Indonesia also faces many daunting challenges — how to achieve faster economic growth along with more attention to environment sustainability, how to achieve more equitable development outcomes, how to develop and nurture stronger institutional foundations, and much else.
"This is a timely and much-needed book. There are very few recent books on Indonesia with such a comprehensive analysis of not just mainstream economic policies, but also most importantly the key issues of human capital, inequality, social welfare, labour, food security and natural resource management. This book will not only be crucial for policy discourse but for all stakeholders who care about Indonesia making the transition not only to a high-income economy, but an inclusive one."
— Mari Pangestu, Faculty of Economics and Business, University of Indonesia
"The Indonesian Economy in Transition: Policy Challenges in the Jokowi Era and Beyond is one of the most important books that discusses the Indonesian economy post–Asian Financial Crisis. A must-read for anyone who wants to understand contemporary Indonesian economy."
— M. Chatib Basri, former Minister of Finance of Indonesia
Contents
The Indonesian Economy in Transition: Policy Challenges in the Jokowi Era and Beyond
[Whole Publication, ISBN: 9789814843102], by Hal Hill, Siwage Dharma Negara,

editors

2. A New Developmentalism in Indonesia?, by Eve Warburton,

author

7. Trends in the Manufacturing Sector under the Jokowi Presidency: Legacies of Past Administrations, by Ari Kuncoro,

author

12. Cards for the Poor and Funds for Villages: Jokowi's Initiatives to Reduce Poverty and Inequality, by Asep Suryahadi, Ridho Al Izzati,

authors

13. Distributional Politics and Social Protection in Indonesia: Dilemma of Layering, Nesting and Social Fit in Jokowi's Poverty Policy, by John McCarthy, Mulyadi Sumarto,

authors