Debating Democratization in Myanmar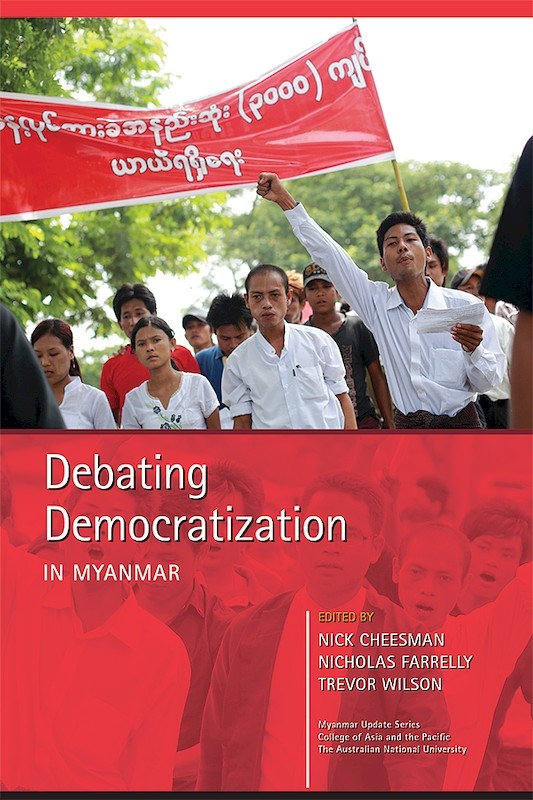 Date of publication:
2014
Publisher:
Institute of Southeast Asian Studies

Ebook is available
Review
Michael. C. Williams. International Affairs 91:3, 2015.

".... The realities of these momentous changes are assessed in a series of wide-ranging essays in Cheesman, Farrelly and Wilson's Debating democratization in Myanmar. With 18 chapters, seven written by Burmese scholars, it suffers, like many conference volumes, from unnecessary overlaps at times. That said, the editors are to be congratulated for one of the most impressive assessments to date of the reform process in the country, covering the economy, police and military reform, women and labour. The breadth of discussion pays tribute to the greater ease of access for foreign scholars, one of the many side benefits of the reform process."

The book brings together papers from the Australian National University Annual Burma Update in 2013 and a policy workshop in 2014. Inevitably, some of the papers suffer from the fast pace of events in Myanmar itself but there is still much here that stands the test of time. The chapter on women, 'Engendering development in Myanmar' by Mar Khin Mar Mar Kyi, is one of several that are likely to do so. "

Matthew J. Walton. Pacific Affairs: Volume 88, No. 4, Dec 2015.

"One of the most promising aspects of the work is the significant number of Burmese contributors, something that will hopefully become a trend in other scholarly compilations. ... The first section contains some of the most interesting work of the whole book. ... Kyaw Soe Lwin's excellent study of labour protests and related violence argues that, while an increase in political space and support from activist groups has contributed to an increase in labour protests, an additional key determining factor was the concentration of workers, which "produced a feeling of solidarity." (152)

Renaud Egreteau's chapter on the continuing political salience of the military sought to be re-read on a regular basis by anyone inclined to put too much faith in the ability of the quasi-civilian government to press reforms. ... Not only can Myanmar's transition be better understood by moving beyond empirical descriptions, but studies of the country could also contribute to developing or refining theories of transitions, democracy, military rule and economic sequencing, to name just a few areas. Two notable examples here are Egreteau's contribution and the thought-provoking concluding chapter by editor Nick Cheesman on democratization and political violence."

Australian Outlook

"This volume, drawn from the ANU's 2013 Myanmar Update, is a good example of the real, if cautious, optimism that seizes many observers of political change in Myanmar today. The book adopts a broad interpretation of democracy, looking not just at core democratic institutions such as the parliament and the electoral systems, but also the military, the police, and broader issues of labour rights, gender and the all-important issue of ethnic relations in what is stilll one of the most conflict-prone states in Asia. There is no doubt that there is much to be optimistic about. The 2010 rapprochement between incumbent President Thein Sein and the pro-democracy leader Aung San Suu Kyi has endured, if not always consistently or easily. Political prisoners have been freed (although some still remain) and the Parliament established in 2008 is more than just a rubber-stamp for the executive. The military remain dominant but may yet be persuaded to give up their 25 per cent of parliamentary seats and return to the barracks. Civil society is again playing a role in local and national politics, including thorny problems such as land rights. All of these issues and more are canvassed in this well-edited volume. The volume's editors are also to be congratulated for bringing in local voices wherever possible. We hear from former exiles and activists who have now joined Myanmar's burgeoning political class, and also from representatives of ethnic minorities. Foreign Burma-watchers are also well-represented, with the volume offering up a who's who of Australia's Myanmar experts. The scope of the contributions included is particularly impressive. With a quarter of the population living in poverty, the often-neglected issue of the economy gets welcome attention from several international experts, as do questions of state terrorism and political violence. The volume is well produced, with a useful map of the 2010 and 2012 election results in the inside sleeve. I can't think of a better overview of the current state of play of democratisation in Myanmar".


About the publication
Is Myanmar (Burma) democratizing, or is it moving towards a new form of authoritarianism, perhaps one more consonant with other contemporary authoritarian regimes in Asia?
Coming at a critical time, and one of growing interest in this Southeast Asian country among researchers and policy-makers, Debating Democratization in Myanmar addresses this complex question from a range of disciplinary and professional perspectives. Chapters by leading international scholars and practitioners, activists and politicians from Myanmar and around the world cover political and economic updates, as well as the problems of democratization; the re-engagement of democratic activists and exiles in domestic affairs; the new parliament, the electoral system, and everyday politics; prospects for the economy; ethnic cooperation, contestation and conflict; the role of the army and police forces; and conditions for women. Together they constitute an empirically deep and analytically rich source of readable and relevant material for anyone keen to obtain a greater understanding of what is happening in Myanmar today, and why.
Contents
PART II: INTRODUCTION

3. Myanmar's Democratic Opening: The Process and Prospect of Reform, by Morten B. Pedersen,

author

PART III: ENCOURAGING SIGNS

4. Myanmars Parliament: From Scorn to Significance, by Thomas Kean,

author

6. From Exile to Elections, by Maw Than,

author

7. Sidelined or Reinventing Themselves? Exiled Activists in Myanmar's Political Reforms, by Kerstin Duell,

author

8. Understanding Recent Labour Protests in Myanmar, by Kyaw Soe Lwin,

author

PART IV: ANTICIPATING REFORMS

10. The Glass Has Water: A Stocktake of Myanmar's Economic Reforms: Exchange Rate, Financial System, Investment, and Sectoral Policies, by Sean Turnell,

author

11. Police Reform in Myanmar: Changes "in Essence and Appearance", by Andrew Selth,

author

PART V: ENDURING CONCERNS

13. The Continuing Political Salience of the Military in Post-SPDC Myanmar, by Renaud Egreteau,

author

14. State Terrorism and International Compliance: The Kachin Armed Struggle for Political Self-Determination, by Seng Maw Lahpai,

author

15. Engendering Development in Myanmar: Women's Struggle for San, Si, Sa, by Ma Khin Mar Mar Kyi,

author

PART VI: CONCLUSION

16. Democratization, Violence, and Myanmar, by Nick Cheesman,

author