Myanmar's Transition: Openings, Obstacles and Opportunities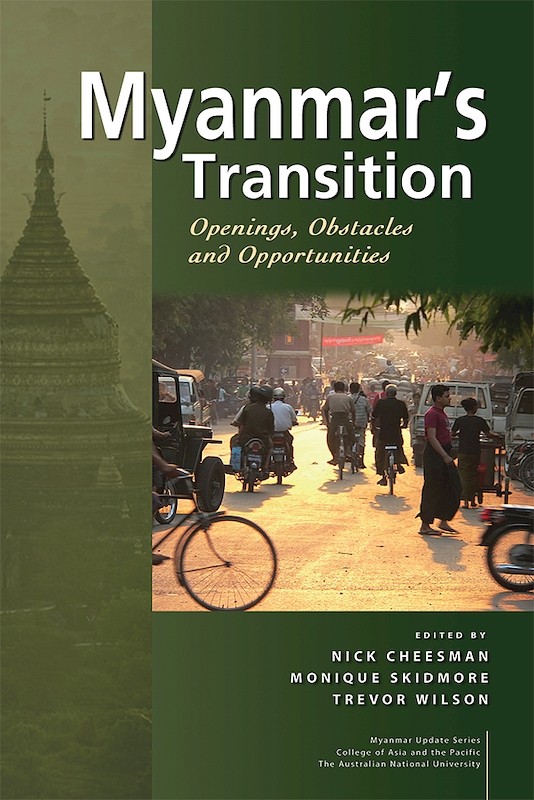 Date of publication:
2012
Publisher:
Institute of Southeast Asian Studies

Ebook is available
About the publication
With the world watching closely, Myanmar began a process of political, administrative and institutional transition from 30 January 2011. After convening the parliament, elected in November 2010, the former military regime transferred power to a new government headed by former Prime Minister (and retired general), U Thein Sein. With parliamentary processes restored in Myanmars new capital of Naypyitaw, Thein Seins government announced a wide-ranging reform agenda, and began releasing political prisoners and easing press censorship. Pivotal meetings between Thein Sein and Aung San Suu Kyi led to amendment of the Election Law and the National League for Democracy contesting by-elections in April 2012. The 2011 Myanmar/Burma update conference considered the openings offered by these political changes and media reforms and the potential opportunities for international assistance. Obstacles covered include impediments to the rule of law, the continuation of human rights abuses, the impunity of the Army, and the failure to end ethnic insurgency.
Contents
Myanmar's Transition: Openings, Obstacles and Opportunities
[Whole Publication, ISBN: 9789814414173]

PART I: OVERVIEW
PART II: INTRODUCTION

2. White Elephants and Black Swans: Thoughts on Myanmars Recent History and Possible Futures, by Thant Myint-U,

author

PART III: POLITICAL UPDATE

3. Myanmars Political Landscape Following the 2010 Elections: Starting with a Glass Nine-Tenths Empty?, by Richard Horsey,

author

4. Ceasing Ceasefire? Kachin Politics Beyond the Stalemates, by Nicholas Farrelly,

author

5. Perceptions of the State and Citizenship in Light of the 2010 Myanmar Elections, by Marie Lall, Hla Hla Win,

authors

6. The Burmese Jade Trail: Transnational Networks, China and the (Relative) Impact of International Sanctions on Myanmars Gems, by Renaud Egreteau,

author

PART IV: ECONOMIC UPDATE

7. Taking Stock of Myanmars Economy in 2011, by Khin Maung Nyo,

author

8. Reform and Its Limits in Myanmars Fiscal State, by Sean Turnell,

author

9. Devising a New Agricultural Strategy to Enhance Myanmar's Rural Economy, by Tin Htut Oo,

author

PART V: THE ROLE OF THE MEDIA

10. The Role of the Media in Myanmar: Can It Be a Watchdog for Corruption?, by Nwe Nwe Aye,

author

11. The Emergence of Myanmar Weekly News Journals and Their Development in Recent Years, by Pe Myint,

author

PART VI: THE RULE OF LAW

13. Myanmars Courts and the Sounds Money Makes, by Nick Cheesman,

author

14. The "New" Supreme Court and Constitutional Tribunal: Marginal Improvement for Judicial Independence or More of the Same?, by Myint Zan,

author

PART VII: THE CONTINUED IMPORTANCE OF INTERNATIONAL ASSISTANCE

15. Rethinking International Assistance to Myanmar in a Time of Transition, by Morten B. Pedersen,

author

16. European Union-Myanmar Relations in a Changing World: Time for Paradigm Shift, by Thaung Tun,

author

17. Prospects for a Policy of Engagement with Myanmar: A Multilateral Development Bank Perspective, by Adam Simpson,

author

18. Context Sensitivity by Development INGOs in Myanmar, by Anthony Ware,

author