Credit and Debt in Indonesia, 860-1930: From Peonage to Pawnshop, from Kongsi to Cooperative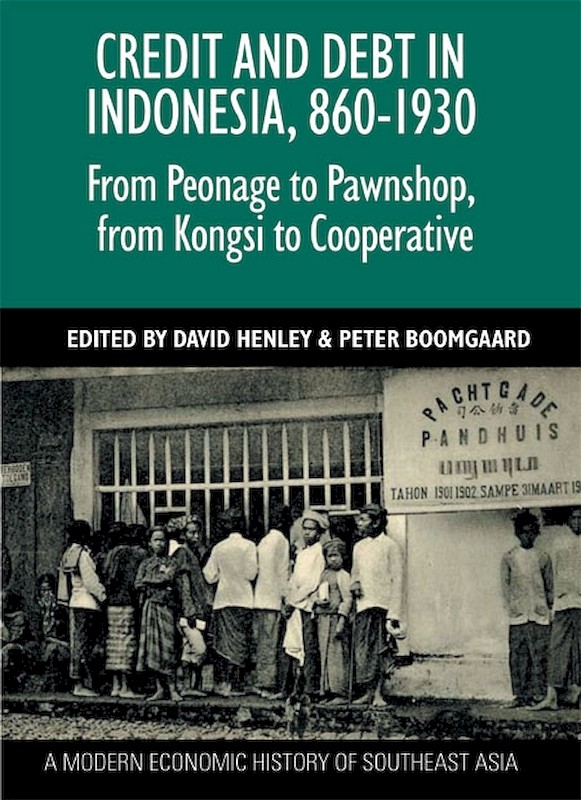 Date of publication:
2009
Publisher:
ISEAS / KITLV Press

Ebook is available
Reviews
"
Credit and Debt in Indonesia, 860-1930
is an important and timely book. A collection of essays by eminent Indonesia scholars covering more than 1,000 years of the country's economic history, it highlights an area in which Indonesia's financial practices have had an unusual and significant impact on broader global trends and institutions. This is particularly apparent with respect to modern micro-finance, making the book of great interest not just to Indonesia specialists and financial historians but to all those interested in the role of the financial sector in economic development. Each chapter is richly informative, but the skilful and seamless way that each builds upon the others makes the whole of this collection even greater than the sum of its parts.
Credit and Debt in Indonesia
is one of the best books I have read on the multi-layered history of finance in Indonesia. It certainly deserves a place on the shelves of everyone interested in Indonesia, but it can be read with great profit by all of us who are interested in Asia more broadly, and in the institutions that have shaped our economic circumstances" (
Bulletin of Indonesian Economic Studies
).
"As collections of essays go, this one makes a rich and satisfying book; all credit to the editors for its focus and coherence. David Henley's opening chapter sets out the main themes and outlines the content of the subsequent seven chapters. He closes with the sage observation that '[I]n the last analysis, economic development itself is probably the best way to ensure that credit becomes cheaper and more accessible' (p. 33). The central role of debt/credit in maintaining social order and facilitating economic growth is traced over a thousand years of Indonesian history. All told, this volume is a commendable collection of high-quality empirical research. It is refreshing to read a work that places the careful gathering and verification of facts (often fragmentary) above dogmatic generalisations" (Asian Pacific Economic Literature).
About the publication
Credit and debt are practical concerns of all times and places. They are also increasingly important topics in economic history and the social sciences, from Marcel Mauss and the anthropology of the gift to the urgent quest for understanding of today's global credit crunch. This volume brings together eight essays on credit and debt in the history of Indonesia, where for centuries debt and debt bondage played central roles in the organization of society, and where efforts to combat 'usury' and free peasants from indebtedness were central to the ethical and nationalist movements of the late colonial period. Topics range from the inscriptions of ninth-century Java to the first global financial crisis in 1930, and from Islamic laws against the charging of interest to the role of Chinese temples and Dutch church charities as credit providers. The history of credit and debt in Indonesia is examined from a wide variety of perspectives - legal, institutional, and cultural as well as economic. Attention is paid to parallels and contrasts with more recent developments, including the Asian financial crisis of 1997 and Indonesia's rise to fame as a pioneer of the current global microfinance revolution.



Co-publication: ISEAS / KITLV Press
ISEAS / KITLV Press
Contents
Credit and Debt in Indonesia, 860-1930: From Peonage to Pawnshop, from Kongsi to Cooperative
[Whole Publication, ISBN: 9789812308474]

1. Credit and Debt in Indonesian History: An Introduction, by David Henley,

author

3. "Following the Debt": Credit and Debt in Southeast Asian Legal Theory and Practice, 1400-1800, by Peter Boomgaard,

author

5. Money in Makassar: Credit and Debt in an Eighteenth-Century VOC Settlement, by Heather Sutherland,

author

6. Money and Credit in Chinese Mercantile Operations in Colonial and Precolonial Southeast Asia, by Kwee Hui Kian,

author

7. A Colonial Debt Crisis: Surabaya in the Late 1890s, by Alexander Claver,

author

8. Credit and the Colonial State: The Reform of Capital Markets on Java, 1900-30, by Jan Luiten van Zanden,

author