"Good Coup" Gone Bad: Thailand's Political Developments since Thaksin's Downfall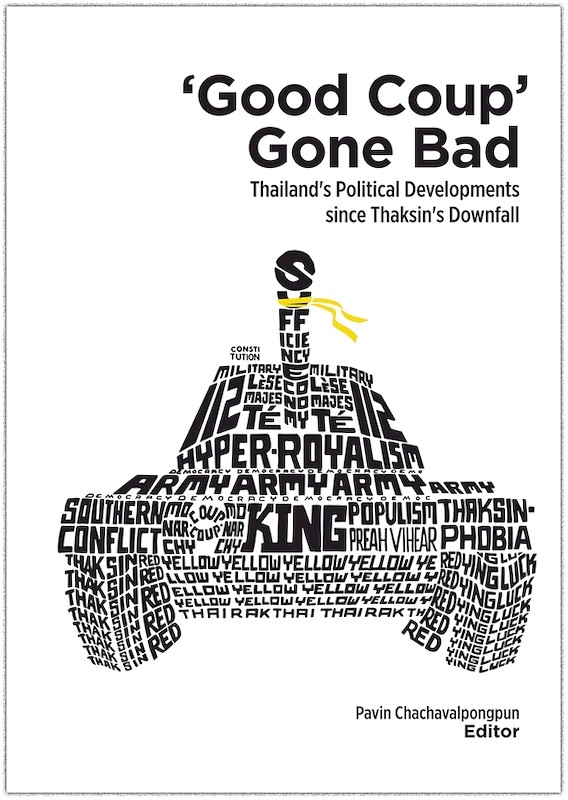 Date of publication:
2014
Publisher:
Institute of Southeast Asian Studies

Ebook is available
Review
McCargo, Duncan. Southeast Asian Studies. Vol. 4, No. 3, December 2015. Center for Southeast Asian Studies, Kyoto University.

"...This useful edited volume appeared just in time to serve as a primer for what went wrong in the wake of the previous military seizure of power. ... In a sparse field, the volume is an invaluable addition to reading lists (I have already assigned it to my students), but some chapters are stronger than others, and several of them go over ground that the same authors have already covered in previous writings. To my mind the first two sections are much the most useful, and Thongchai Winichakul's chapter on monarchy and anti-monarchy stands out as the centerpiece of the book. (....) Overall, this is an extremely valuable book which will be widely read and assigned to students."

About the publication
What did the 2006 military coup show us? It demonstrated that the crux of the Thai crisis is far more serious and much wider in scope than had previously been thought. The monarchy is surely not a victim in the protracted conflict, but the root cause and continuing factor that has eroded Thai politics. The coup set in motion more prejudicial uses of the lèse-majesté law, and in the process, has led to more political prisoners. It has also shredded the military into several segments, turning generals into desperate royalists who continue to live off the monarchy in order to survive. Issues of violence in the Thai south and the Thai-Cambodian dispute became greatly intensified in the age of militarized politics. The coup also produced unique colour-coded politics and created crises of legitimacy. This book is a collection of essays that reflect developments in Thai politics in the post-coup period.

The e-chapter on chapter 1 "Good Coup" Gone Bad: Thailand's Political Developments since Thaksins Downfall " is downloadable free of charge.

Contents
"Good Coup" Gone Bad: Thailand's Political Development since Thaksin's Downfall
[Whole Publication, ISBN: 9789814459617], by Pavin Chachavalpongpun,

author

SECTION I: THE 2006 MILITARY COUP: IMPACT ON THE THAI POLITICAL LANDSCAPE

1. "Good Coup" Gone Bad: Thailand's Political Developments since Thaksin's Downfall , by Pavin Chachavalpongpun,

author

2. Unfinished Business: The Contagion of Conflict over a Century of Thai Political Development, by Federico Ferrara,

author

SECTION II: DEFENDING THE OLD POLITICAL CONSENSUS: THE MILITARY AND THE MONARCHY

3. Broken Power: The Thai Military in the Aftermath of the 2006 Coup , by James Ockey,

author

4. The Monarchy and Anti-Monarchy: Two Elephants in the Room of Thai Politics and the State of Denial , by Thongchai Winichakul,

author

5. Freedom and Silencing under the Neo-Absolutist Monarchy Regime in Thailand, 2006-2011 , by David Streckfuss,

author

SECTION III: NEW POLITICAL DISCOURSES AND THE EMERGENCE OF YELLOWS AND REDS

6. "Vote No!": The PAD's Decline from Powerful Movement to Political Sect?, by Michael H Nelson,

author

7. The Red Shirts: From Anti-Coup Protesters to Social Mass Movement , by Nick Nostitz,

author

8. Is Peasant Politics in Thailand Civil? , by Andrew Walker,

author

SECTION IV: CRISES OF LEGITIMACY

9. Reaping the Whirlwind: Thailand's Coup and the Southern Problem , by Marc Askew,

author

10. From Marketplace Back to Battlefield: Thai-Cambodian Relations in the Age of a Militarized Politics , by Pavin Chachavalpongpun,

author