Centre-Periphery Relations in Myanmar: Leverage and Solidarity after the 1 February Coup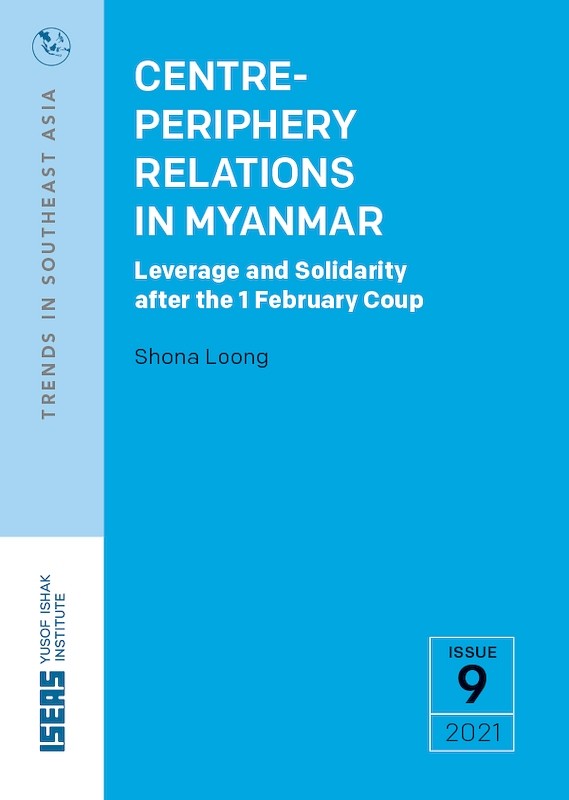 Date of publication:
2021
Publisher:
ISEAS – Yusof Ishak Institute

Ebook is available
About the publication
Building interethnic solidarity is crucial for the movement opposing the regime that took power in Myanmar's 1 February 2021 coup.
Analysing the coup as primarily a crisis of democracy underestimates the centrality of ethnic conflict to the Tatmadaw's role in Myanmar's national politics.
In the context of Myanmar's ethnic diversity, ethnic armed organizations may play a key role in harmonizing responses to the coup. Successive Myanmar governments have failed to meaningfully address ethnic conflict, thereby entrenching the Tatmadaw's dominance.
Redressing the grievances of non-Bamar groups is crucial to ensuring national and regional stability. Conversely, strategies that mistakenly assume national unity will lead to short-term solutions may cycle back into violence and conflict.
There is little evidence that the Tatmadaw is willing to negotiate with ethnic armed organizations or the National Unity Government. These organizations require support in coordinating anti-coup efforts and material resources to enhance their leverage against the post-coup regime.
The anti-coup movement's relationship with Myanmar's ethnic groups has moved through three broad phases: (1) diversity without coordinated demands; (2) visions of a federal future; and (3) agitating for change.
The movement is at a critical juncture. Its success depends on its ability to transform existing centre-periphery relations. The role of ethnic armed organizations and civil society organizations needs to be recognized rather than sidelined in favour of the Committee Representing the Pyidaungsu Hluttaw or the National Unity Government.
Previous missed opportunities for transforming centre-periphery relations are instructive for actors seeking to support the anti-coup movement. Three aspects of the anti-coup movement have historical precedents in Karen State: (1) refuge; (2) non-state social services; and (3) shared experiences of violence. In previous iterations of each, a failure in relational thinking has entrenched the centralization of power in Myanmar.
Contents
Centre-Periphery Relations in Myanmar: Leverage and Solidarity after the 1 February Coup
[Whole Publication, ISBN: 9789814951869], by Shona Loong,

author