Thailand's Post-Coup Relations with China and America: More Beijing, Less Washington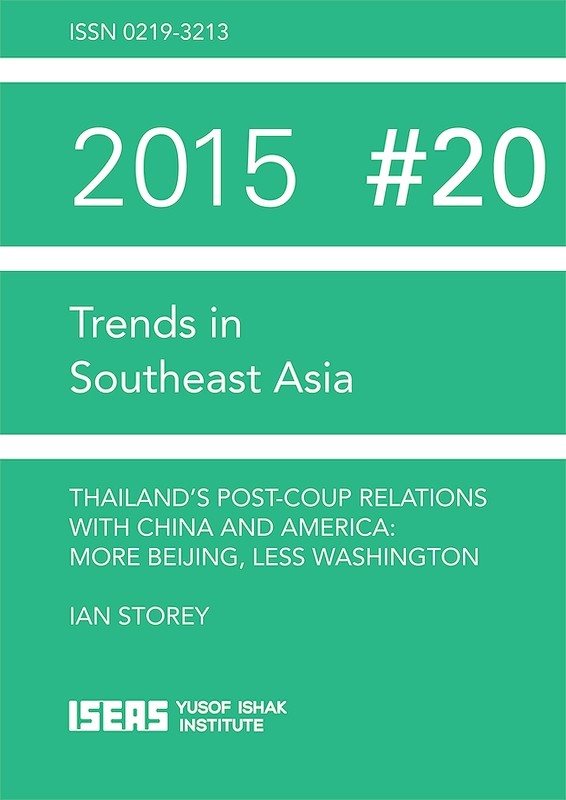 Date of publication:
2015
Publisher:
ISEAS – Yusof Ishak Institute
About the publication
Since the Thai military seized power in May 2014, Thailand's relations with the United States have significantly deteriorated, while the Peoples Republic of China (PRC) has quickly emerged as the Kingdom's closest Great Power partner. U.S.-Thai defence cooperation has been the main casualty of the coup, and represents a setback for the Obama administration's pivot or rebalance towards Asia, the success of which depends in large part on strengthening bilateral alliances and increasing America's presence in Asia. Even before the coup, the U.S.-Thai alliance was facing difficulties. Since Washington announced the pivot in 2011, neither civilian nor military leaders in Thailand have evinced genuine support for the strategy. Many Thais consider the pivot to be aimed at containing China, and that Thailand's association with the strategy would be detrimental to the country's positive relations with the PRC. Thailand does not perceive the PRC as a source of strategic instability; to the contrary, Thais overwhelmingly view China as a valuable economic and security partner.In contrast to U.S.-Thai relations, Sino-Thai relations have blossomed since the putsch. Beijing's hands off approach to Thailand's domestic political situation is much appreciated by the junta, and has allowed the two sides to focus on strengthening economic ties and defence cooperation. The United States has repeatedly called on the junta to hold new elections, and emphasized that relations cannot return to normal until civilian rule is restored. However, a return to democracy in Thailand is not in prospect any time soon. The rejection of the draft constitution in September 2015 means that the armed forces will retain political power until at least 2017 and conceivably beyond. As a result, U.S.-Thai relations will continue to experience strain while Sino-Thai cooperation strengthens.
Contents
Thailands Post-Coup Relations with China and America: More Beijing, Less Washington
[Whole Publication, ISBN: 9789814695718], by Ian Storey,

author