Fisheries Exploitation in the Indian Ocean: Threats and Opportunities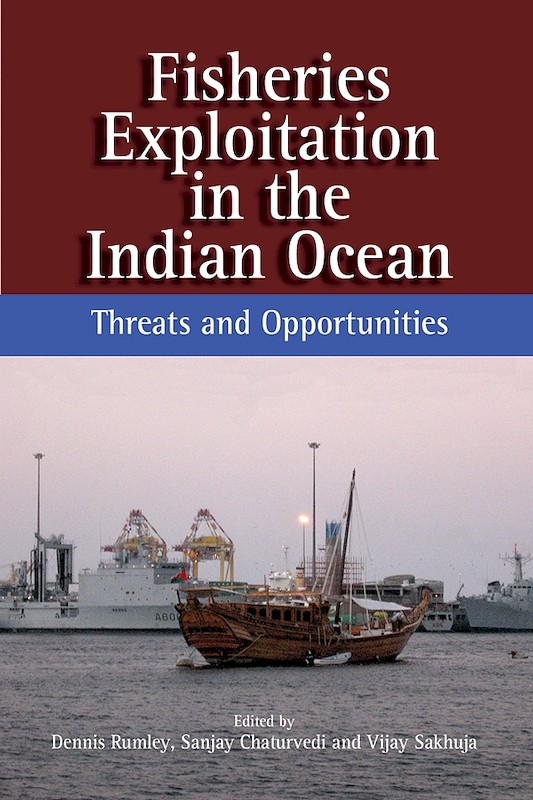 Date of publication:
2009
Publisher:
Institute of Southeast Asian Studies
Reviews
"The book under review seeks to set a roadmap for marine management model in the Indian Ocean along with a sustainable oceanic future for regional fisheries. The IOR-ARC too must be given new impetus by member states, and therefore must take on its agenda the challenges of climate change, and threats to marine biodiversity and fisheries in particular. However, the IOR-ARC experience over a decade has been that of members looking more outwards than inwards, and seeing their interests being served better with partnerships in Europe and East Asia. The editors have rightly concluded that regardless of the management framework chosen, a political will would be required to implement the laws, regulations and management measures. This political will has not been in evidence in the last few years, despite lip service, and remains to be seen what magic wand brings about a broad based cooperation in the Indian Ocean region" (
Environscan_Newsletter_COES
).
It is well known that the future of the world's fisheries is under threat from ocean warming, over-fishing and other anthropogenic impacts. Fish are an important source of protein for the world's population and a valuable source of export earnings for many countries. Most fish species are over exploited -- the familiar tale of 'too many boats chasing too few fish'. The scarcity of fish has led to increased conflicts between small scale and large scale fishers and also, in some cases, between the former groups and recreational fishers. Fisheries have been described as one of the last environmental casus belli. Even with the imposition of 200-mile zones in the 1980s, government and regional fisheries managers have struggled to ensure resources are managed sustainably. Nowhere is this truer than in the Indian Ocean which covers a vast area of 75 million square kilometres, stretching from Africa in the west, northward to the Indian subcontinent, eastward to Indochina and Australia and southward to Antarctica. The ambitious aim of Fisheries Exploitation in the Indian Ocean: Threats and Opportunities is to facilitate a paradigm shift in the ideas and policies of the key stakeholders to assist with the development of integrated regional management policies. A key message of the first section on fisheries policy frameworks is that current governance arrangements that are dependent on state and local enforcement capacity are often inadequate. Some states such as, for example, Indonesia, do not have the resources to adequately police their exclusive economic zones and combat illegal, unreported and unregulated fishing. In an insightful chapter Rumley outlines a basic typology which conceptualizes fisheries conflict as resulting from complex interactions between the marine environment, international marine resources management regimes, government agencies, local community fisheries and non-state actors. He advocates a new policy framework built on the three pillars of reconfiguring regulatory authority, widening the outlook of fishing bureaucracies and conserving marine species" (International Journal of Maritime History).
About the publication
The book aims to further the debate on the impacts of fisheries policies in the Indian Ocean Region in order to facilitate a new regional policy direction. A key argument of the volume is that ecologically sustainable and socially just development and management of Indian Ocean fisheries require a paradigm shift in the perceptions and policies of major stakeholders. A central policy challenge is to identify a collective regional interest for fisheries and accordingly the development of integrated management policies that link ecology and society and which incorporate individuals, communities, agencies, states and regimes into a holistic cooperative endeavour. Successful ocean governance therefore requires greater inter-state and inter-agency consultation and cooperation, an improvement in linking national initiatives to local action, increased participation of local government and local communities and the enhancement of local capability. In order to achieve this overall goal requires either the enhancement of existing regional institutions or the creation of a new regional body.

Institute of Southeast Asian Studies, Singapore, and Indian Ocean Research Group (IORG), co-publication. ISEAS has worldwide distribution rights.
Co-publication: Institute of Southeast Asian Studies
Institute of Southeast Asian Studies
Contents
Fisheries Exploitation in the Indian Ocean: Threats and Opportunities
[Whole Publication, ISBN: 9789814279406]

PART I: FISHERIES POLICY FRAMEWORKS

2. Environmental Security and Biodiversity: Critical Policy Themes and Issues, by Swaran Singh,

author

3. Overview of Institutional Arrangements for Fisheries and Marine Biodiversity in the Indian Ocean, by William R Edeson,

author

4. A Policy Framework for Fisheries Conflicts in the Indian Ocean, by Dennis Rumley,

author

5. The Indian Ocean Fishery: Resources and Exploitation Within and Outside National Jurisdictional Limits, by Vivian Louis Forbes,

author

6. Competing Claims to Maritime Jurisdiction in the Indian Ocean: Implications for Regional Marine Biodiversity and Fisheries

PART II: FISHERIES RESOURCE EXPLOITATION

7. Indigenous Fishing in the Kimberley Region of Western Australia: A Case Study of Highly Regulated Fisheries in Coastal Communities, by Hilary Rumley,

author

11. The Impact of Ship Ballast on the Aquatic-based Food Supply Chain, by Vijay Sakhuja,

author

PART III: FISHERIES POLICY DIRECTIONS

12. Geopolitics of Biological Prospecting: Emerging Perspectives on Antarctica and the Southern [Indian] Ocean, by Sanjay Chaturvedi,

author

13. Issues in Policy and Law in the Conservation of Marine Biodiversity: A Malaysian Case Study, by Mohd Nizam Basiron,

author

15. Regulatory and Market-based Instruments in the Governance of Fisheries and Marine Protected Areas in the Indian Ocean Region: In Search of Cooperative Governance, by Timothy Doyle, Marcus Haward,

authors