Rising India and Indian Communities in East Asia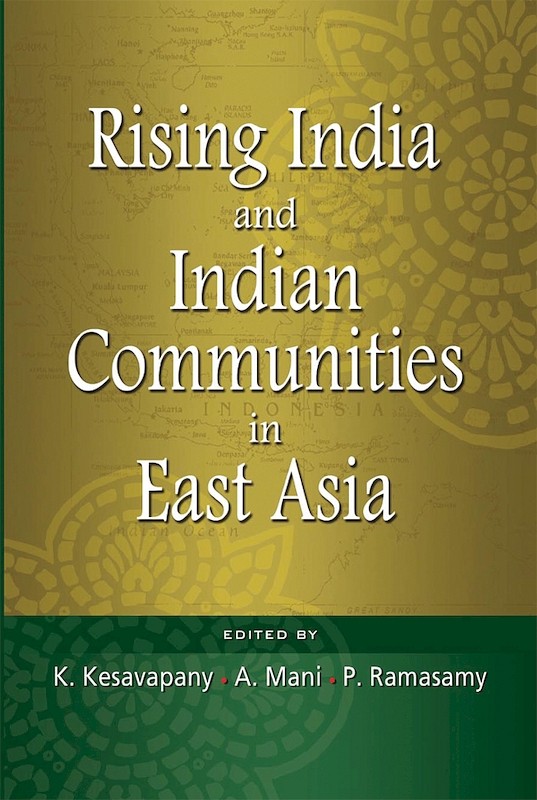 Date of publication:
2008
Publisher:
Institute of Southeast Asian Studies

Ebook is available
About the publication
This edited volume containing thirty-five chapters focuses on three main contemporary issues: the phenomenon of "new Indians" in the past five decades, the impact of rising India on settled Indian communities, and the recent migrants. By examining these interrelated aspects, this study seeks to address questions like: what does "Rising India" mean to Indian communities in East Asia? How are members of Indian communities responding to Indias rise? Will India pay greater attention to people of Indian origin? And last but not least, will Indians in East Asia identify themselves with their ancestral land or view such identification as problematic?


Contents
Rising India and Indian Communities in East Asia
[Whole Publication, ISBN: 9789812308009]

REGIONAL AND HISTORICAL PERSPECTIVES

1. India and Indians in East Asia: An Overview, by Wang Gungwu,

author

3. The Movement of Indians in East Asia: Contemporary and Historical Encounters, by Amarjit Kaur,

author

4. Community Formations among Indians in East Asia, by A Mani ,

author

5. India and Southeast Asia in the Context of India's Rise, by Kripa Sridharan,

author

7. India's Economic Engagement with East Asia: Trends and Prospects, by Nagesh Kumar,

author

9. Japan-India Relations: A Time for Sea Change?, by Takio Yamada,

author

COUNTRY PERSPECTIVES

11. A Century of Contributions by Indians in Negara Brunei Darussalam, by A Mani ,

author

12. China: Indians' New-found Land, by Ji Ping,

author

14. Indians in a Rapidly Transforming Indonesia, by A Mani ,

author

15. Indians in Tokyo and Its Vicinity, by Masako Azuma,

author

17. Rising India and Indians in Cambodia, Laos and Vietnam, by Sudhir T Devare,

author

19. A Critical Review of Indian Economic Performance and Priorities for Action, by R Thillainathan,

author

20. Politics of Indian Representation in Malaysia, by P Ramasamy,

author

21. Indians in Malaysia: Towards Vision 2020, by S Nagarajan,

author

22. Tamil School Education in Malaysia: Challenges and Prospects in the New Millennium, by Arumugam Kalimuthu,

author

23. Socio-economic Self-help among Indians in Malaysia, by K Anbalakan,

author

24. Ethnic Clashes, Squatters and Historicity in Malaysia, by Andrew C Willford,

author

27. The Indian Community in Metro Manila: Continuities, Changes, and the Effects of Rising India, by Lorraine Carlos Salazar,

author

28. Contemporary Indian Communities in Western Visayas, by Joefe Santarita,

author

29. From Mandalas to Microchips: The Indian Imprint on the Construction of Singapore, by Asad-ul Iqbal Latif,

author

31. The Role of the Singapore Indian Development Association (SINDA) in Uplifting the Educational Performance of Indian Students, by Sinniah Vivakanandan,

author

32. Singapore's New Indians: Attracting Indian Foreign Talent to Singapore, by Arunajeet Kaur,

author

33. The Changing Indian Performing Arts Scene in Singapore, by Uma Rajan,

author

34. Towards a Dynamic Economic Partnership: India-Taiwan Relations Update, by Fu-Kuo Liu,

author