Thaipusam in Malaysia: A Hindu Festival in the Tamil Diaspora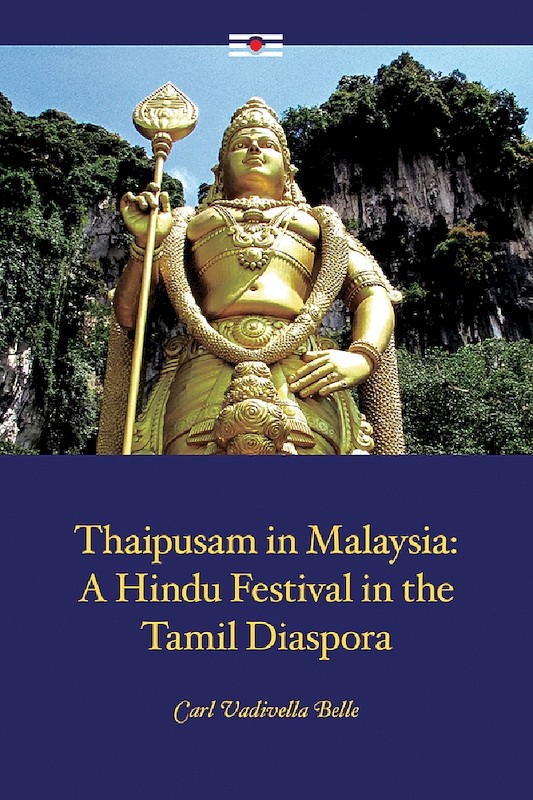 Date of publication:
2017
Publisher:
ISEAS – Yusof Ishak Institute

PDF is available
Review
Andrew C. Willford, Pacific Affairs, Vol.91: 3, September 2018.
"Carl Vadivella Belle's book, Thaipusam in Malaysia: A Hindu Festival in the Tamil Diaspora, has a slightly misleading title. This reviewer expected a highly focused and Malaysia-centric study of an immensely popular Hindu religious festival, with perhaps some theological explication situating the Malaysian manifestation of this ritual vis-a-vis comparisons with the Tamil heartlands in India and Sri Lanka. This book easily accomplishes this but offers so much more. What unfolds is a book that marks a major contribution not only to studies of Hinduism in Malaysia, but more broadly, Tamil Saivism, variants within Hindu philosophy, and the complex web of Sanskritic and Tamil sources that comprise, over the longue duree, the corpus of beliefs surrounding the worship of Lord Murugan, the son of Shiva, and the focus of devotion within the Thaipusam ritual. The book also provides an insider's view of the ritual. As Belle is a Hindu, and an annual participant in this ritual for decades, he is able to provide an incomparable perspective. The result is a work of passion, first-person experience, and exceptional scholarship.
One of the many unusual aspects of this study is its juxtaposition of ethnographic observation, personal experience, and rigorous textual analysis. Belle is able to map out, with admirable judiciousness and clarity, the heterogeneity and dissonance that exists under the big tent of Hindu thought and belief.
With precision, Belle guides the reader through key religious texts, myths, and scholarly analyses of these same sources. A great portion of the book is devoted to historical and theological analysis, making it quite useful for scholars of Tamil and Hindu devotional traditions, more broadly, rather than to a narrow subset of scholars who study Malaysian Tamils.
Belle takes exception with scholars who place emphasis on the psychological and socio-political aspects of the ritual. In short, a small body of scholarship has focused on the emotional and cathartic dimensions of the ritual through the lens of psychoanalysis and/or aspects of political resistance and protest that might frame the ritual in light of ethnic politics in Malaysia. Belle provides the needed counter, arguing that psychological and political dimensions are subordinate to the spiritual odyssey embedded within and motivating the majority of participants.
In sum, Carl Vadivella Belle has written the most important and accomplished book on Malaysian Hinduism to yet appear. It is a tremendous and brilliant synthesis of scholarship, theology, and descriptive detail, and a work of passion that should be read by all scholars of Tamil Saivism, and Hinduism more broadly."
About the publication
"This is an important book by Carl Vadivella Belle which argues that Hinduism and its manifestations in the diaspora has important significance in binding not only the Hindus but also encourages 'others' to revisit Hinduism, especially in a multicultural society like Malaysia which is dominated by communally infused discourses structured upon race and religion."
— Ajaya K. Sahoo, Editor, Journal of South Asian Diaspora
"Dr Belle weaves his magical journey over nearly half a century, offering poignant and potent insights into the socio economic and spiritual realities of Hindus in Malaysia. Numerous books maybe available on Tamil Traditions and Hinduism in Malaysia, but none seem to have succinctly and encapsulated the very essence and heart of these veritable subjects. I would unreservedly recommend this book, to all those interested in matters pertaining to Indians and Hinduism in Malaysia."
— Professor Bala Shanmugam, Academic Director, Federation University, Malaysia
"This is a work of immense inspiration. Combining personal pilgrimage with ethnographic perseverance, it is at once a document of ritual power and cultural change and a biography of religious encounter. By becoming the religious Other, Carl Belle creates a new dimension in the understanding of Thaipusam as both ethnic and individual experience. Dauntlessly frank and insightful, it is without doubt a rare achievement."
— Raymond Lee, Universiti Malaya (retired)
Contents
Thaipusam in Malaysia: A Hindu Festival in the Tamil Diaspora
[Whole Publication, ISBN: 9789814695831], by Carl Vadivella Belle,

author

Preliminary pages and Introduction

1. Indians in Malaysia: The Social and Ethnic Context

2. Tamil Traditions and South Indian Hinduism

3. Colonialism, Colonial Knowledge and Hindu Reform Movements

4. Hinduism in Malaysia: An Overview

5. Murugan: A Tamil Deity

6. The Phenomenology of Thaipusam at Batu Caves

8. Thaipusam Considered: The Divine Crossing