From the Ground Up: Perspectives on Post-Tsunami and Post-Conflict Aceh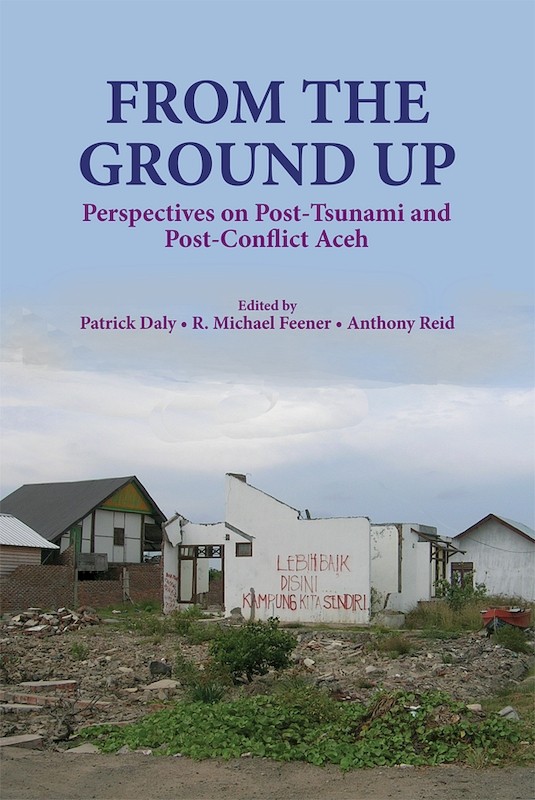 Date of publication:
2012
Publisher:
Institute of Southeast Asian Studies

PDF is available
Review
"The current volume represents a number of papers from the International Conference of Aceh and Indian Ocean Studies (ICAIOS) organized by the Agency for the Rehabilitation and Reconstruction of Aceh and NIAS (BRR) in February 2007. Although over the long period since that conference some of the perspectives for the future of Aceh might have come true, the collection still holds academic interest. This book is thus of great research value for all those who would like to engage more deeply with the development of the post-tsunami and post-conflict situation in Aceh. It is particularly interesting to read the perspectives of contributors who were at that time attached to international organizations such as the World Bank, since many of these contributors have since been relocated. This book documents therefore a particular, crucial phase in the international regime on post-tsunami and post-conflict Aceh" (BKI).

"As the title suggests, From the Ground Up explores the country's recovery from natural disaster and military conflict from the perspectives of various participants, including scholars, practitioners, and ordinary Acehnese. Across the chapters, there is a sensitivity to Acehnese views, interests, and agency. This is buttressed by the inclusion of several Acehnese authors and a sustained inquiry, based on extensive fieldwork or personal engagement, into a society's recovery at the intersection of international, national, and local action. The papers provide useful insights into the roles played by 'external' parties in ending the conflict, such as the Indonesian leaders and the Aceh Monitoring Mission. The book raises important questions about recovery from disaster and conflict" (Southeast Asian Studies).

About the publication
The tsunami that struck a dozen countries around the Indian Ocean on 26 December 2004 evoked international sympathy on a scale beyond any previous natural disaster. The international relief effort broke all records both in scale and diversity, with seven billion U.S. dollars donated from all over the world through public and private agencies for Sumatra alone. Simply as a reconstruction effort, therefore, the disbursement of those funds and the rebuilding of housing, infrastructure, and economy posed major national and international challenges. However this was not simply a reconstruction effort. Aceh at that time was a war zone, with Indonesias military engaged in a major operation to crush a separatist rebellion that had been simmering since 1976. Even though the funds had been donated for tsunami relief, any real reconstruction of Aceh had to consider the impact of the conflict on the well-being of the population, as well as governance and administrative capacities. This volumes serves the purpose not only of discussing some of the lessons of the Aceh reconstruction and peace processes, but also of maintaining critical links between Aceh and the international community after the initial tranches of aid expire.
Contents
From the Ground Up: Perspectives on Post-Tsunami and Post-Conflict Aceh
[Whole Publication, ISBN: 9789814345200]

Prelimary pages with Introduction

1. The Sunda Megathrust: Past, Present and Future

PART I: RECONSTRUCTION EFFORTS

2. Disaster Recovery: An International Humanitarian Challenge?

3. Linking Relief, Rehabilitation and Development (LRRD) to Social Protection: Lessons from the Early Tsunami Response in Aceh

4. Cultural Heritage and Community Recovery in Post-Tsunami Aceh

5. Managing Post-Disaster Reconstruction Finance: International Experience in Public Finance Management

6. Between Custom and Law: Protecting the Property Rights of Women after the Tsunami in Aceh

7. Factors Determining the Movements of Internally Displaced Persons (IDPs) in Aceh

8. Aceh's Forests as an Asset for Reconstruction?

PART II: CONFLICT RESOLUTION

9. Managing Risk: Aceh, the Helsinki Accords and Indonesia's Democratic Development

10. Making Peace Agreements Effective: The Aceh Monitoring Mission Experience

11. Justice and the Aceh Peace Process

12. Managing Peace in Aceh: The Challenge of Post-Conflict Peace Building