Supporting Peace in Aceh: Development Agencies and International Involvement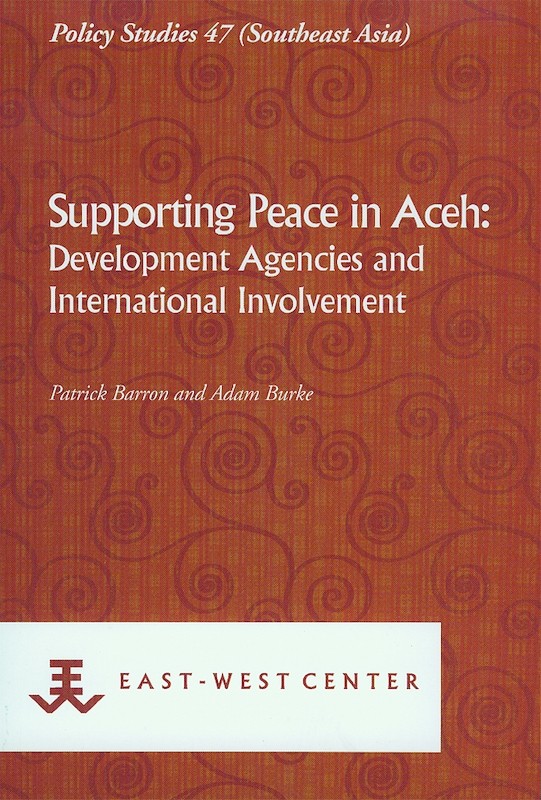 Date of publication:
2008
Publisher:
East-West Center

Ebook is available
About the publication
More than two and one-half years after the signing of the Helsinki Memorandum of Understanding (MoU) between the Government of Indonesia and the Free Aceh Movement, peace still holds in the Indonesian province of Aceh. This monograph looks at the role of international involvement in the Aceh peace process from the signing of the agreement in August 2005 until the end of 2006. It considers the role of the Aceh Monitoring Mission (AMM), a joint civilian body of the European Union and the Association of Southeast Asian Nations, and of aid agencies such as the United States Agency for International Development, the International Organization for Migration, the United Nations Development Programme, and the World Bank. It seeks to answer four questions: To what extent does international involvement account for the success of the peace deal? What accounts for variations in the effectiveness of international agencies? What factors shaped the ways in which agencies could participate in the peace process following the signing of the Helsinki MoU? And what lessons can be learned from the Aceh experience for other peace processes, in particular in places where the state remains strong? The study finds that domestic factors were more important than international involvement in bringing peace to Aceh. AMM played an effective but narrow role, and its success counters arguments for inclusive and broad "human security" approaches to peacebuilding. The net effect of international aid agencies was positive, but by and large they did not shape government policies and provided technical assistance that was often of limited use. Local knowledge and ability to work within political constraints were key factors in the success of international aid. The study shows that pragmatic approaches and realistic expectations are needed in determining how international actors can best support peace processes elsewhere.







Co-publication: East-West Center
Policy Studies series publication on Southeast Asia, co-published by the East-West Center and ISEAS. Available exclusively from ISEAS for distribution in Asia.
Contents
Supporting Peace in Aceh: Development Agencies and International Involvement
[Whole Publication, ISBN: 9789812308641]