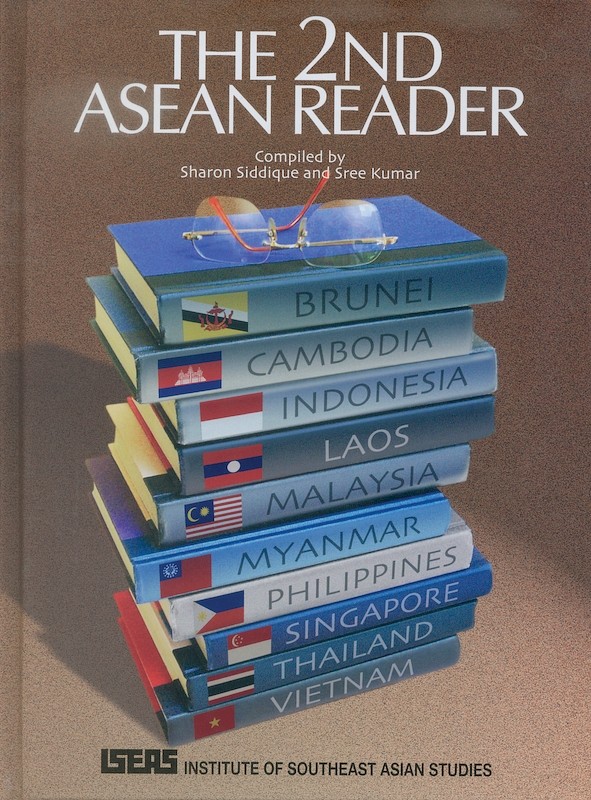 Date of publication:
2003
Publisher:
Institute of Southeast Asian Studies

Ebook is available
Reviews
"Siddique and Kumar's work is a superb collection of information, ideas, and concepts that will assist teachers of courses that include a focus on Southeast Asia. The volume can either stand alone in a course that deals exclusively with Southeast Asia or contribute to a broader classroom experience that includes a focus on the countries that make up the membership of the Association of Southeast Asian Nations" (Education About Asia).
About the publication
The Second ASEAN Reader is a sequel to the first ASEAN Reader, published by ISEAS in 1992. Some of the classic readings from the original ASEAN Reader have been incorporated into this new compilation, but the majority of the readings cover the events from 1993 to 2003. During this decade ASEAN as an organization was revamped, and its membership increased from six to ten.
ASEAN has had to carve a niche in the proliferation of regional associations and bilateral relationships which mark the accelerating era of globalization. The economic pivot point for the decade was certainly the 1997 Asian crisis, while the war on terrorism has had a ripple effect on intra-ASEAN co-operation. ASEANs resilience and ability to adapt has allowed the organization to navigate on a steady course into the 21st century.





Contents
The 2nd ASEAN Reader
[Whole Publication, ISBN: 9789812305299]

Preliminary pages with Foreword by Wang Gungwu

SECTION I: ASEAN: INSTITUTIONAL REDESIGN AND DYNAMICS with Introduction by Sree Kumar

SECTION I: ASEAN: INSTITUTIONAL REDESIGN AND DYNAMICS, by O W Wolters, John Bastin, Harry J Benda, Peter Lyon, Hagiwara Yoshiyuki, Muthiah Alagappa, Zakaria Haji Ahmad , M C Abad, Jr, Chin Kin Wah, Hadi Soesastro, David Capie, Paul Evans, Robin Ramcharan, Greg Sheridan, Jürgen Haacke, Anthony L Smith,

authors

SECTION II: MEMBERSHIP EXPANSION ON A NEW POLITICAL CANVAS with Introduction by Sree Kumar

SECTION II: MEMBERSHIP EXPANSION ON A NEW POLITICAL CANVAS, by Chan Heng Chee, Carlyle A. Thayer, Carolina Hernandez, Nguyen Phuong Binh, Luan Thuy Duong, David Wurfel, Ramses Amer, Tin Maung Maung Than, Mya Than, Juanito P Jarasa, Kao Kim Hourn, Sisowath D Chanto, Suchit Bunbongkarn , Kavi Chongkittavorn, George Abonyi, Khoo How San,

authors

SECTION III: SOCIETY, CULTURE AND RELIGION: INGREDIENTS FOR A NEW TAPESTRY with Introduction by Sharon Siddique

SECTION III: SOCIETY, CULTURE AND RELIGION: INGREDIENTS FOR A NEW TAPESTRY, by Graeme Hugo, Russell Hiang-Khng Heng, Gavin W Jones, Goh Chor Boon, Amitav Acharya, Sidney Jones, Pierre P Lizee, Makito Noda, Wang Gungwu, Rohan Gunaratna, Barry Desker, Rodolfo C Severino, Chandra Muzaffar,

authors

SECTION IV: ECONOMICS, MODERNIZATION, AND CRISIS: AFTA AND AFTER with Introduction by Sree Kumar

SECTION IV: ECONOMICS, MODERNIZATION, AND CRISIS: AFTA AND AFTER, by John Wong, Lee Tsao Yuan, Helen E S Nesadurai, Richard Stubbs, Mari E Pangestu, Hadi Soesastro, Mubariq Ahmad, Jayant Menon, Mohamed Ariff, Prema-Chandra Athukorala, Ng Chee Yuen, Norbert Wagner, Jurgen Ruland, Malcolm Dowling, Narhari Rao, Shaun Narine,

authors

SECTION V: GEOPOLITICS, DEFENCE AND SECURITY with Introduction by Sharon Siddique

SECTION V: GEOPOLITICS, DEFENCE AND SECURITY, by Michael Leifer , Sarasin Viraphol, Yuen Foong Khong, Akiko Fukushima, Carolina Hernandez, Daljit Singh, Kusuma Snitwongse, Suchit Bunbongkarn , Juwono Sudarsono, William Tow, Mohamed Jawhar Hassan, Kwan Kwok Leung, Kusnanto Anggoro, Derek da Cunha, Seizaburo Sato,

authors

SECTION VI: ASEAN AND MULTILATERAL RELATIONS with Introduction by Sree Kumar

SECTION VI: ASEAN AND MULTILATERAL RELATIONS, by Ali Alatas S H, Sheldon W Simon, H S Kartadjoemena, Djisman S Simandjuntak, Rolf J Langhammer, K S Nathan, Tommy Koh Thong Bee, Mohamed Ariff, Janadas Devan , Michael Wesley, Wisarn Pupphavesa, Maureen Grewe, Sung-Hoon Park, Gordon P Means,

authors

SECTION VII: SIGNIFICANT OTHERS: ASEAN AND NATION-STATES with Introduction by Sharon Siddique

SECTION VII: SIGNIFICANT OTHERS: ASEAN AND NATION-STATES, by Chin Kin Wah, Sheldon W Simon, Richard A Higgott, William J Barnds, Mely Caballero-Anthony, Joseph Cheng, Chia Siow Yue , Sheng Lijun, James Cotton, Takeshi Takano, Seiichi Masuyama, Amado M Mendoza, Jr, Amitabh Mattoo,

authors

SECTION VIII: THE CHANGING LANDSCAPE: ASEAN GOING FORWARD with Introduction by Sharon Siddique

SECTION VIII: THE CHANGING LANDSCAPE: ASEAN GOING FORWARD, by Noordin Sopiee, Michael Leifer , Julius Caesar Parrenas, Sueo Sekiguchi, Surin Pitsuwan, Jusuf Wanandi , Simon S C Tay, C P F Luhulima, Tan Kong Yam, Hadi Soesastro, Narongchai Akrasanee, Jutamas Arunanondchai, Anthony Milner,

authors

DOCUMENTATION