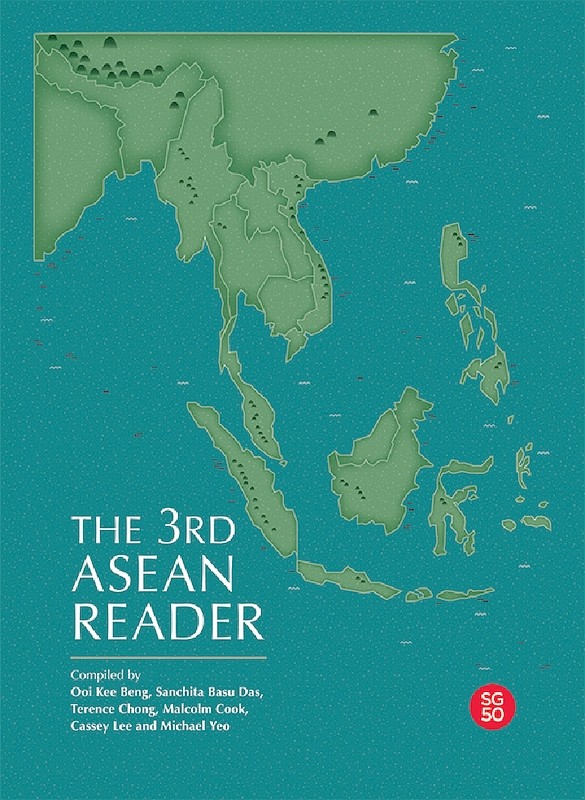 Date of publication:
2015
Publisher:
ISEAS – Yusof Ishak Institute

Ebook is available
About the publication
Over the past two decades, ISEAS has compiled abridged articles that analyse key aspects of Southeast Asia's development and the ASEAN process. The ASEAN Reader was published in 1992 just as the Cold War ended, while The Second ASEAN Reader came in 2003 in the wake of the 1997 Asian crisis and the September 11 attacks in 2001. The past decade has not been spared its share of intense changes, with the rise of China and India bringing new challenges to the region's power equation, and the impact of the 2008 global financial crisis. Despite this, the momentum towards an integrated ASEAN community has been maintained. The articles in The Third ASEAN Reader study the trends and events of recent years, and discuss the immediate future of Southeast Asia.

The e-chapter, "SECTION I: ASEAN: THE LONG VIEW with Introduction by Ooi Kee Beng" , is downloadable free of charge.

Contents
SECTION I: ASEAN: THE LONG VIEW with Introduction by Ooi Kee Beng
SECTION II: COUNTRY ANALYSES with Introduction by Ooi Kee Beng
SECTION III: COMPARATIVE ANALYSES OF THE REGION with Introduction by Terence Chong

SECTION III: COMPARATIVE ANALYSES OF THE REGION, by Lee Hock Guan, Maruja M B Asis, Graziano Battistella, Diep Phan, Ian Coxhead, Terence Chong, Daniel P S Goh, Takashi Shiraishi, Gavin W Jones, Mark McGillivray, Simon Feeny, Sasi Iamsiraroj, Linda Richter, William Case, Garry Rodan, Caroline Hughes, Marco Bnte, Judith Nagata, Euan Graham,

authors

SECTION IV: INTERNATIONAL DEVELOPMENTS with Introduction by Cassey Lee

SECTION IV: INTERNATIONAL DEVELOPMENTS, by Hal Hill, Prema-Chandra Athukorala, Archanun Kohpaiboon, Razeen Sally, Jayant Menon, Aekapol Chongvilaivan, Thiam Hee Ng, Ian Chong, Chien-peng (C.P.) Chung,

authors

SECTION V: INSTITUTIONS OF ASEAN with Introduction by Malcolm Cook
SECTION VI: ASSESSING ASEAN'S INTERNAL POLICIES with Introduction by Sanchita Basu Das

SECTION VI: ASSESSING ASEAN'S INTERNAL POLICIES, by Donald K Emmerson, Moe Thuzar, Jose T Almonte, Mely Caballero-Anthony, Hadi Soesastro, Denis Hew, Sanchita Basu Das, Helen E S Nesadurai, Peter J Lloyd, Myrna S Austria, Jonathan Sutton, Andrea Feldman Mowerman, Deunden Nikomborirak, Supunnavadee Jitdumrong, Maria Monica Wihardja, Chia Siow Yue , Alan Khee-Jin Tan, Terence Chong, Lim May-Ann, Gerard Clarke, Bridget Welsh, Carolina S Guina, Julio S. Amador III, The ASEAN Secretariat,

authors

SECTION VII: ASSESSING ASEAN'S EXTERNAL INITIATIVES with Introduction by Malcom Cook

SECTION VII: ASSESSING ASEAN'S EXTERNAL INITIATIVES, by Mohamed Jawhar Hassan, Ian Storey, Herman Joseph S Kraft, Faizal Yahya, Tsuyoshi Kawasaki, Mark Beeson, Nick Bisley, Malcolm Cook, Tan See Seng, Razeen Sally, Yoshifumi Fukunaga, Ikumo Isono, Sanchita Basu Das, Reza Siregar, Akkharaphol Chabchitrchaidol, Evelyn Goh, Ernest Z. Bower, Murray Hiebert, David Arase, Wang Yuzhu, Sarah Y Tong, Shujiro Urata, Yose Rizal Damuri, Sueo Sudo, Lee Jaehyon,

authors

SECTION VIII: SOUTHEAST ASIA: PERIPHERAL NO MORE with Introduction by Ooi Kee Beng