Penang Chinese Commerce in the 19th Century: The Rise and Fall of the Big Five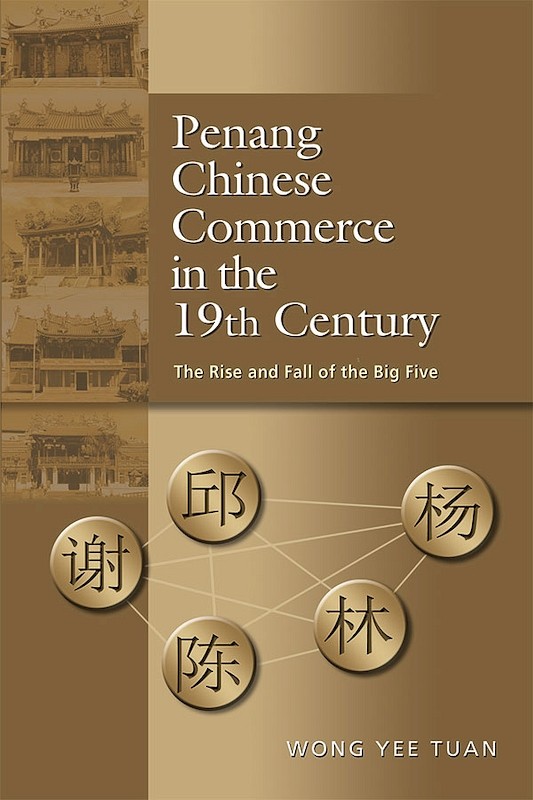 Date of publication:
2015
Publisher:
ISEAS – Yusof Ishak Institute

Ebook is available
Reviews
Michael R. Godley,
Asian Studies Review
, 41:2, June 2017.
"No one doubts that traditional business practice, with its emphasis on kinship and other social relationships, was transplanted from China to the Nanyang firm. where it continues to influence commercial activities today, especially in the case of the family firm. Much has already been made of overseas Chinese success, with many writers proposing that various forms of socioeconomic "networking" have provided significant advantages by facilitating access to labour, markets and credit. What has all too often been missing from the analysis is historical evidence.
This study helps fill the gap by providing welcome detail about five closely connected families in Penang (the Khoo, Cheah, Lim, Yeoh and Tan). .... Following a short, but informative, introduction, the first substantive chapter establishes the role played by Hokkien clans in developing Penang as a trading port. After a short third chapter proves the obvious importance of intermarriage, more than 20 pages rehearse the formative years when sub-ethnic solidarity was dangerously undermined by secret society wars and opium rivalry.
.... Wong avoids essentialist generalisations in his study of Chinese business practice. His is an enterprising and worthwhile book."
About the publication
The story of Penang would be incomplete without the Big Five Hokkien families (the Khoo, the Cheah, the Yeoh, the Lim, and the Tan). It was the Big Five who played a preponderant role not only in transforming Penang into a regional entrepot and a business and financial base, but also in reconfiguring maritime trading patterns and the business orientation of the region in the nineteenth century. Departing from the colonial vantage point, this book examines a web of transnational, hybrid and fluid networks of the Big Five comprising of family relationship, sworn brotherhood, political alliance and business partnerships, which linked Penang and its surrounding states (western Malay states, southwestern Siam, southern Burma, and the north and eastern coasts of Sumatra) together to form one economically unified geographical region, having inextricable links to China and India. With these intertwining networks, the Big Five succeeded in establishing their dominance in all the major enterprises (trade, shipping, cash crop planting, tin mining, opium revenue farms), which constituted the linchpin of Penang's and its region's economy. By disentangling and dissecting this intricate web of networks, this book reveals the rise and decline of the Hokkien mercantile families' nearly century-long economic ascendancy in Penang and its region.
"Wong Yee Tuan's study of the five clans of Penang represents a major breakthrough in the study of the Malayan Chinese. He documents an extremely important aspect of the nineteenth-century Asian diaspora, exposing the intricate links between families, businesses, secret societies, revenue farms and public life of some of the key groups of Chinese in Penang and northern Malaya. The book weaves together the various strands of overseas Chinese life not only in Malaya, but also in the Netherlands Indies, Siam and China. Most importantly, it shows the process by which the Chinese leaders gained political, economic and social power as well as the way by which these powers were lost."
—Carl A. Trocki, Emeritus Professor, Asian Studies, Queensland University of Technology, Australia

"This volume can be situated within a growing historiographical current whereby regional studies of connections, networks and interactions are gradually transcending national histories. Incorporating commercial, ethnic and social elements, the history presented can be concurrently seen as a business case study, a sociological exploration, a political economy treatise and an inquiry into Hokkien networking. Wong Yee Tuan is to be congratulated on this signal study in how local, national and broader regional histories can be integrated."
—Geoffrey Wade, ANU College of Asia and the Pacific, Australian National University

"By aligning family, socio-political and business interests, the leading Penang Hokkien clans centralized their 'home port' as a hub of regional commercial networks, thus successfully extending the trading colonies of Chinese diaspora westward to the edge of the Indian Ocean. Wong has fastidiously researched and compellingly proven this, with a clear eye for relevant cross-cultural collaborations with indigenous and international actors. The important legacy of the 'Big Five' clanhouses is now firmly embedded in the George Town World Heritage Site, inciting further inquiry into the cultural formation of collective entrepreneurship in Southeast Asia."
—Khoo Salma Nasution, Heritage Advocate and Local Historian, Penang
Contents
Penang Chinese Commerce in the 19th Century: The Rise and Fall of the Big Five
[Whole Publication, ISBN: 9789814515030], by Wong Yee Tuan,

author

Preliminary pages and Photos

2. Penang and the Big Five in Regional Context

3. Kith and Kin: The Big Five Familial Web

5. The Contest for 'White Gold'

6. Western Mercantile Elite and Their Challenge to the Penang Chinese

7. New Regional Order and the Decline of the Big Five