From Free Port to Modern Economy: Economic Development and Social Change in Penang, 1969 to 1990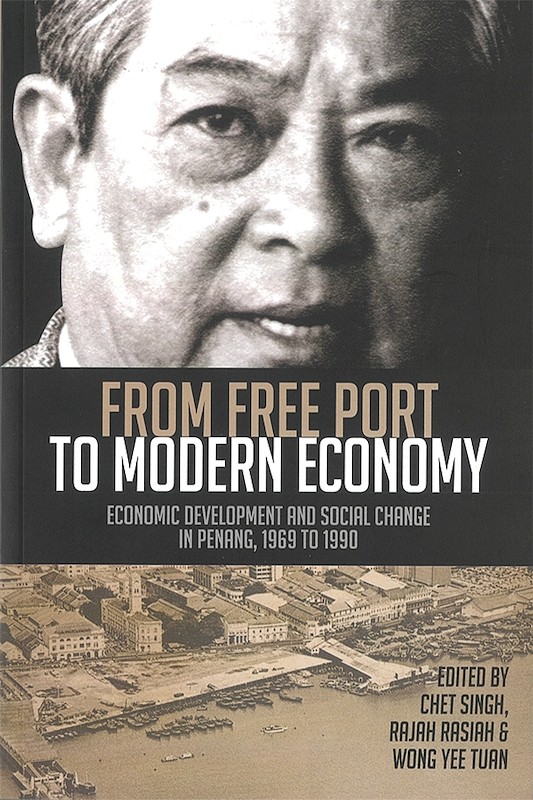 Date of publication:
2019
Publisher:
Penang Institute / ISEAS – Yusof Ishak Institute

Ebook is available
Reviews
Ooi Keat Gin, Kajian Malaysia Vol. 38 No. 2, 2020, pp 187-191, 2020.
"Jointly published by two neighbouring think-tanks, namely the Penang Institute and ISEAS – Yusof Ishak Institute of Penang and Singapore respectively, From Free Port to Modern Economy of some 274-pages offers both specialists and interested general readers an account of how a visionary leader brought change and prosperity to his home island during a 21-year tenure as its political and executive leader (chief ministership). In lieu of a much awaited political biography, or simply, a biography per se of Dr Lim Chong Eu since his passing almost two decades ago, this edited volume might, to some extent, fill this conspicuous void.


Kudos to the editors, the organisation of the chapters flow well in weaving a palatable narrative and analysis of the said socioeconomic transformation.
All in all, there is hardly any quarrel over the volume's contents, analysis and evaluation. The narrative collectively feeds into the overarching thesis of the socioeconomic transformation of Penang from the late 1960s to the 1990s, and even, more pertinent, in highlighting the primary importance of the principal architect, namely, Dr Lim.
There is a conspicuous lacuna of scholarly works on Dr Lim per se, and/or of him in relation to the development and progress of his beloved Penang. In this connection, for the paucity in the literature, From Free Port to Modern Economy, is a welcome piece on the shelves of learned circles as well as in the acquisition of colleges, universities and public institutions. Interested and curious readers will find this volume captivating in the against-all-odds success story genre."
About the publication
The 1950s saw Lim Chong Eu taking an increasingly central role in Malayan politics, moving from the exhilarating preparation for independence to him losing political influence by the end of the decade. The following decade saw him trying to revive his political fortunes, and finally succeeding at the ballot box in 1969. Becoming the Chief Minister of Penang State—retreating from national politics, as it were—provided him with the platform from which he would excel as nation builder and political leader. In the process, he contributed decisively to the industrialisation, not only of Penang but also of Malaysia as a whole. This collection of articles tells the story of how the declining fortunes of the port of Penang was turned around through daring and forceful leadership into the industrialised society that it is today.
Co-publication: Penang Institute / ISEAS – Yusof Ishak Institute
Available for distribution by ISEAS worldwide except Malaysia.
Contents
From Free Port to Modern Economy: Economic Development and Social Change in Penang, 1969 to 1990
[Whole Publication, ISBN: 9789814843973], by Chet Singh, Rajah Rasiah, Wong Yee Tuan,

editors

3. Penang Development Corporation and Penang's Catalytic Transformation, by Chet Singh,

author

4. Transition and Transformation: Local Government in Penang (1969–1976), by Koay Su Lyn,

author

5. "Developmental" States and Economic Growth at the Sub-National Levels: The Case of Penang (1970–2005), by Francis E Hutchinson,

author