Debating Singapore: Reflective Essays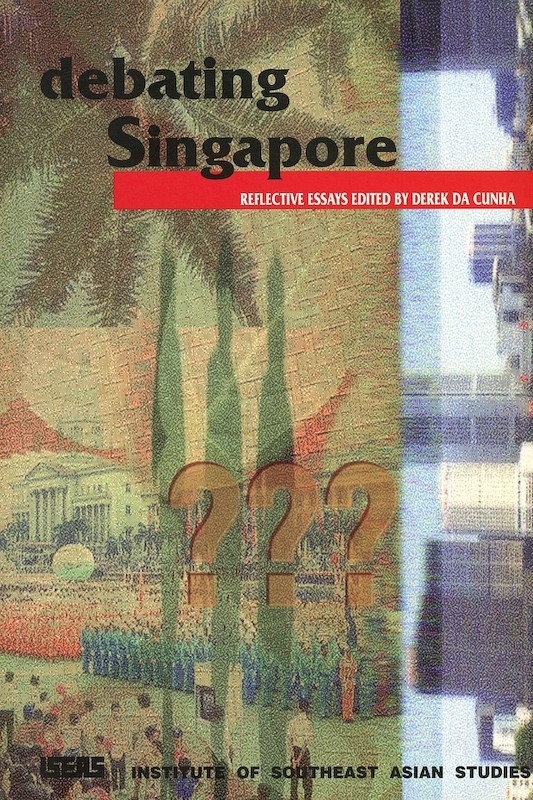 Date of publication:
1994
Publisher:
Institute of Southeast Asian Studies

PDF is available
About the publication
Debating Singapore, a volume of thirty essays, offers perceptive observations, acerbic commentary and judicious critiques from academics and professionals on key economic, social and cultural issues that have shaped discourse on Singapore since 1990. Written between 1990 and 1994, these concise essays capture the essence of debate during a particular moment in time. They also convey a sense of the rapidity with which change, in both tangible and intangible dimensions, takes place in the Singapore of the 1990s.
Contents
Debating Singapore: Reflective Essays
[Whole Publication, ISBN: 9789814379519]

PART I: ENTREE
PART II: DEMOCRACY UNDER SCRUTINY

2. Give Me Liberty or Give Me Wealth, by Russell Heng,

author

3. Nominated MPs: Some Check is Better than No Check, by Walter Woon,

author

4. Foolish to Hamper Democracy's Growth, by Russell Heng,

author

6. For A Communitarian Democracy in Singapore, by Chua Beng Huat ,

author

PART III: DEBATING ETHNICITY, WELFARISM & POPULATION TRENDS

7. Ethnic Peace: A Unique Contribution, by Raj Vasil,

author

8. An Ethnically Diverse Nation's Task, by Ling Mei Lim,

author

PART IV: ASPECTS OF SINGAPOREANNESS

12. Comparing the Singaporean Undergraduate with the American, by Janadas Devan ,

author

13. Kiasuism and the Withering Way of Singaporean Creativity, by David Chan Kum Wah,

author

14. Frugality Jockeys with Conspicuous Consumption, by P. Lim Pui Huen,

author

15. Is Singlish Becoming a Language of Prestige?, by Lee Gek Ling,

author

16. Where Gilded Youth are Lacking in Heart, by Derek da Cunha,

author

Part V: Critiquing the Arts & Popular Culture

20. New Reach for Singapore's English-Language Theatre, by Robert Yeo,

author

22. Self-Congratulation: Hallmark of the Singapore Arts Scene, by Derek da Cunha,

author

PART VI: URBANISM & THE SEARCH FOR SPACE

23. Understanding a Society's Need for Space, by G.L. Ooi,

author

24. Key Urban Challenges Amidst Rapid Change, by P.G. Raman,

author

25. Eye on the Concept Plan, by John Keung,

author

26. A New Urbanism Communicated by Shopping Centres, by Yao Souchou,

author

PART VII: THE ECONOMY: NEW DIRECTIONS, OLD PROBLEMS

28. Creating a New Urban Elite for Singapore, by Toh Thian Ser,

author

29. Privitization May Not Be the Best Answer, by Anne Booth,

author

30. Domestic Enterprises: Levelling the Playing Field, by Tay Kheng Soon,

author

31. When Will Singapore Become a Developed Country?, by Norbert Wagner,

author