Management of Success: The Moulding of Modern Singapore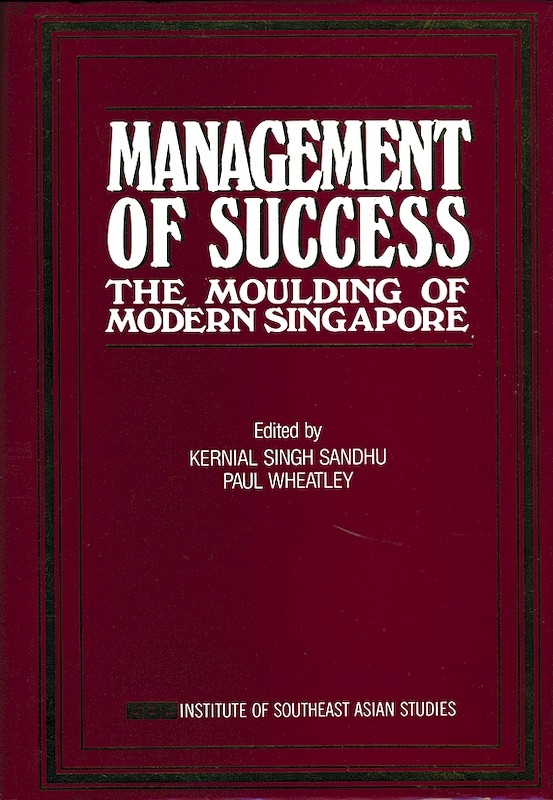 Date of publication:
2000
Publisher:
Institute of Southeast Asian Studies
About the publication
Fifty-six authors provide analytical reflections on how Singapore has been transformed from a colony into a thriving, modern, independent republic. It offers the most comprehensive evaluation of the achievements of the government and people of Singapore to date. An outline of the colonial context is followed by evaluations of government policy and practice; restructuring of the economy and accompanying social changes; concomitant modifications in the cultural matrix, and the way Singapore is responding to the information revolution and the changing international environment.
Contents
Management of Success: The Moulding of Modern Singapore

SECTION 1: SINGAPORE'S INHERITANCE
SECTION 2: LEADERSHIP AND POLICY

2. The Political Leadership: Lee Kuan Yew and the PAP Team, by Robert O Tilman,

contributor

3. The PAP and the Structuring of the Political System, by Chan Heng Chee,

contributor

SECTION 3: THE RESTRUCTURING OF THE ECONOMY

9. From High Growth Rates to Recession, by Lim Chong Yah,

contributor

10. Theoretical Notes on Singapore as a Development Model, by Ronald Findlay,

contributor

11. Diversification of Trade, by Koh Ai Tee,

contributor

12. The Character and Progress of Industrialization, by Chia Siow Yue ,

contributor

13. Expansion of the Services Sector, by Lee Soo Ann,

contributor

16. The Evolution of Singapore as a Financial Centre, by Ralph C Bryant,

contributor

17. Singapore's Record of Price Stability, 1966-84, by Herbert G Grubel,

contributor

19. Providing Mobility and Accessibility, by N Varaprasad,

contributor

SECTION 4: THE TRANSFORMATION OF SOCIETY

22. The Perception and Practice of Education, by Tham Seong Chee ,

contributor

24. The English-Language Writer in Singapore, by Shirley Lim,

contributor

25. The Chinese as Immigrants and Settlers, by Wang Gungwu,

contributor

SECTION 5: THE LAW
SECTION 6: VALUE SYSTEMS

30. Value Premises Underlying the Transformation of Singapore, by Ho Wing Meng,

contributor

33. Self-Images: Contexts for Transformations, by Edwin Thumboo,

contributor

SECTION 7: MODIFICATION OF THE ENVIRONMENT

34. The Transformation of the Physical Environment, by Wong Poh Poh,

contributor

37. The Political Economy of Public Housing, by Cedric Pugh,

contributor

38. The Architecture of Rapid Transformation, by Tay Kheng Soon,

contributor

SECTION 8: TOWARDS AN INFORMATION SOCIETY
SECTION 9: COMMUNITY AND NATIONAL SECURITY
SECTION 10: FOREIGN RELATIONS
SECTION 11: LIFE IN SINGAPORE

46. The Business of Living in Singapore, by Chua Beng Huat ,

contributor

SECTION 12: THE RECKONING