Asian Security Reassessed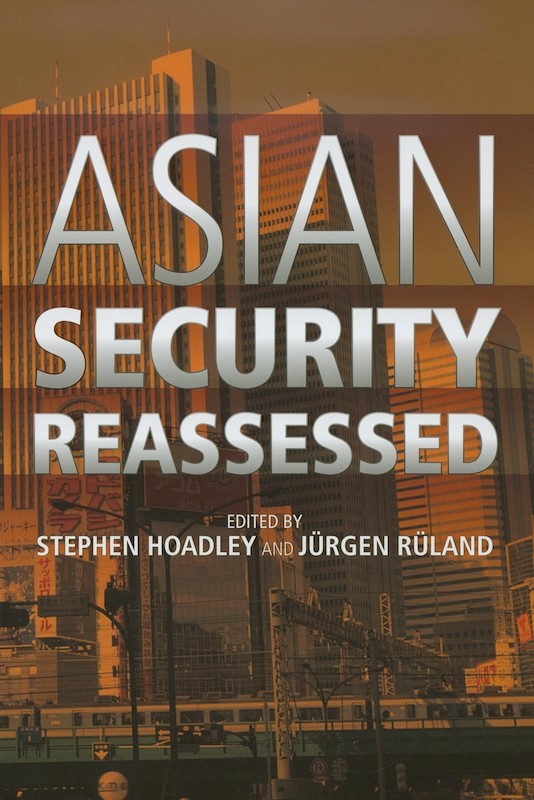 Date of publication:
2006
Publisher:
Institute of Southeast Asian Studies

PDF is available
Review
"According to the authors, it is 'a book about Asian security in which theories, analysis, narrative, and assessment are employed to help the reader better understand the variegated nature of security in Asia' (p.27). The book successfully delivers on these counts, and is well-written throughout. The great strength of the book as a whole lies in its skilful aplication of security concepts of the Asian region, while linking the topics under study to the larger theoretical debates in IR. First, the treatment of security concepts in the introduction and throughout accurately reflects wel the current 'state of the art' in the field, and is related to policy-making concerns to good effect. The book neatly captures the complexities of 'security', but in an accessible format. Most importantly, the book covers both 'traditional' military security issues and 'non-traditional' security threats in the right measure, moving seamlessly across different 'levels of analysis' .... There are no serious flaws to this volume. In conclusion,
Asian Security Reassessed
is a superb overview of regional security affairs and an indispensable addition to the reading list of any university course on IR/Security Studies. I shall have no hesitation in adopting this volume as required reading for my mid- and advanced-level students" (
Pacific Affairs
).
"The book provides an excellent overview of security concepts and the challenges Asia faces. The ease of reading the book is facilitated by its logical framework. The inclusion of figures is most useful in illustrating key points. The editors provide an excellent foundation with a clearly written introduction and then a conclusion that successfully unites key themes along with their policy implications. Overall, the book achieves its goals and the reader is provided with an insightful, clearly written, and high-quality assessment of Asian security. The editors, along with the contributors, are to be congratulated on their excellent work" (New Zealand International Review).
About the publication
This book traces changes in the concept of security in Asia from realist to cooperative, comprehensive, and human security approaches, and assesses a number of policy alternatives to management of both old and new security threats. It surveys not only orthodox security threats such as tensions between regional powers or armed ethnic antagonists but also new sources of anxiety such as resource scarcity, economic instability, irregular migration, community fragmentation, and international terrorism. Security policies of major powers such as China, Japan, and the United States, and the moderating roles of regional organizations such as ASEAN, ARF, SCO, and KEDO are evaluated in historical and contemporary perspectives. Contributors proffer policy-relevant insights where appropriate. The book concludes that traditional security approaches remain valid but need to be adapted to the new challenges, and offers suggestions for incorporating fresh Asian security perceptions into the agendas of policy-makers, analysts, and scholars.




Contents
Asian Security Reassessed
[Whole Publication, ISBN: 9789812307101]

PART I: APPROACHES TO ASIAN SECURITY

1. The Evolution of Security Thinking: An Overview, by Stephen Hoadley,

author

PART II: SECURITY MANAGEMENT BY ASIAN STATES AND REGIONAL INSTITUTIONS

2. Asia from Colonialism to Culturalism, by Bernd Martin,

author

3. Japan and East Asian Regional Security, by Julie Gilson,

author

4. China's Security Strategy and Policies, by Jian Yang,

author

5. United States Security Policies in Asia, by Jorn Dosch,

author

6. Regional Security Institutions: ASEAN, ARF, SCO and KEDO, by Jürgen Haacke,

author

PART III: NON-TRADITIONAL CHALLENGES TO ASIAN SECURITY

7. Weapons Proliferation in Asia, by Rod Lyon,

author

9. Ethnic Conflict, Separation and Terrorism, by Jurgen Ruland,

author

11. Globalization and Asian Financial Insecurity, by Mia Mikic,

author

12. Challenges to Human Rights and Civil Liberties, by Anja Jetschke,

author

PART IV: NEW CONCEPTS OF ASIAN SECURITY

15. Traditionalism and Change in the Asian Security Discourse, by Jurgen Ruland,

author