Hard Choices: Security, Democracy, and Regionalism in Southeast Asia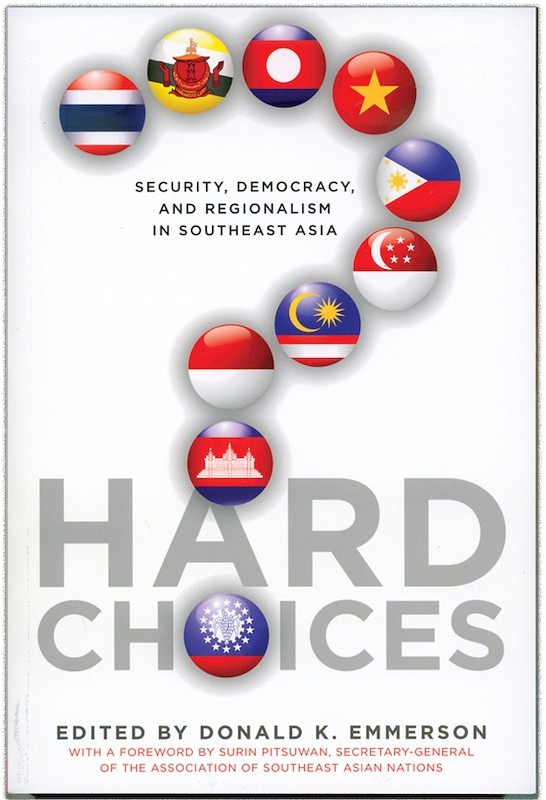 Date of publication:
2009
Publisher:
Institute of Southeast Asian Studies
Review
"
Hard Choices
offers a most rewarding perspective on how Southeast Asian states straddle the ongoing tensions among three rarely compatible goals - security, democracy, and regionalism....empirically rich and topically diverse, [the book]...is broad in scope and full of deep analytic insights. It will be appreciated well beyond Southeast Asia."
- T.J. Pempel, University of California, Berkeley
"In this delightful volume, a diverse, fresh, and talented group of authors shed new light on Southeast Asia and speak engagingly to wider scholarly questions. Emmerson's introduction sets the tone for an unusually creative edited collection." - Andrew MacIntyre, Australian National University
"Donald Emmerson has brought together a remarkable group of leading young scholars to write on Southeast Asian regionalism from political-security, economic, and sociological perspectives. His introductory chapter defines the dimensions of regionalism on which the other contributors elaborate in a series of fine essays examining ASEAN's past, present, and alternative futures. Hard Choices is a landmark study that will be consulted for years to come by scholars and practitioners. Highly recommended." - Sheldon Simon, Arizona State University
"The book is organised into four main sections, the first being a deeply insightful introduction by the editor. Emmerson carefully places the key concepts in their proper context, neatly sets out the nature of the dilemmas currently confronting the region and provides insight into some of the most important contemporary crises -- especially that relating to Myanmar. Overall, this book is hard to fault. It combines a range of perspectives, including academic and policy perspectives, canvasses a number of relevant issues and provides the reader with a very good sense of the critical concerns. In short, those interested in understanding Southeast Asia's contemporary fork in the road should start by reading this excellent volume" (Asia Pacific Viewpoint).
"The volume tackles several critical political issues confronting ASEAN in a refreshing way, involving a lively discussion of the issues by noted experts. It ends with an argument between proponents of radical transformation on the one hand, and more prudent, gradual change of the association on the other. Emmerson correctly identifies Myanmar as the most contentious challenge to Southeast Asian regionalism. ASEAN's capacity to influence significant political change in Myanmar is most frequently and adversely judged by the international community, which often brands the organization as a powerless talk shop. Yet Emmerson is right to identify ASEAN's groundbreaking role in paving the way for international aid to reach the victims of Cyclone Nargis in May 2008 as a tipping point for the grouping, one in which, as he puts it, 'words led to deeds'. Ultimately, this is a book for the times. As Surin writes in the book's foreword, 'The days when domestic political controversies could not be discussed in regional settings are over'. It is here, he writes, 'in the cracks between sovereignties, the spaces between states', that hard ASEAN choices are already being made" (AsiaTimes Online).
"Hard Choices is a collection of loosely but thematically-related essays by ten serious authors who each make interesting, useful and thought-provoking contributions. The book's central chapters contain competing interpretations of the difference democratisation has made and might make to regional politics. On the optimistic side, Mely Cabellero-Anthony and (to a lesser extent) Jorn Dosch argue that democratisation has broken elites' grip over foreign policy, admitting new actors like civil society groups. This, they argue, has produced a new emphasis on democratisation and non-traditional security in ASEAN discourse, suggesting that a role for ASEAN in promoting democracy in countries like Myanmar may not be far-fetched. On the optimistic side, veteran ASEAN official Termsak Chalermpalanupap provides a highly informative overview of ASEAN's institutional development which will be useful for all students of ASEAN. On balance, the evidence in Hard Choices seems to favour the pessimist viewpoint. As Kyaw, Tay and Malley's chapters imply, the fate of individual countries and the overall direction and content of ASEAN regionalism depends ultimately on the struggles of ASEAN's own citizens. A clear-sighted analysis of the respective strengths and weaknesses of the forces of movement and reaction, without succumbing to the defeatism of endorsing authoritarianism or the romanticism of believing that democratic institutions alone imply the victory of civil society (or that ASEAN can do much to create such institutions), is therefore vital for understanding the region's prospects" (Aseasuk News).
About the publication
The region's most powerful organization, ASEAN, is being challenged to ensure security and encourage democracy while simultaneously reinventing itself as a model of Asian regionalism.
Should ASEAN's leaders defend a member country's citizens against state predation for the sake of justice - and risk splitting ASEAN itself? Or should regional leaders privilege state security over human security for the sake of order - and risk being known as a dictators' club? Should ASEAN isolate or tolerate the junta in Myanmar? Is democracy a requisite to security, or is it the other way around? How can democratization become a regional project without first transforming the Association into a "people-centered" organization? But how can ASEAN reinvent itself along such lines if its member states are not already democratic?
How will its new Charter affect ASEAN's ability to make these hard choices? How is regionalism being challenged by transnational crime, infectious disease, and other border-jumping threats to human security in Southeast Asia? Why have regional leaders failed to stop the perennial regional "haze" from brush fires in democratic Indonesia? Does democracy help or hinder nuclear energy security in the region?
In this timely book - the second of a three-book series focused on Asian regionalism - ten analysts from six countries address these and other pressing questions that Southeast Asia faces in the twenty-first century.




Contents
Hard Choices: Security, Democracy, and Regionalism in Southeast Asia
[Whole Publication, ISBN: 9789812308818]

Preliminary pages with Foreword by Surin Pitsuwan

INTRODUCTION

1. Critical Terms: Security, Democracy, and Regionalism in Southeast Asia, by Donald K Emmerson,

author

ASSESSMENTS

2. Sovereignty Rules: Human Security, Civil Society, and the Limits of Liberal Reform, by Jorn Dosch,

author

ISSUES

4. Political Development: A Democracy Agenda for ASEAN?, by Rizal Sukma,

author

5. ASEAN's Pariah: Insecurity and Autocracy in Myanmar (Burma), by Kyaw Yin Hlaing,

author

7. Blowing Smoke: Regional Cooperation, Indonesian Democracy, and the Haze, by Simon S C Tay,

author

8. Bypassing Regionalism? Domestic Politics and Nuclear Energy Security, by Michael S Malley,

author

ARGUMENTS

10. Toward Responsible Sovereignty: The Case for Intervention, by Erik M Kuhonta,

author

Appendix: Text of the Charter of the Association of Southeast Asian Nations