APEC as an Institution: Multilateral Governance in the Asia-Pacific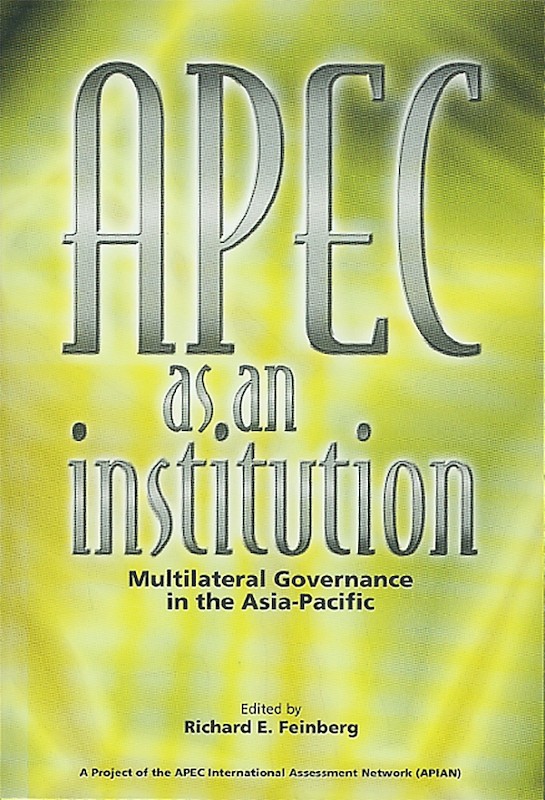 Date of publication:
2003
Publisher:
Institute of Southeast Asian Studies
Review
"This bookis an excellent resource and a 'must read' for anyone interested in APEC or in economic cooperation more generally. APEC has not, perhaps, progressed at the rate that was envisioned during the hey-days of the mid-1990s, but it continues to have a great deal of potential and could serve an important role in the future of the international trading system" (Journal of Asian Business).
About the publication
APEC is an experimental multilateralism, relying not on a large bureaucracy but rather upon national government agencies, semi-autonomous inter-governmental committees and "virtual" associations. Organized around the principles of consensus, voluntarism and unilateralism, APEC has eschewed binding agreements enforced through monitoring and robust compliance mechanisms. This volume assesses the strengths and weaknesses of APEC's "soft" institutionalism, and its capstone policy report, "Remaking APEC", identifies reforms that would close the credibility gap between APEC's promises and accomplishments. Chapters by leading scholars at APEC Study Centres investigate APEC's core agenda -- trade and investment liberalization and capacity-building -- delve into the inner workings of APEC's bureaucracy, and explore APEC's interactions with civil society, including the private sector and NGOs.

This volume contains both the policy report and in-depth specialized studies. It is the product of the APEC International Assessment Network (APIAN), a collaborative, independent project among participating APEC Study Centres. APIAN's first major study, Assessing APEC's Progress: Trade, Ecotech and Institutions was also published by ISEAS(2001).




Contents
APEC as an Institution: Multilateral Governance in the Asia-Pacific

I: POLICY REPORT

1. Remaking APEC as an Institution: the Third APIAN Policy Report

II: APEC'S STRATEGIC OBJECTIVES

2. APEC's Overall Goals and Objectives, Evolution and Current Status, by Hadi Soesastro,

author

III: MANAGEMENT REFORMS

5. Project Selection and Evaluation: APEC's Budget and Management Committee and the Secretariat, by Richard E Feinberg,

author

IV: TRADE, INVESTMENT AND ECOTECH

6. The APEC Decision-Making Process for Trade Policy Issues: The Experience and Lessons of 1994-2001, by Joseph M Damond,

author

8. Investment Liberalization and Facilitation in the Asia Pacific: Can APEC Make a Difference?, by Myrna S Austria,

author

9. The Wheel that Drives APEC: The Criticial Role and Mandate of ECOTECH in APEC, by Medhi Krongkaew,

author

10. Potential in Search of Achievement: APEC and Human Resource Development, by Nigel Haworth,

author

V: NON-GOVERNMENTAL PARTICIPATION IN APEC
VI: APEC AND THE SECURITY AGENDA: FIRST THOUGHTS

13. APEC's Role in Political and Security Issues, by John McKay,

author