View from the 19th floor: Reflections of the first APEC Executive Director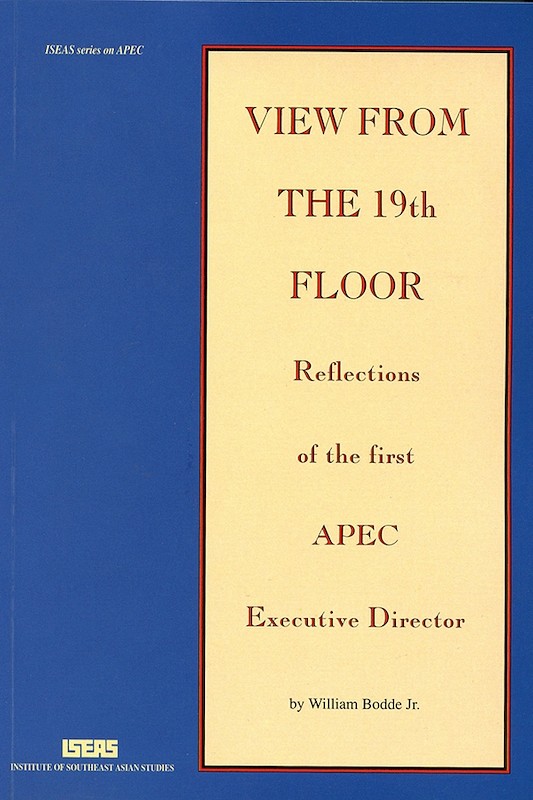 Date of publication:
1994
Publisher:
Institute of Southeast Asian Studies
About the publication
VIEW FROM THE 19th FLOOR: Reflections of the first APEC Executive Director is, in the words of the author, "part narrative, part case study and part of my own thoughts about where APEC should be headed". In 1993, United States Ambassador William Bodde was sent to Singapore to set up a new economic organization. Bodde clearly relished the challenge of establishing a brand new international economic organization in the most dynamic region of the world. Instructed to keep the Secretariat small, effective and financially accountable, he describes his efforts to build a functioning, cross-cultural institution in less than a year. He also has to satisfy the fifteen-member economies spanning the Pacific that the organization reflected the wishes of all APEC members and not just those of the United States! This account, in addition to serving as a case study in international public administration, chronicles the meetings of the APEC Senior Officials and Ministers leading up to the historic APEC Leader's Meeting in Seattle at the end of 1993. He concludes the monographs with a number of provocative organizational and policy recommendations for the future of APEC.
Contents
View from the 19th floor: Reflections of the first APEC Executive Director
[Whole Publication, ISBN: 9789814379274]

1. How Would You Like to Go to Singapore?

2. Gearing Up: Ethics & Accountability

3. The Senior Official's Meetings

4. Secretariat Relations with the Working Groups

5. Starting Down the Information Highway

6. Different Members, Different Visions

8. Wrapping Up in Singapore

Appendix I: What is APEC?

Appendix II: Organization Chart of the Asia-Pacific Economic Cooperation (Forum), 1993

Appendix III: Joint Statement at the First APEC Ministerial Meeting in Canberra, 6-7 November 1989

Appendix IV: Joint Statement at the Second APEC Ministerial Meeting in Singapore, 29-31 July 1990

Appendix V: APEC Declaration at the Third Ministerial Meeting in Seoul, 12-14 November 1991

Appendix VI: APEC Declaration at the Fourth Ministerial Meeting in Bangkok, 10-11 September 1992