Reforming Corporate Governance in Southeast Asia: Economics, Politics, and Regulations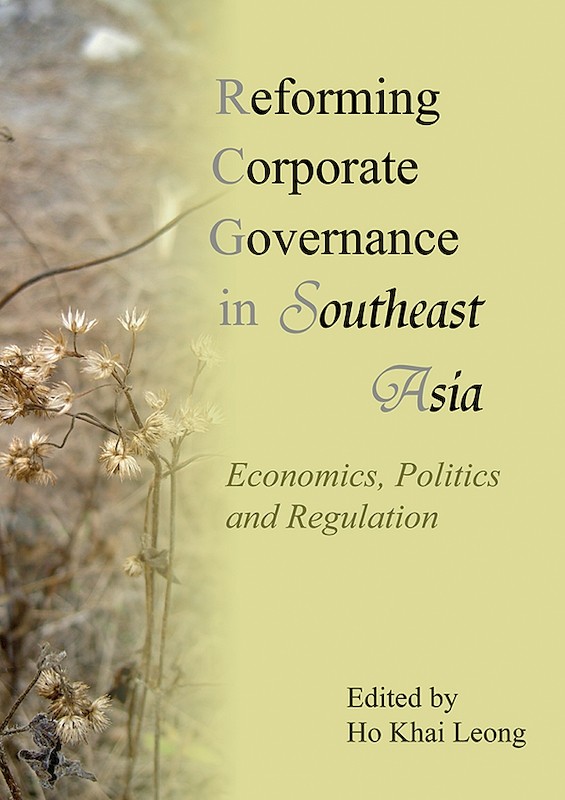 Date of publication:
2005
Publisher:
Institute of Southeast Asian Studies

Ebook is available
Review
"This book provides an excellent sampler of corporate governance reforms in the Southeast Asian countries, reaching similar conclusions for each country. Most writers agree that it is not that the regulations and laws do not offer good guidance on corporate governance in Southeast Asia, but that the business infrastructure does not provide a supportive environment for implementing these rules. For example, a patriarchal culture, which embraces respect at all costs for one's seniors, has to some degree inhibited the punishment mechanism and prevent fair competition. Further, corruption and bribery have become the plague of Asian financial markets. All these issues pose challenges for Southeast Asian financial market participants in practising good corporate governance" (
Bulletin of Indonesian Economic Studies
).
"Overall, the contributors examine not only the specific measures adopted by the Southeast Asian nations, but also the social, economic, and political dimensions of corporate governance reforms in those countries. Several of the studies are carried out from a regional or global perspective. Considering that the literature on comparative corporate governance on Southeast Asian countries is extremely limited, the value of this book is obvious" (Asian Journal of Comparative Law).
About the publication
This multi-disciplinary volume provides a critical examination of corporate governance reform in Southeast Asia especially after the Asian financial crisis in 1997. The weaknesses in the corporate sector, such as poor investment structure, weak legal and accounting systems, faulty financial practices, questionable political interventions, are some of the pertinent issues raised by the authors, who include legal specialists, corporate practitioners, economists, and political scientists. Policy measures to improve corporate transparency, institutional accountability, and fiscal prudence are also proposed. The volume provides interested readers and policy-makers in Southeast Asia with the most current research and policy options on corporate governance reform, and advocates more committed and effective governance changes in the future.










Contents
Reforming Corporate Governance in Southeast Asia: Economics, Politics, and Regulations
[Whole Publication, ISBN: 9789812306326]

Preliminary pages with Introduction by Ho Khai Leong

PART I: OVERVIEWS

1. Corporate Governance: An Alternative Model, by Madhav Mehra,

author

2. Political Institutions and Corporate Governance Reforms inSoutheast Asia, by Wu Xun,

author

3. Disclosure, Reporting, and Derivative Actions: Empowering Shareholders in Southeast Asia, by Low Chee Keong,

author

4. Governance Reforms in the Banking Sector in Southeast Asia: Economics and Institutional Imperatives, by Dipinder S Randhawa,

author

PART II: COUNTRY STUDIESMALAYSIA

5. Corporate Governance Reforms in Malaysia: Issues and Challenges, by Cheah Kooi Guan,

author

6. Corporate Governance in Malaysia: Reforms in Light of Post-1998 Crisis, by Philip Koh Tong Ngee,

author

INDONESIA

8. The Political Economy of Corporate Governance in Indonesia, by Andrew Rosser,

author

THAILAND

9. Building Good Corporate Governance after the Crisis: The Experience of Thailand, by Deunden Nikomborirak,

author

10. National Corporate Governance Committee: Three Disciplines for Good Corporate Governance in Thailand, by Saravuth Pitiyasak,

author

SINGAPORE

11. State of Corporate Governance Reforms in Singapore: Economic Realities, Political Institutions, and Regulatory Frameworks, by Kala Anandarajah,

author

12. Corporate Governance Reforms and the Management of the GLCs in Singapore: Pressures, Problems, and Paradoxes, by Ho Khai Leong,

author

PHILIPPINES
VIETNAM

15. Promoting Good Corporate Governance Practices in Vietnam: A New Element in the Economic Reform Agenda, by Nick J Freeman,

author

16. Corporate Governance in Vietnams Equitized Companies: Progressive Policies and Lax Realities, by Nguyen Thang,

author