SOJOURN: Journal of Social Issues in Southeast Asia Vol. 38/2 (July 2023)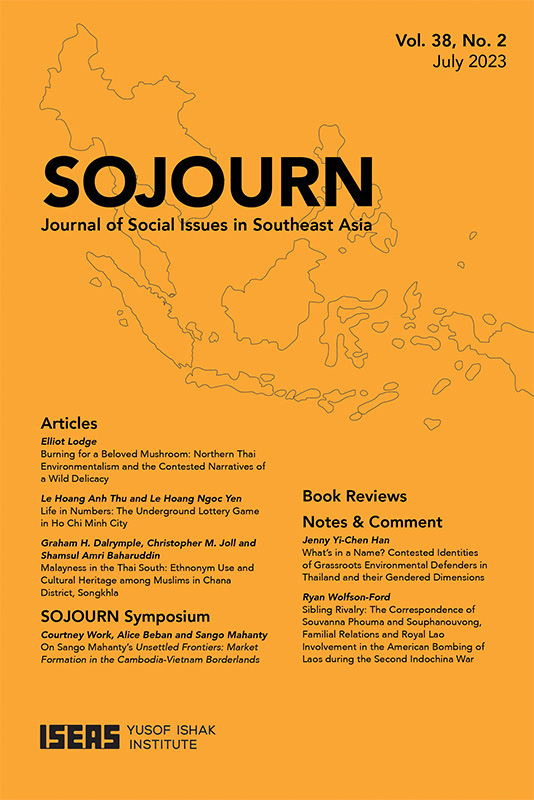 Date of publication:
July 2023
Publisher:
ISEAS – Yusof Ishak Institute

Ebook is available
Contents
SOJOURN: Journal of Social Issues in Southeast Asia Vol. 38/2 (July 2023)
[Whole Publication, ISSN: 17932858]

ARTICLES

Burning for a Beloved Mushroom: Northern Thai Environmentalism and the Contested Narratives of a Wild Delicacy, by Elliot Lodge,

author

see abstract

As Northern Thailand's annual smoke pollution has become increasingly salient in the public consciousness, het thop mushrooms (Astraeus) have become a conspicuous target of blame for environmental crises. The narrative that people burn the forest for sale of these mushrooms is countered by its widespread consumption and enjoyment, and its place as a product in the Northern Thai aesthetic and tradition. This article traces the emergence of competing discourses of het thop as both an object of derision and affection, paying attention to the actors involved and the narratives they deploy. It suggests that while environmentalism in Northern Thailand continues to be largely shaped by elite and exclusionary discourses, class-based changes such as contemporary expressions of "sustainability" have the potential to realign established environmental coalitions.

In the underground lottery game—an illegal albeit prevalent gambling activity in Vietnam—players bet on two- or three-digit numbers and win money if their numbers appear in the results of the official lotteries. The predominant Vietnamese perception of the game as a problem of the lower class reveals that the underclass is conceptualized as a group with several moral shortcomings that have led to its members' underdevelopment. However, this study shows that the game is perceived by its players as a moral reward for their responsiveness to the spiritual world around them, and for their sensibility, experience and attentiveness to daily events and dreams.

This article explores the themes of Malay cultural heritage and attitudes towards ethnonyms promoted by the Thai state among Muslims in Chana District, Songkhla Province, Thailand. It addresses the Malay cultural heritage of Muslims north of Pattani Province, the use of the term khaek for Muslims throughout Thailand until the end of the Second World War, and its subsequent replacement with thai musalim or thai isalam as Bangkok's exonym of choice. Our treatment establishes the Malay cultural heritage of Muslims in present-day Chana and documents the employment of the term khaek for these Malays. The article then introduces ethnographic data based on fieldwork in Chana District, including interviews with a range of Muslim informants. It argues, first, that the material presented reveals the deficiencies in contentions that Chana represents a border between Peninsular Thailand's Thai- and Malay-speaking Muslim communities. Second, it argues that language use and autonym preference among Muslims are not necessarily linked to latitude.

SOJOURN SYMPOSIUM
BOOK REVIEWS

BOOK REVIEW: Republicanism, Communism, Islam: Cosmopolitan Origins of Revolution in Southeast Asia, by John T. Sidel, by Dan Slater,

author

BOOK REVIEW: Political Violence in Southeast Asia since 1945: Case Studies from Six Countries, edited by Eve Monique Zucker and Ben Kiernan, by Kevin Hewison,

author

BOOK REVIEW: Returning Southeast Asia's Past: Objects, Museums, and Restitution, edited by Louise Tythacott and Panggah Ardiyansyah, by M L Pattaratorn Chirapravati,

author

BOOK REVIEW: Return Engagements: Contemporary Art's Traumas of Modernity and History in Sài Gòn and Phnom Penh, by Viet Lê, by Penny Edwards,

author

BOOK REVIEW: Performing Power: Cultural Hegemony, Identity, and Resistance in Colonial Indonesia, by Arnout van der Meer, by Sai Siew Min,

author

BOOK REVIEW: Coup, King, Crisis: A Critical Interregnum in Thailand, edited by Pavin Chachavalpongpun, by Gregory V Raymond,

author

BOOK REVIEW: A History of Cambodia-Thailand Diplomatic Relations: 1950–2020, by Sok Udom Deth, by Kimly Ngoun,

author

BOOK REVIEW: Malaysia: Towards GE15 and Beyond GE15, by Murray Hunter and Lim Teck Ghee, and Dark Forces Changing Malaysia, by Lim Teck Ghee and Murray Hunter, by Carl Vadivella Belle,

author

NOTES & COMMENT

What's in a Name? Contested Identities of Grassroots Environmental Defenders in Thailand and their Gendered Dimensions, by Jenny Yi-Chen Han,

author

see abstract

This research note explores the identities of environmental defenders in Thailand, including their gendered dimensions, and the ways in which environmental actions manifest as a result. It illustrates that dominant notions of environmentalism in Thailand often do not capture the various manifestations of environmentalism as lived reality, and that many displays of environmental protection are marked by class and gendered dimensions that are related to livelihoods, autonomy and land rights. Elucidating the intersecting, yet often ambiguous, identities of defenders helps expand what "environmentalism" entails and may provoke more holistic policy responses that address the interests of more communities.

Sibling Rivalry: The Correspondence of Souvanna Phouma and Souphanouvong, Familial Relations and Royal Lao Involvement in the American Bombing of Laos during the Second Indochina War, by Ryan Wolfson-Ford,

author

see abstract

This research note presents research into nearly forty letters contained in the private diaries of Souvanna Phouma held at the Library of Congress. The newly uncovered letters, covering 1964–70, offer unprecedented insight into a divisive and volatile chapter in relations between princely half-brothers Souvanna Phouma and Souphanouvong, leading figures on opposing sides in Cold War Laos. As the largest bombing campaign per capita in history unfolded, these letters show how the fraternal link between the two leaders did not ameliorate the conflict, as in the past, but contributed to a breakdown in their correspondence. To the degree that they had influence over events, the squabbling half-brothers, each entrenched in his own ideological belief, prolonged the Second Indochina War in Laos by failing to negotiate. More broadly, this note argues that the Royal Lao Government (RLG) played a major role in the US bombing of Laos. Souvanna, as RLG prime minister and minister of defence, was a central figure in this collaboration, which also contributed to the interruption of the correspondence between the two princes.