SOJOURN
About SOJOURN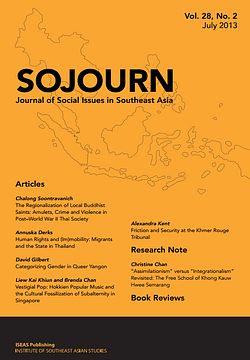 SOJOURN is an interdisciplinary journal devoted to the study of social and cultural issues in Southeast Asia. It publishes empirical and theoretical research articles with a view to promoting and disseminating scholarship in and on the region. Areas of special concern include ethnicity, religion, tourism, urbanization, migration, popular culture, social and cultural change, and development. Fields most often represented in the journal are anthropology, sociology and history.
In the SCImago Journal and Country Rankings for 2019, among journals published in Asia, SOJOURN was ranked 2nd for Anthropology and 9th for Sociology and Political Science.
SOJOURN is indexed in SCOPUS.
Publication Frequency: three times a year (March, July and November)
The SOJOURN page at Project MUSE
SOJOURN is indexed in the following:
America: History and Life (ABC-CLIO)
Bibliography of Asian Studies
EBSCO Academic Search Premier
EBSCO Business Source Premier
EBSCO Sociological Collection
Elsevier
Expanded Academic Index/ASAP
Gale Group
Historical Abstracts (ABC-CLIO)
Ingenta
International Bibliography of Book Reviews
International Bibliography of Periodical Literature
International Bibliography of the Social Sciences
International Serials Database
ISI Emerging Markets
PAIS International
PAIS Select
ProQuest Information and Learning
Sociological Abstracts
World Affairs Online
Editorial Committee
Chairperson
Choi Shing Kwok (ISEAS)
Managing Editor
Su-Ann Oh (ISEAS)
Book Review Editor
Benjamin Loh (ISEAS)
Production Editor
Stephen Logan (ISEAS)
Editors
Terence Chong (ISEAS)
Magnus Fiskejö (Cornell)
Hui Yew-Foong (Hong Kong Shue Yan University)
Michael Montesano (ISEAS)
Ooi Kee Beng (Penang Institute)
Thomas B. Pepinsky (Cornell)
Associate Editor
Arielene Wee (ISEAS)
International Advisory Committee
Filomeno V. Aguilar Jr. (Ateneo de Manila University)
Barbara Watson Andaya (University of Hawai'i at Manoa)
Liana Chua (Brunei University London)
Kirsten Endres (Max-Planck-Institut für ethnologische Forschung)
Terence Gomez (University of Malaya)
Christopher Goscha (Université du Québec à Montréal)
Vedi Hadiz (The University of Melbourne)
Anne Hansen (University of Wisconsin-Madison)
Caroline Hau (Kyoto University)
Shirlena Huang (National University of Singapore)
Okamoto Masaaki (Kyoto University)
Andrew Wilford (Cornell University)
Subscription Rates
Individual
Institution
Singapore, Malaysia, Brunei
64.00&nbspUSD
80.00&nbspSGD
114.00&nbspUSD
142.00&nbspSGD
Asia, Australia, New Zealand, Japan
66.00&nbspUSD
83.00&nbspSGD
122.00&nbspUSD
153.00&nbspSGD
Europe, North America, South America, Africa, Middle East
90.00&nbspUSD
113.00&nbspSGD
167.00&nbspUSD
209.00&nbspSGD
Note: Annual subscription rates include electronic delivery as well as the printed copy by air.
Submissions
Contributions are invited from all scholars, and especially those working in Southeast Asian universities and research institutions. Research notes and comments, which include reports of research findings and may be of shorter length, are also invited. Notes on conferences, seminars and workshops, and comments on institutions devoted to Southeast Asian Studies are occasionally published in SOJOURN.
Manuscripts should be submitted as soft-copy with margins of 3 cm on all sides and double spacing of text. Bibliographical references should be incorporated into the text using the author-date system, with page numbers included. Notes should be kept to a minimum and numbered consecutively throughout the text. References should be listed in alphabetical order at the end of the manuscript. For journal articles, the volume and issue numbers, month and year of publication and inclusive page numbers are to be provided. A detailed SOJOURN style sheet is available upon request.
The Editors
SOJOURN
ISEAS – Yusof Ishak Institute
30 Heng Mui Keng Terrace
Singapore 119614

Fax: 65-67781735
E-mail: sojourn@iseas.edu.sg, suannoh@iseas.edu.sg
Book Reviews
Publishers can send books for review to:
Book Review Editor
SOJOURN
ISEAS – Yusof Ishak Institute
30 Heng Mui Keng Terrace
Singapore 119614

For more information, please email: sojourn@iseas.edu.sg