Indonesia's Economy since Independence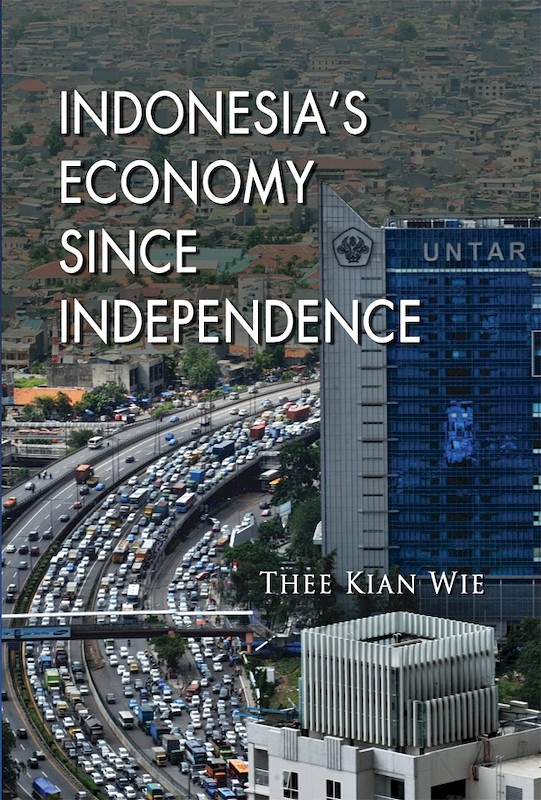 Date of publication:
2012
Publisher:
Institute of Southeast Asian Studies

Ebook is available
Review
"Thee Kian Wie was one of Indonesia's most respected and most prominent economic historians. His recent passing is a great loss for Indonesia and its younger economists, many of whom refer to Thee as a role model. This book gathers together 14 of Thee's published papers that were scattered elsewhere, making it a valuable collection for readers seeking to understand the chronology and dynamics of Indonesia's economic development since the 1940s. The book's strength is its comprehensive scope; it contains many examples of past policies introduced to promote economic development, as well as the effects of these policies. In other words, the book gives a relatively complete account of Indonesia's policy successes and failures, and hence it provides many important lessons. Indonesia's Economy since Independence is a must read for both students and shapers of Indonesia's economy. It offers an excellent and meticulous analysis of Indonesia's economic development and gives thorough explanations of what went wrong in the past, which no economic policymaker in Indonesia can afford to ignore" (Bulletin of Indonesian Economic Studies).

"During the last 40 years, Indonesian economist Thee Kian Wie has produced many books and articles on Indonesia's economic development. His latest work comprises a series of essays of varying lengths on economic aspects of Indonesia's post-independence history. These articles have already been published, but are conveniently brought together in this volume. The section on Indonesia's industrial policies, is comprehensive, detailed and informative. The outlines of the main trends in industrial policy and on the policies for Indonesia's technological development are extremely useful introductions to these topics. The most successful section of the book, however, is the author's analysis of particular industrial sectors -- wood products, garments and the manufacture of automobile components. The author charts their emergence, outlines the main reasons for their early successes, locates their relative importance regionally, and shows how they were facilitated by government policies. Throughout the text, Thee Kian Wie's descriptions and conclusions are based on his own insights as a national planner, working with successive Indonesian governments. This undoubtedly enriches his presentation of the processes of policy formulation and development, and informs his detailed descriptions of sectoral development. Thee Kian Wie's collection provides us with some very useful background papers and important detailed analyses of particular contemporary historical periods and economic sectors" (Asian Affairs).

About the publication
This book contains a collection of papers on various aspects of Indonesia's economic and its industrial development. It discusses the early independence period in the 1950s; the Soeharto era (1966-1998); and the ensuing two economic crises, namely the Asian Financial Crisis of 1997/98 and the Global Financial Crisis of 2008.
Contents
Indonesia's Economy since Independence
[Whole Publication, ISBN: 9789814379540]

Preliminary pages with Introduction

PART I: THE EARLY INDEPENDENCE PERIOD IN THE 1950s

1. Indonesianization: Economic Aspects of Decolonization in the 1950s

2. Indonesia's First Affirmative Policy: The Benteng Programme in the 1950s

3. The Debate on Economic Policy in Newly-independent Indonesia between Sjafruddin Prawiranegara and Sumitro Djojohadikusumo

PART II: THE SOEHARTO ERA: 1966-1988

4. Indonesia's Economic Development During and After the Soeharto Era: Achievements and Failings

5. The Impact of the Two Oil Booms of the 1970s and the Post-Oil Boom Shock of the Early 1980s on the Indonesian Economy

PART III: THE ASIAN FINANCIAL CRISIS AND THE GLOBAL FINANCIAL CRISIS

6. Indonesia's Two Deep Economic Crises: The Mid-1960s and Late 1990s

7. The Impact of the Global Financial Crisis on the Indonesian Economy and the Prospects for the Resumption of Rapid and Sustained Growth

8. Indonesia and the BRICs

PART IV: INDUSTRIAL DEVELOPMENT

9. Indonesia's Industrial Policies and Development since Independence

10. Policies Affecting Indonesia's Industrial Technology Development

11. The Major Channels of International Technology Transfer to Indonesia: An Assessment

12. The Indonesian Wood Products Industry

13. The Development of Labour-Intensive Garment Manufacturing in Indonesia

14. Indonesia's Auto Parts Industry