Sustainability of Thailand's Competitiveness: The Policy Challenges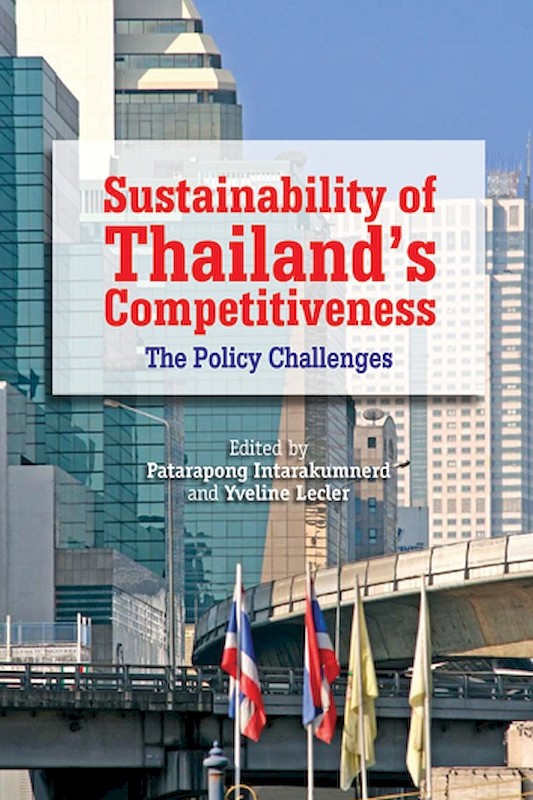 Date of publication:
2010
Publisher:
Institute of Southeast Asian Studies
Review
"For the purposes of understanding what has taken place and what is likely to come regarding Thailand's industrial sector, each chapter explores different aspects of Thai industrialisation so that the book gives a clear overall picture of Thailand's industrial situation. It is obvious that sustainability is an important concern for Thailand, yet little improvement has been realised. This book points out challenging weaknesses that the policymaker must manage to ensure Thailand's prosperity. All in all, this book provides a good resource for people interested in understanding the current strengths and weaknesses of Thailand's industrial sector. It also identifies key challenges with which the policymaker must contend when endeavouring to promote sustained, long-term growth" (Asian-Pacific Economic Literature).
About the publication
Competitiveness of a country requires continuous upgrading and, sometimes, major transformation. Thailand is at the crossroad. It can no longer pursue a strategy based on low-cost advantages, but its capability achievements are still too low to become an advanced economy. This book points out weaknesses of Thailand's national innovation system or education and suggests how the country should develop new capabilities to survive and prosper in the globalized and fiercely competitive world. It will be useful to researchers and students who want to learn more about Thailand and emerging countries, and also to policy-makers and executives involved in economic and industrial development.

Co-published with IRASEC (Research Institute on Contemporary Southeast Asia), Bangkok
Contents
Sustainability of Thailand's Competitiveness: The Policy Challenges
[Whole Publication, ISBN: 9789814279482]

Preliminary pages with Introduction

PART I: THAILAND'S INDUSTRIAL DEVELOPMENT: GENERAL VIEWS

2. Catching Up or Falling Behind: Thailand's Industrial Development from the National Innovation System Perspective, by Patarapong Intarakumnerd,

author

3. Industrial Upgrading and Educational Upgrading: Two Critical Issues for Thailand, by Bruno Jetin,

author

PART II: THE ROLES OF INSTITUTIONS: CLUSTERS AND INDUSTRIAL ESTATES

4. Industrial Restructuring Policies in Thailand: Japanese or American Approach, by Akira Suehiro,

author

5. The Role of Industrial Estates in Thailand's Industrialization, New Challenges for the Future, by Natacha Aveline-Dubach,

author

PART III: FIRMS AND GOVERNMENT NEW INITIATIVES: THE INDUSTRY ANALYSIS

6. Manufacturing and Management Systems of Japanese Manufacturers in Southeast Asia: The Case of Automobile Industry in Thailand, by Shinya Orihashi,

author

7. The Textile and Garment Industry in Thailand: The Technology and Education Upgrading Challenge, by Audrey Baron-Gutty,

author

8. From Growth Based on Low Cost to Capability Upgrading Policies: The Thai Hard Disk Drive Industry, by Yveline Lecler,

author