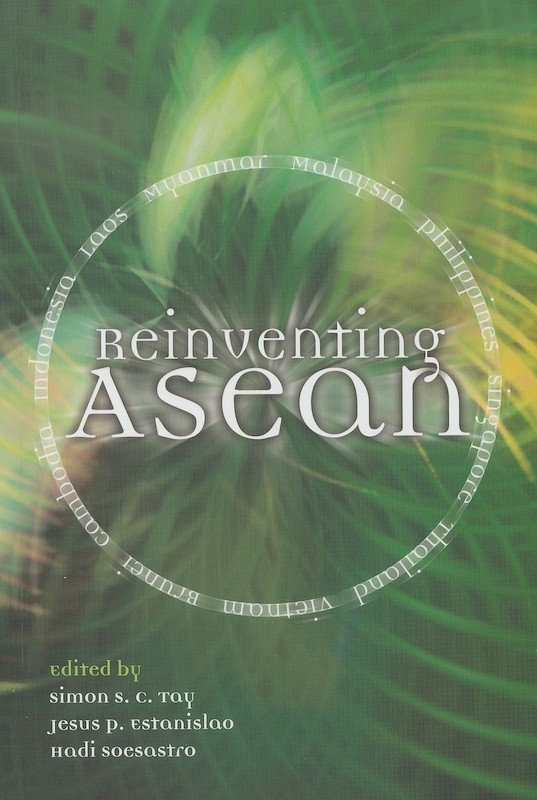 Date of publication:
2001
Publisher:
Institute of Southeast Asian Studies
About the publication
Reinventing ASEAN brings together contributions by some of the leading and well-established experts on ASEAN. It focuses primarily on the political-security and economic dimensions of ASEAN co-operation. In so doing, the authors have all treated the scope of their topics broadly. The idea of politics and security in ASEAN has been considered from many different aspects, under the rubric of "comprehensive" security or, to use a more recent term, "human" security. The consideration of economics is also rounded, and includes issues of development, as well as the political context for economic co-operation. Additionally, ASEANs processes and institutions, or what has been called the "ASEAN way", are also studied. After all, co-operation between nation-states encompasses not only what the members are trying to achieve together, but also the rules of how they are to work together. Thus, other areas for ASEAN co-operation, such as financial matters and environmental protection are also considered among the larger issues.
Contents
Reinventing ASEAN
[Whole Publication, ISBN: 9789812305138]

PART I:THE CONTEXT FOR CHANGE

2. ASEANs Past and the Challenges Ahead: Aspects of Politics and Security, by Jusuf Wanandi ,

author

3. ASEAN in the Past Thirty-Three Years: Lessons for Economic Co-operation, by Narongchai Akrasanee,

author

PART II: CHALLENGES TO CO-OPERATION

4. Trade, Investment, and Interdependence, by Mohamed Ariff,

author

7. ASEAN in the Age of Globalization and Information, by Chia Siow Yue ,

author

PART III: FUTURE NEEDS

11. ASEAN and East Asia: A New Regionalism?, by Simon S C Tay,

author

12. Towards an East Asian Regional Trading Arrangement, by Hadi Soesastro,

author

13. Institutions and Processes: Dilemmas and Possibilities, by Simon S C Tay,

author

Selected Bibliography and References