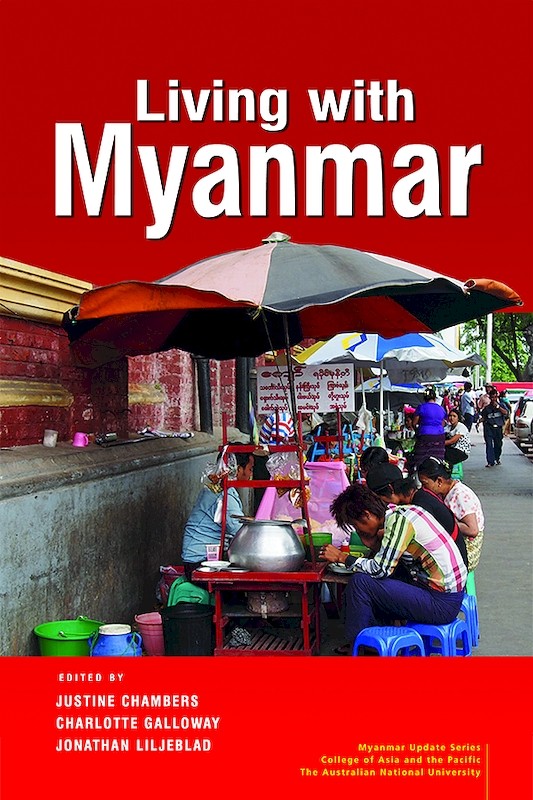 Date of publication:
2020
Publisher:
ISEAS – Yusof Ishak Institute

Ebook is available
About the publication
Since 2011 Myanmar has experienced many changes to its social, political and economic landscape. The formation of a new government in 2016, led by the National League for Democracy, was a crucially important milestone in the country's transition to a more inclusive form of governance. And yet, for many people everyday struggles remain unchanged, and have often worsened in recent years. Key economic, social and political reforms are stalled, conflict persists and longstanding issues of citizenship and belonging remain.
The wide-ranging, myriad and multiple challenges of Living with Myanmar is the subject of this volume. Following the Myanmar Update series tradition, each of the authors offers a different perspective on the sociopolitical and economic mutations occurring in the country and the challenges that still remain. The book is divided into six sections and covers critical issues ranging from gender equality and identity politics, to agrarian reform and the representative role of parliament. Collectively, these voices raise key questions concerning the institutional legacies of military rule and their ongoing role in subverting the country's reform process. However, they also offer insights into the creative and productive ways that Myanmar's activists, civil society, parliamentarians, bureaucrats and everyday people attempt to engage with and reform those legacies.
Contents
PART 1: INTRODUCTION
PART II: PARLIAMENTARY LIFE

3. People Power or Political Pressure? Drivers of Representative Performance in Southern Sub-National Parliaments, Myanmar, by Nyein Thiri Swe, Zaw Min Oo,

authors

4. Time Changing Hands in Myanmar: On Former Prisoners' Journeys into Politics, by Andrew M. Jefferson ,

author

PART III: ECONOMIC LIFE

5. Macro-Financial Reforms in Myanmar under the NLD: Plans, Progress and Prospects , by Sean Turnell, Nyein Ei Cho,

authors

6. Poverty and Inequality in Myanmar: 2005–2017, by Peter Warr,

author

7. Myanmar's Rural Economy at a Crossroads, by Ikuko Okamoto,

author

PART IV: LIVING WITH INSTITUTIONAL LEGACIES

9. Reviewing Reforms in the NLD's Fourth Year – Education, Citizenship and Peace, by Marie Lall,

author

PART V: LIVING WITH PLURAL IDENTITIES

13. Do People Really Want Ethnofederalism Anymore? Findings from Deliberative Surveys on the Role of Ethnic Identity in Federalism in Myanmar, by Michael G Breen, Baogang He,

authors

14. The Emergence of Dawkalu in the Karen Ethnic Claim in the 1880s and the Beginning of Contestations for "Native Races", by Hitomi Fujimura,

author

15. The Ambiguities of Citizenship Status in Myanmar, by Peggy Brett,

author

PART VI: CONCLUSION

Abbreviations and Key Terms