Citizenship in Myanmar: Ways of Being in and from Burma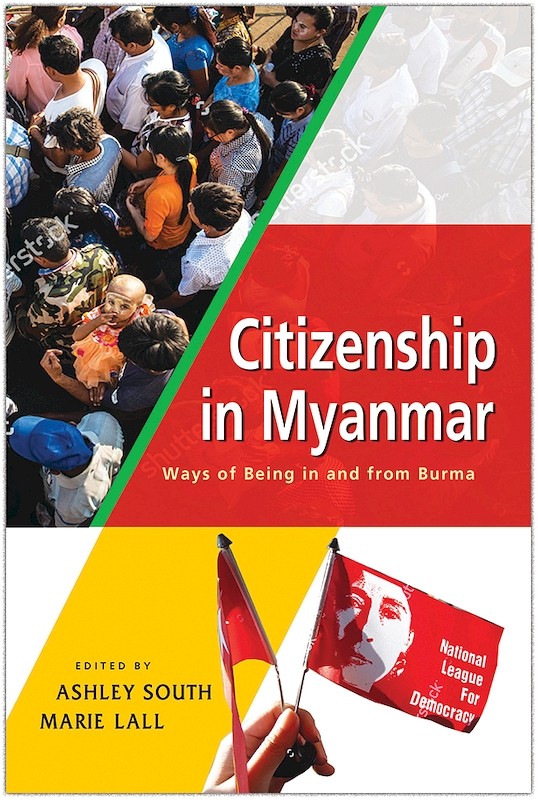 Date of publication:
2017
Publisher:
ISEAS – Yusof Ishak Institute/Chiang Mai University Press

Ebook is available
Review
Robert Taylor, Asian Affairs, Vol XLIV, No. iii, Sept 2018.
"The 18 contributors to this volume, an outgrowth of a conference on Myanmar studies held in Chiangmai, Thailand, in 2015, have presented a varied selection of academic analysis and personal participant viewpoints from Myanmar citizens of various ethnicities on different aspects of citizenship in the country now.
There is a useful Introduction by editors South and Lall, including a very concise but helpful reminder of what citizenship, as an artefact of the modern State, consists of both in law and in political theory.
The two chapters which are most timely given the recent news from northern Rakhine State in Western Myanmar are those by a long-time historian of that part of the world, the Luxembourgian scholar Jacques Leider, and by former British ambassador Derek Tonkin. Leider provides a rare account of the clashes that occurred between Buddhists and Muslims in Arakan in 1942 as the British administration withdrew in the face of the invading Japanese. From the resulting chaos and violence were shaped the political identities which now fuel the conflict between the recently coined 'Rohingya' and the Rakhine Buddhist communities. Derek Tonkin provided a careful and detailed analysis of the origins and nature of the evolution of the citizenship crisis which underlies the great insecurity of the Rohingya on both sides of the northern Rakhine/southern Chittagong border. He rightly attributes the problem not to the much criticised, and rarely read, 1982 Citizenship of Myanmar Act, but to the failure of all governments of Myanmar since independence was gained in 1948 to implement either that law or earlier definitions of citizenship."
Gerry van Klinken, Journal of Contemporary Asia, Routledge, 23 March 2018.
"Despite its somewhat fragmentary edited volume character, this book does a lot to make Myanmar less opaque. It takes the striking decision to consider Myanmar as a citizenship problem. Unlike so many books about the country, this one is not about the military, ceasefires in ethnic regions, China versus the US, crony capitalists or the Golden Triangle. It is not even about democracy and human rights. It is about ordinary citizens.
Citizenship is a fabulous lens on Myanmar's intractable problems, because it starts and ends with those all too often invisible people that the country's politics are ultimately about. Indeed, I suspect citizenship is a more powerful analytical frame than the editors themselves quite realize.
Citizenship is political. The contemporary literature on citizenship around the world is accordingly much more political than the mere notion of membership implied in the book's subtitle ("Ways of Being In and From Burma"). The literature focuses on the contention that creates boundaries separating citizens from non-citizens, rather than simply on the "being" that takes place within boundaries once they are established. Part of a new ferment in citizenship studies is an emerging field focusing on citizenship in less developed countries.
The most revealing chapter in this post-1988 (and post-2015) part of the book is Gerard McCarthy's observations on everyday citizenship.
The book is enlivened by vignettes, some wistful, others exasperated, in which various prominent Myanmarese talk about being a citizen. The gap between these personal narratives and the heavy intellectual lifting done elsewhere in the book is revealing of the state of play in Myanmar studies. It certainly strengthened my sense that this pioneering study should be just the beginning of an exciting and comparative venture in which ordinary citizens once more gain a voice."
Mael Raynaud, Tea Circle, 12 March 2018.
"There hardly could be a more timely book in Myanmar studies than the collection of essays and testimonies edited by Ashley South and Marie Hall in Citizenship in Myanmar: Ways of Being in and from Burma.
The book, which is comprised of 9 academic chapters and 6 "contributions" by ethnic community and political leaders from Myanmar, opens on a long introduction by Ashley South and Marie Lall, one of the strongest sections of the book.
The book ... can be divided along the lines of three big questions:
1. Who has the right to Myanmar citizenship?
2. What is the relationship between ethnicity and citizenship?
3. What does citizenship mean in the Myanmar of the 2008 constitution, with a still dominant Tatmadaw, an electorally hegemonic NLD (probably in 2020 again), and an elite in Nay Pyi Taw, NLD included, that doesn't listen to or respect civil society?
There are many lessons to be learnt in this book. Give the youth (and others) the opportunity to practice citizenship in the ways they choose, to build bridges and not repeat the mistakes of the past, and educate them, including in history and civics. There's more than a life's work in this project as it is. Citizenship and its discontents in Myanmar is a fraught and harrowing issue, but South and Lall's volume offers rich material to unpack the situation and think deeply and widely about ways forward."
About the publication
Myanmar is going through a period of profound and contested transition. The country has experienced widespread if sometimes uneven reforms, including the start of a peace process between the government and Myanmar Army, and some two dozen ethnic armed organizations, which had long been fighting for greater autonomy from the militarized and Burman-dominated state.
This book brings together chapters by Burmese and foreign experts, and contributions from community and political leaders, who discuss the meaning of citizenship in Myanmar/Burma. The book explores citizenship in relation to three broad categories: issues of identity and conflict; debates around concepts and practices of citizenship; and inter- and intra-community issues, including Buddhist–Muslim relations. This is the first volume to address these issues, understanding and resolving which will be central to Myanmar's continued transition away from violence and authoritarianism.
Co-publication: ISEAS – Yusof Ishak Institute/Chiang Mai University Press
Co-published with Chiang Mai University Press for distribution in Thailand
Contents
Citizenship in Myanmar: Ways of Being in and from Burma
[Whole Publication, ISBN: 9789814786218], by Ashley South, Marie Lall,

editors

1. Ethnic Politics and Citizenship in History , by Martin T Smith,

author

3. National Political Dialogue and Practices of Citizenship in Myanmar , by Matthew Walton,

author

4. Citizenship and Minority Rights: The Role of National Race Affairs Ministers in Myanmars 2008 Constitution , by Ardeth Maung Thawnghmung, Yadana,

authors

Special Contribution: Karenni People at a Glance , by Khu Oo Reh,

author

5. Myanmar's Youth and the Question of Citizenship , by Marie Lall,

author

Special Contribution: I Am a Citizen of Myanmar , by Aung Naing Oo,

author

6. "The Value of Life": Citizenship, Entitlement and Moral Legibility in Provincial Myanmar , by Gerard McCarthy,

author

Special Contribution: How I Became Shan, by Sai Kheunsai,

author

7. Conflict and Mass Violence in Arakan (Rakine State):The 1942 Events and Political Identity Formation, by Jacques P Leider,

author

8. Exploring the Issue of Citizenship in Rakhine State, by Derek Tonkin,

author

Special Contribution: Rohingya and Nationality Status in Myanmar, by Nurul Islam,

author

9. Myanmar's Other Muslims: The Case of the Kaman, by Nyi Nyi Kyaw,

author