The Diplomat-Scholar: A Biography of Leon Ma. Guerrero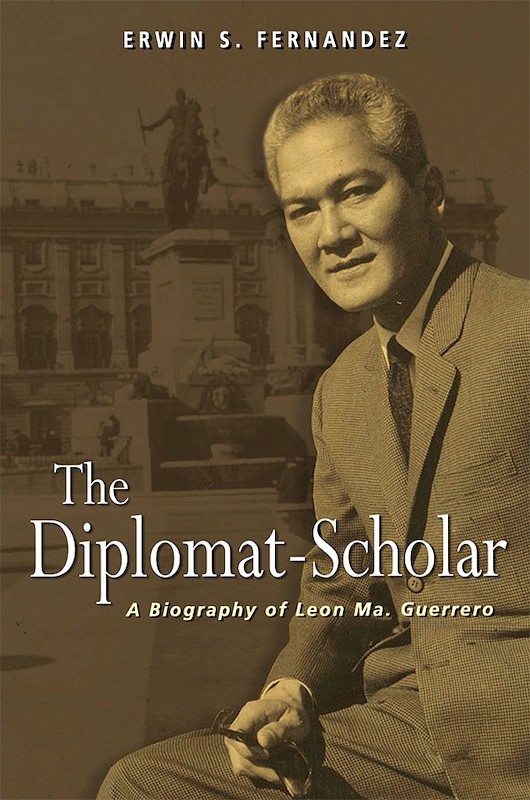 Date of publication:
2017
Publisher:
ISEAS – Yusof Ishak Institute

Ebook is available
Reviews
2020 Gintong Aklat Award Finalist_Creative Non-fiction in English:
Nikki B. Carsi Cruz. Perspectives in the Arts and Humanities Asia 8.2 (2018): 73-75.
"The Diplomat-Scholar: A Biography of Leon Ma. Guerrero is a detailed account of the life and work of a pioneering Southeast Asian diplomat and intellectual. The book aims to describe and determine Leon Ma. Guerrero's place in Philippine literary and diplomatic history while situating him within the larger context of global affairs. This biography offers a unique perspective on international relations, from the angle of vision of a subaltern diplomat in the age of decolonization.
The book's epilogue best demonstrates the craft and style of Erwin Fernandez as biographer. Having already given a wealth of details in the body of the book, his epilogue is less of a mosaic and more of a weave made up of thematic strands from the book's 25 chapters, tied up beautifully.
With this book Fernandez makes a significant contribution not just to Philippine Studies and Southeast Asian Studies, but to the study of Diplomatic History and World Affairs by offering a rare perspective from the underside of International Relations."
Angelis Prattas, Book Authority, 2018.
This book has been identified and rated to be the 3 best Biography Books for beginners by BookAuthority.
*BookAuthority is a leading website for nonfiction book (business, technology and science) recommendations. It curates books recommended by well known business leaders and experts - as featured on CNN, Inc and Forbes.
Severo C. Madrona Jr., Philippine Studies: Historical and Ethnographic Viewpoints, Vol.66:1, pp. 119-122, 2018.
"The book is organized in five parts, with a total of twenty-five chapters. Each chapter describes an episode in Guerrero's life, starting from his bourgeois lineage and Jesuit education at the Ateneo de Manila to his career as a literary critic, playwright actor, journalist, government lawyer, and ultimately a pioneering Filipino diplomat.
What is commendable about The Diplomat-Scholar is the meticulous utilization of sources. There is no doubt that Fernandez's employment of Guerrero's speeches and interviews allows him to reecho the diplomat-scholar's voice as Guerrero pursued his advocacy for close relations with socialist countries, diplomacy of development, the reexamination of Philippine-US relations, and defense of martial law in the international community. The narrative is engaging in that it invites readers to do further research to satisfy their thirst for more information.
Fernandez succeeds in some ways in situating Guerrero's story in the intersections of family, literary, diplomatic, and transnational history of the postwar Philippines. Fernandez gives us a glimpse of how Guerrero's nationalist and realist approach might have contributed to the Philippine's quest for identity in the community of nations. Through a meticulous analysis of the diplomat-scholar's speeches and dispatches, Fernandez secures Guerrero's place in Philippine diplomatic history."
About the publication
Leon Ma. Guerrero (1915–82), a top-notch writer and diplomat, served six Philippine presidents, beginning with President Manuel L. Quezon and ending with President Ferdinand E. Marcos. In this first full-length biography, Guerrero's varied career as writer and diplomat is highlighted from an amateur student editor and associate editor of a prestigious magazine to ambassador to different countries that reflected then the exciting directions of Philippine foreign policy. But did you know that he served as public prosecutor in the notorious Nalundasan murder case, involving the future Philippine president? Did you also know that during his stint as ambassador to the Court of Saint James he wrote his prize-winning biography of Philippine national hero, Jose Rizal? Learn more about him in this fully documented biography recounting with much detail from his correspondence the genesis and evolution of his thinking about the First Filipino, which is the apposite title of his magnum opus.
Contents
The Diplomat-Scholar: A Biography of Leon Ma. Guerrero
[Whole Publication, ISBN: 9789814762434], by Erwin S Fernandez,

author

Preliminary pages with Prologue and Chronology

PART I: ERMITA AND SANTA CRUZ TO INTRAMUROS: BETWEEN LITERARY AND LEGAL CAREER

1. Bourgeois Ermita: Birth and Boyhood

2. Education under American Jesuits

3. The Humorist as Critic, Writer and Actor

4. Juggling Law and Journalism on the Eve of War

PART II: TO TOKYO AND BACK: THE MAKING OF A DIPLOMAT

5. The Assistant Solicitor

6. From Intelligence Officer in Bataan to the Return of Ignacio Javier

7. Second, then First Secretary

8. At the Home Office: The Diplomat as Historian

PART III: GOING IN, THEN OUT OF THE POLITICAL JUNGLE: PADRE BURGOS TO ARLEGUI

9. The Legal Counsel, Professor and Translator

10. The Foreign Policy Critic and Spokesman

11. "Asia for the Asians" or How to Leave Arlegui in Six Months

PART IV: LONDON AND MADRID: THE PHILIPPINES IN A RESURGENT ASIA

12. At the Court of Saint James

13. A Verbal Tussle in the UN

16. In Search of the Burgos Trial Records

17. Home Leave in Preparation for a State Visit

PART V: NEW DELHI TO BELGRADE: THE PHILIPPINES TOWARDS NON-ALIGNMENT

18. Homecoming to Asia at Nehruvian India

19. Diplomacy of Development and Other Speeches

20. The Foreign Policy Rescuer and Again, Critic

21. The Diplomat as Efficient Intellectual-Bureaucrat

22. Endorsing Non-alignment amid Personal Crisis.

23. Flirting with Dictators

24. Martial Law Propagandist

25. At Tito's Pre-Balkanized Yugoslavia