As Empires Fell: The Life and Times of Lee Hau-Shik, the First Finance Minister of Malaya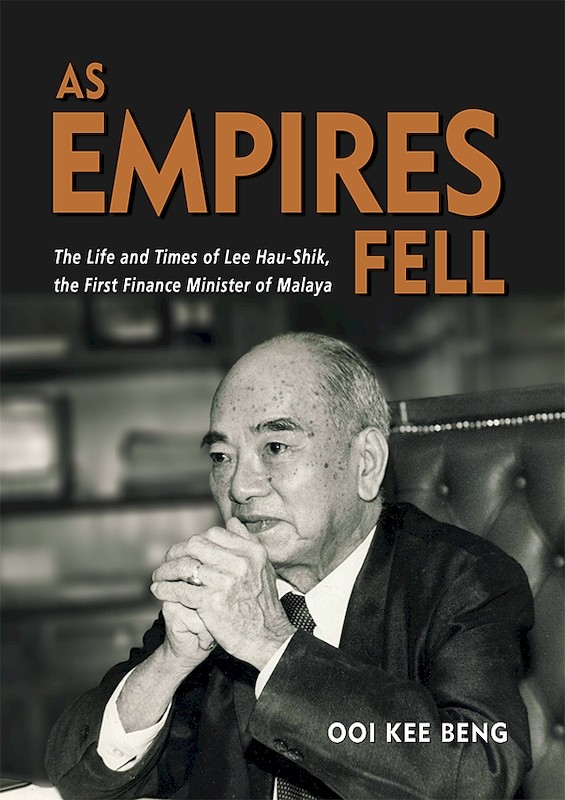 Date of publication:
2020
Publisher:
ISEAS – Yusof Ishak Institute

Ebook is available
Reviews
William Tham, Malaysiakini, 11 July 2020.
"What Ooi does particularly well in this book is how he ties together the myriad threads of Malaysian history, the nuances of which are often lost in most publications in just 206 pages. He brings in seemingly disparate topics ranging from the Indonesian revolution, opium revenue, the Kuomintang's covert presence in Malaya, the pre-and post-war leftist movements and the life of an individual into a coherent story.
But this is not a narrative about how one man changed the fate of a country, but rather it departs from the "great man theory" to show how quite often, one gets caught up in history through the accidents of time and place. One does not necessarily shape history, but rather, one is shaped by it. It is also a closer look at the evolving identity and politics of the Chinese Malaysians as they changed over time and provides a better understanding of where exactly we are today."
About the publication
To understand how independence was gained for a politically complex country such as Malaysia, and how its structure took form requires familiarity with the key players involved. More importantly, only by locating these actors within the changing socio-political context in which they specifically lived does their influence both before and after the birth of the country become clear.
Having written potent biographies about Malaysian and Singapore leaders such as Ismail Abdul Rahman, the Deputy Prime Minister of Malaysia who died in 1973, Goh Keng Swee, the economic architect and one of the founding fathers of the Republic of Singapore, and Lim Kit Siang, the unwavering opposition leader of Malaysia, Ooi Kee Beng now tells the story of Lee Hau-Shik, based on the latter's extensive private papers housed at ISEAS Library, Singapore.
Born in Hong Kong to a highly prominent family at a time when the Qing Dynasty was falling, Hau-Shik received degrees in Law and Economics in Cambridge and became a successful tin miner in British Malaya and an influential member of Kuala Lumpur's colonial society. After the Second World War, his influence in elite circles in China, Britain and Malaya allowed him to play a key role in the gaining of independence for Malaysia. He was one of the founders of the Malayan Chinese Association, and served as the country's first Minister of Finance.
"Ooi Kee Beng's new book on H.S. Lee provides a remarkable picture of an 'unlikely politician' who made major contributions to the formation of the early Malayan state. It adds another dimension of study to the formidable task of nation building in a multi-communal society and is an excellent follow-up to his widely praised study of Tun Ismail as the 'reluctant politician'."
Wang Gungwu, National University of Singapore

"Set against the global turbulence that marks the birth of modern Malaysia, Ooi Kee Beng has given us a compelling account of Sir Henry Lee Hau Shik's personal life and political career, his role in the move to independence and the indelible imprint he left on the country's history. In highlighting and contextualizing H.S. Lee's own papers, As Empires Fell should be read by all those interested in how Malaysia came to be."
Barbara Watson Andaya, University of Hawai'i
Contents
As Empires Fell: The Life and Times of Lee Hau-Shik, the First Finance Minister of Malaya
[Whole Publication, ISBN: 9789814881456], by Ooi Kee Beng,

author

PART ONE: 1901-42

1. Colonial Life Between the Wars

PART TWO: 1942-45

3. Political Awakening Amid Global Wars

4. Finding Refuge in India

PART THREE: 1945-59

5. Politics in a Messy New World

6. Moving Towards Merdeka