The Environments of the Poor in Southeast Asia, East Asia and the Pacific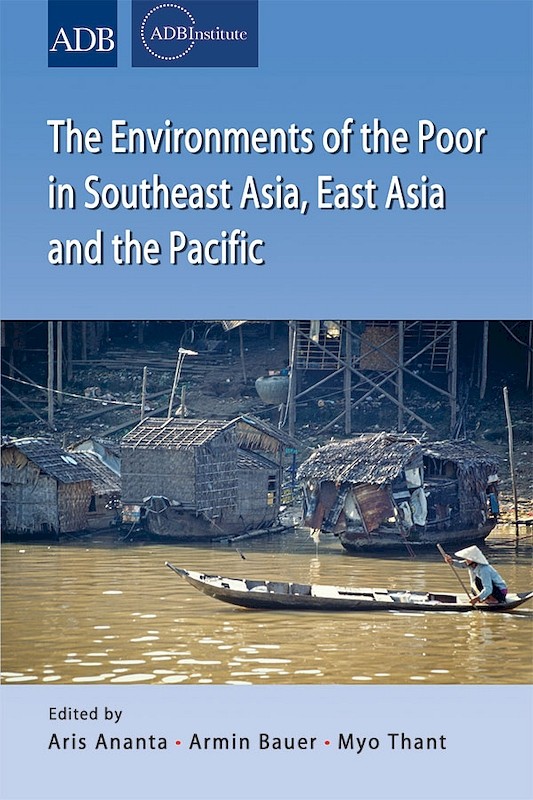 Date of publication:
2013
Publisher:
Institute of Southeast Asian Studies

Ebook is available
About the publication
This book provides examples of possible triple-win solutions for simultaneously reducing poverty, raising the quality of the environment, and adapting to climate change. The book provides empirical evidence and observations from sixteen case studies in Southeast and East Asia, and from the Pacific. It argues that a spatial approach focussing on the environments in which the poor and vulnerable live, would trigger changes for development policies and implementation that better balance environmental and social concerns. In line with the post-2015 Millennium Development Goals (MDG) and Sustainable Development Goals (SDG) agenda, emphasizing integrated development approaches for the slum poor, the upland poor, the dryland poor, the coastal poor, and the flood-affected wetland poor, would also bring the environment and poverty agenda closer.

The book emerged from a cooperation of the Asian Development Bank (ADB) with the Institute of Southeast Asian Studies (ISEAS) in partnership with experts from research institutes and think-tanks in the Asian region.
Contents
The Environments of the Poor in Southeast Asia, East Asia and the Pacific
[Whole Publication, ISBN: 9789814519007]

PART I: OVERVIEW
PART II: EAST ASIA (PEOPLE'S REPUBLIC OF CHINA AND REPUBLIC OF KOREA)

2. Poverty, Environment, and Climate Change in the Grasslands of China, by Tsui Yenhu,

author

3. Climate Change, Food Security, and Poverty in the People's Republic of China, by Qi Gubo,

author

5. Benefiting the Poor, the Environment, and the Private Sector with Small Enterprises and Green Jobs in the People's Republic of China, by Satoshi Sasaki,

author

6. Environment, Economic Growth, and Poverty in the Republic of Korea, by Yong-Seong Kim,

author

PART III: PACIFIC ISLANDS

7. Climate Change Adaptation and Poverty Reduction in Small Islands of the Pacific, by Anjeela Jokhan, Murari Lal,

authors

8. The Role of Development Organizations in Pro-Poor Adaptation to Global Warming in the Pacific Islands, by Paul Bullen,

author

PART IV: MAINLAND SOUTHEAST ASIA (CAMBODIA, THAILAND, VIETNAM)

9. Poverty and the Environment in Rural Cambodia, by Sry Bopharath,

author

PART V: ARCHIPELAGIC SOUTHEAST ASIA (INDONESIA, MALAYSIA, PHILIPPINES)

13. The Political Economy of Environmental Policy in Indonesia, by Arianto A Patunru,

author

15. Making a Living in the Face of Environmental Change: A Case in an Indigenous Community in Sarawak, Malaysia, by Wong Swee Kiong, Ling How Kee,

authors

16. The Response of Rural Coastal Households to Typhoon Milenyo in the Philippines, by Jonna P Estudillo,

author

17. Life Along Manila's Flooding Rivers, by Emma Porio,

author

19. Slum Poverty in the Philippines: Can the Environment Agenda Drive Public Action?, by Marife Ballesteros,

author