Vietnam's Dilemmas and Options: The Challenge of Economic Transition in the 1990s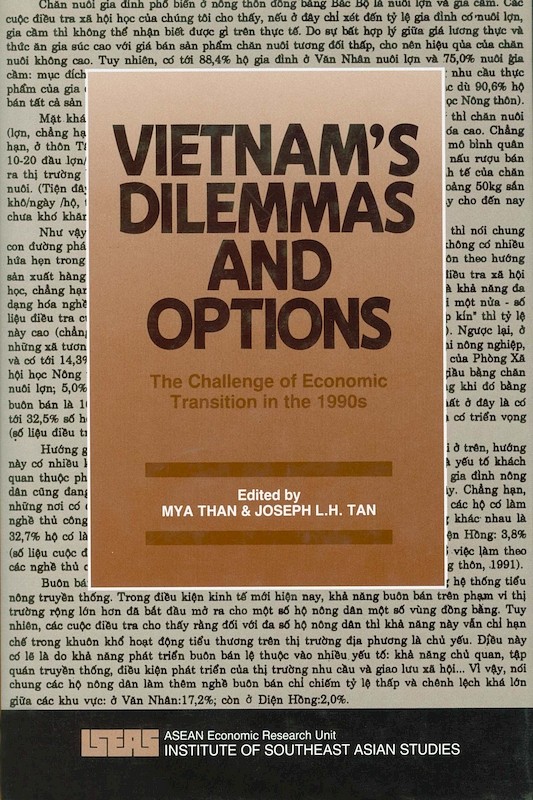 Date of publication:
1993
Publisher:
Institute of Southeast Asian Studies
About the publication
New and exciting economic, political, and social developments have been rapidly unfolding in Vietnam since the mid-1980s. Doi moi (revolution) marks a new stage in the economic development of Vietnam, transforming the failed command/control economy to a market-oriented one. The drastic changes brought about by doi moi within Vietnam and the international events that impinge on it have stimulated several Vietnamese economists and social scientists as well as specialists or "Vietnam-watchers" to analyse the situation and share their knowledge and diverse experience in this timely and useful book.
Contents
Vietnam's Dilemmas and Options: The Challenge of Economic Transition in the 1990s (hard cover)
[Whole Publication, ISBN: 9789814379434]

2. The Role of the State and Economic Development in the Reconstruction of Vietnam, by Dan Ton That,

author

3. Present Phase of Transition to Market Economy in Vietnam, by Tetsusaburo Kimura,

author

4. Industrial Restructuring & Industrial Policy in Vietnam, by Jurgen Reinhardt,

author

5. Industrial Renovation in Vietnam, 1986-91, by Adam McCarty,

author

6. Agricultural Development in Vietnam: Issues & proposals for Reform, by Le Thanh Nghiep,

author

8. Vietnam's External Trade, 1975-91: A Survey in the Southeast Asian Context, by Mya Than,

author

11. Some Reflections on the Development Assistance & Transistional Economies: With Special Reference to Vietnam, by N.V. Lam,

author