Living Next to the Giant: The Political Economy of Vietnam's Relations with China under Doi Moi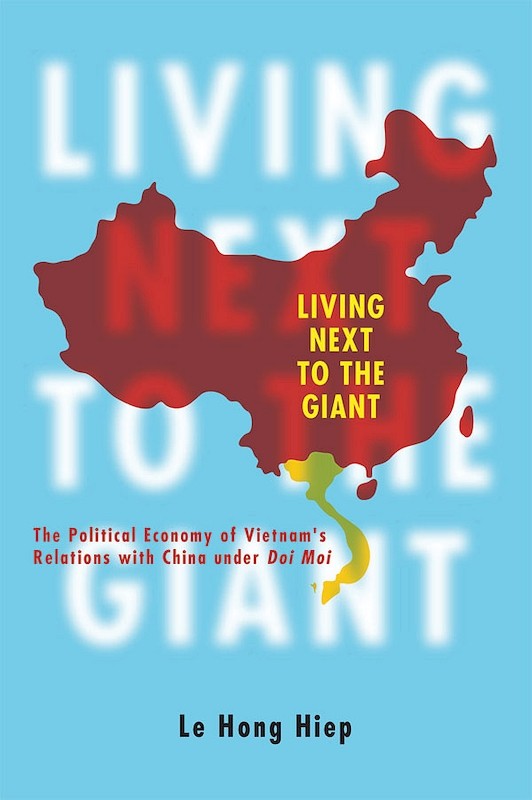 Date of publication:
2017
Publisher:
ISEAS–Yusof Ishak Institute

PDF is available
Review
Thuy T. Do,
Asian Politics & Policy
, Vol. 9 Issue 4, 2017.
"In this thought-provoking volume, Le Hong Hiep provides a comprehensive and in-depth investigation on the dynamics of Vietnam's relations with China from a Vietnamese perspective.
This volume is a good contribution to the understanding of Asian politics in general and Vietnam's China policy in particular. ... there have been prior works on the dynamics of Vietnam-China relations conducted by Western scholars. This is, however, one of the few endeavors by Vietnamese scholars to provide an in-depth analysis of the bilateral relations from the Vietnamese perspective. ... Le Hong Hiep analyzes in a coherent manner how the interplay of the three factors (geographical proximity, power asymmetry, and domestic developments) has shaped the course of Vietnam's relations with China under Doi Moi.
Conceptually, this volume presents an insightful study of Vietnam's hedging strategy. The author applies some realist and liberal assumptions to analyze how Doi Moi has helped Vietnam carry out internal balancing (e.g., preserving internal stability and strengthening its own economy which, in turn, allows the country to improve its military buildup) while managing to forge a closely interdependent relationship with China and enjoying the fruits of its rise. Le Hong Hiep, however, moves beyond the mere application of existing international relations theories. He discusses the limits of democratic peace theory in explaining the democratization and modernization processes in China and Vietnam, as well as questions the neoliberal premise about the pacifying effects of economic interdependence as applied in the case of Vietnam-China relations.
Methodologically, the author employed good qualitative and quantitative methods. He consulted an impressive range of primary and secondary sources, mostly in Vietnamese and English languages, to provide persuasive evidence for his arguments. The selection of the two case studies, namely bilateral economic ties and the South China Sea dispute, is also logical as these are the two most salient issues which have thus far precipitated both cooperation and tension between Vietnam and China. Empirically, Le compiled various tables and figures to help readers gain a better understanding of the overall patterns and key developments in Vietnam's relations with China over time.
Overall, this is a well-thought out and well-written piece of work which adds new substance to the existing body of knowledge about Vietnam's relations with China in history as well as in the current period. .... This work deserves much praise and can hopefully serve as a role model for other Vietnamese scholars in conducting similar rigorous research."
Benedict J. Tria Kerkvliet, Asian-Pacific Economic Literature, 2017.
"In Living Nest to the Giant, author Le Hong Hiep neatly summarizes Vietnamese leaders' approach to dealing with China as a 'calibrated mixture of deference and defiance' (153pp.)
Much of Le Hong Hiep's book is devoted to demonstrating and elaborating this synthesis of Vietnam's relations with China, beginning with an informative historical chapter that starts in 257 BC and ends in the 1970s. The next five chapters emphasize Vietnamese government's policies, actions, and thinking toward China since the 1980s, the decade during which Vietnam embarked on 'renovation' - the doi moi in the book's subtitle - by shifting from a centrally planned economy that was rather isolated from worldwide trade and finance to a market economy that integrated with the expanding global economic system. Of these chapters, the most informative (Chapter 5) demonstrates that Chinese trade, businesses, and investments have greatly increased in Vietnam since the mid 1990s.
Near the end of the book is an innovative chapter in which the author envisages Vietnam-China relations were their regimes to change from authoritarian to democratic. He speculates that if both countries have the same type of political system - nothing remain as they are or both become democracies - chances of good relations will be treated than if one becomes democratic but the other does not. The reason, he suggests, is that having different political systems would exacerbate distrust and undermine peaceful means to manage tensions between the two nations."
About the publication
This book examines how the interaction between political and economic factors under
Doi Moi
has shaped Vietnam's China policy and bilateral relations since the late 1980s.
After providing a historical background, the book examines the conflicting effects that Doi Moi has generated on bilateral relations. It demonstrates that Vietnam's economic considerations following the adoption of Doi Moi contributed decidedly to the Sino-Vietnamese normalization in 1991 as well as the continuous improvements in bilateral ties ever since. At the same time, Vietnam's economic activities in the South China Sea and China's responses have intensified bilateral rivalry and put their ties under considerable strains.
The book goes on to argue that Doi Moi has indeed brought Vietnam newfound opportunities to develop a multi-level omni-directional hedging strategy against China. Finally, the book concludes by looking at the prospects of democratization in both countries and assessing the future trajectory of their relations under such circumstances.
As the most comprehensive and up-to-date survey of Vietnam's relations with China over the past thirty years, the book is a useful reference source for academics, policymakers, students, and anyone interested in contemporary Vietnam foreign policy in general and Vietnam
–
China relations in particular.
Contents
Living Next to the Giant: The Political Economy of Vietnam's Relations with China under Doi Moi
[Whole Publication, ISBN: 9789814459648], by Le Hong Hiep,

author

2. The Historical Context of Vietnam–China Relations

3. Vietnam's Doi Moi and Its Quest for Normalized Relations with China

4. Overview of Vietnam's Economic Development and Relations with China under Doi Moi

5. The Political Economy Dimensions of Vietnam–China Economic Relations

6. The Economic Determinants of Vietnam's South China Sea Disputes with China

7. Vietnam's Hedging Strategy against China since Normalization

8. The Prospects of Democratization in Vietnam and China and Implications for Bilateral Relations

9. Conclusion: The Lessons of Doi Moi for Vietnam's China Policy