Australia's Policy Towards Indonesia During the Confrontation, 1962-66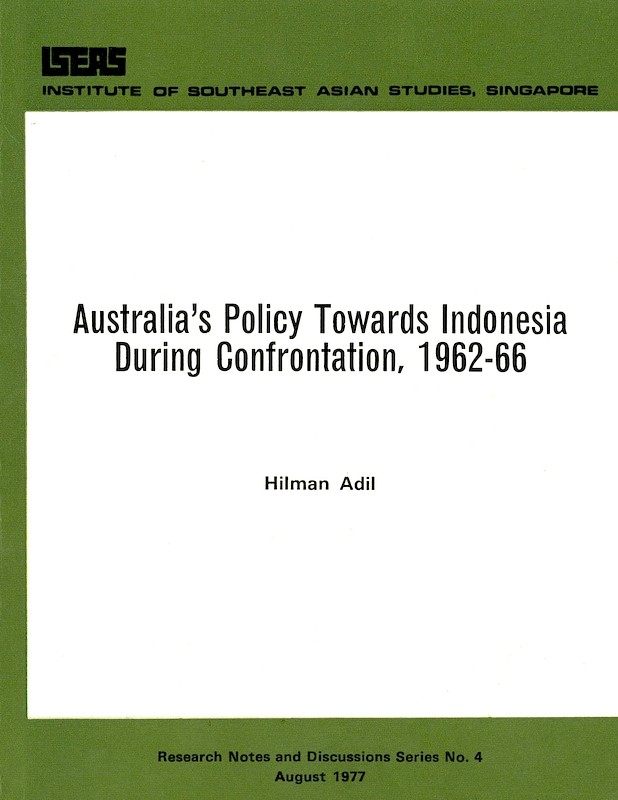 Date of publication:
1977
Publisher:
Institute of Southeast Asian Studies
About the publication
Studies a high period of tension in the relations between the two countries, paying special attention to the impact of considerations of security in Australia's foreign policy towards Indonesia. This period saw a concerned Australian Government become deeply involved in the Confrontation conflict between Malaysia and Indonesia. In four chapters entitled 'Patterns of Australian Foreign Policy', 'The Setting of Australian Indonesian Relations During the Period of Confrontations Against Malaysia', 'Australia's Response to Indonesia's Opposition to the Malaysian Proposal', and 'Conclusion'. Contains an Appendix on the Manila Agreements.
Co-publication: Institute of Southeast Asian Studies
Institute of Southeast Asian Studies
Contents
Australia's Policy Towards Indonesia During the Confrontation, 1962-66
[Whole Publication, ISBN: 9789814377706]

Australia's Policy Towards Indonesia During Confrontation, 1962-66