Political Authority in Burma's Ethnic Minority States: Devolution, Occupation, and Coexistence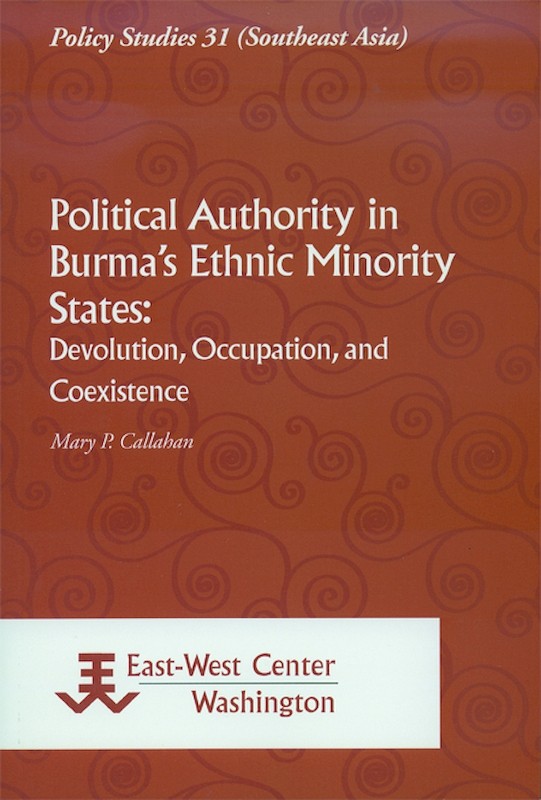 Date of publication:
2007
Publisher:
East-West Center
About the publication
This study examines the enormous variation and complexity that characterize relationships between the national state and locally-based, often non-state actors who negotiate and compete for political authority in Burma's ethnic minority-dominated states along the borders.
Three patterns of relationships are explored: devolution by the national state to warlord-like local authorities; occupation by the Burmese military; and coexistence (with varying degrees of cooperation and understanding) among actors from the national state and local stakeholders.
Throughout these border states, leaders of the Burmese governments armed forces and of past and currently-active armed opposition forces operate within a context that is neither war nor peace, but instead a kind of post-civil-war, not-quite-peace environment.
To understand the complex political arrangements that have arisen in this environment, this monograph employs the concept of "emerging political complex" -- a set of adaptive networks that link state and other political authorities to domestic and foreign business concerns (some legal, others illegal), traditional indigenous leaders, religious authorities, overseas refugee and diaspora communities, political party leaders, and nongovernmental organizations. All of these players make rules, extract resources, provide protection, and try to order a moral universe, but none of them are able, or even inclined, to trump the others for monolithic national supremacy. Conflict resolution strategies have to recognize that these emerging political complexes are not simply unfortunate bumps in the road to peace but instead constitute intricate and evolving social systems that may continue to be adapted and sustained.





Co-publication: East-West Center
Policy Studies series publication on Southeast Asia, co-published by the East-West Center and ISEAS. Available exclusively from ISEAS for distribution in Asia.
Contents
Political Authority in Burma's Ethnic Minority States: Devolution, Occupation, and Coexistence

The Extremes: Devolution vs. Occupation and War

Coexistence: Resignation, Accommodation, and Acceptance

Project Information: Internal Conflicts and State-Building Challenges in Asia

Policy Studies: List of Reviewers 2006-07

Policy Studies: Previous Publications