ASEAN-Russia: Foundations and Future Prospects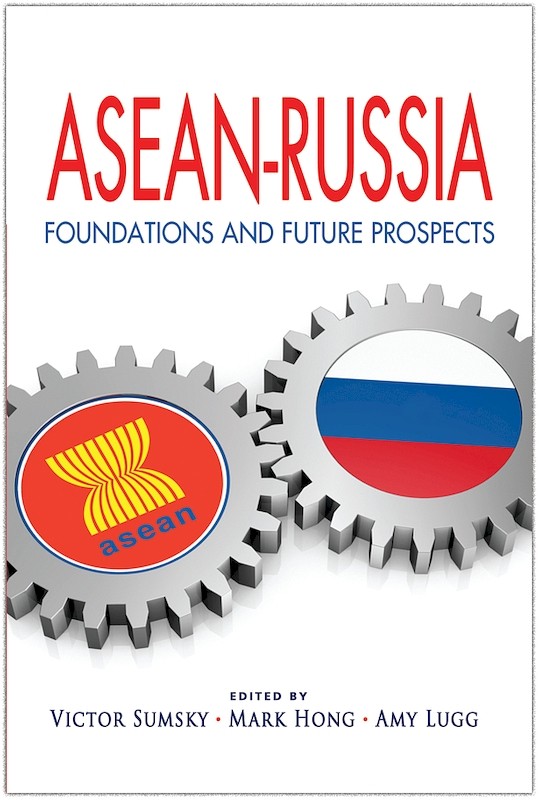 Date of publication:
2012
Publisher:
Institute of Southeast Asian Studies

PDF is available
About the publication
In 2012, Russia assumes the Chairmanship of APEC, and is keen to build on its memberships of both the East Asia Summit (EAS) and the Asia-Europe Meeting (ASEM). Russia is geographically and historically part of Asia and the Asia Pacific, and has been a dialogue partner of ASEAN since 1996. Still, the obstacles of distance and languages have led ASEAN member states and Russia to know and interact little between both sides. As growth poles in the world economy, there is much benefit in greater interaction between their rich economies. To commemorate the 15th Anniversary of the Russia-ASEAN dialogue partnership in 2011, the ASEAN Studies Centre at ISEAS and its counterpart from MGIMO-University, Moscow co-organized a two-day conference that year, in which papers were presented offering perspectives from Russia and the ten ASEAN member states. Representatives from academia, and the public and private sectors offered insights on topics including geopolitics, bilateral relations, business and economics, and culture and education. This is a timely book that affords the reader insights into where ASEAN-Russia relations currently stand and suggests how they can improve and move forward.
Contents
ASEAN-Russia: Foundations and Future Prospects
[Whole Publication, ISBN: 9789814379588]

SECTION I: WISEMEN'S VIEWS

1. From Energy Partnerships to Comprehensive Security in the Asia Pacific, by Gleb A. Ivashentsov,

author

2. The Rise of Asia and Russia's Options, by Mark Hong,

author

4. Thoughts on Asian Community Building, by Rajiv Sikri,

author

SECTION II: GEOPOLITICS

7. ASEAN-Russia Military Ties: Reconfiguring Relations, by Robert Karniol,

author

8. The Enlargement of the East Asia Summit: The Reasons and Implications of Bringing Russia In, by Victor Sumsky,

author

10. Russia-India-China: Acting in Concert in Southeast Asia?, by Natalia V. Stapran,

author

11. The South China Sea Issue: A View from Russia, by Evgeny Kanaev,

author

12. Southeast Asia and Russia: Forging a New Regional Architecture, by Pushpa Thambipillai,

author

13. Russia-ASEAN Relations: An Indian Perspective, by Vijay Sakhuja,

author

SECTION III: BILATERAL RELATIONS

14. What Singapore May Offer to Russia? The Present State and the Prospects of Relations, by Mark Hong,

author

15. Myanmar-Russia Relations in a Changing World: Growing Ties based on Strategic Partnership and Economic Prospects, by Thaung Tun,

author

18. Russia and Vietnam: Building a Strategic Partnership, by Vladimir Mazyrin,

author

19. Malaysia-Russia Relations: Revving up a Distant Relationship, by Johan Saravanamuttu,

author

20. Cambodia and the USSR/Russia: Fifty-five Years of Relations, by Sok Touch,

author

SECTION IV: BUSINESS AND ECONOMICS

21. Russia and ASEAN-4: Potential and Realms of Cooperation, by Vladimir Mazyrin,

author

22. Russia's Economic Relations with the APEC Region, by Carlos Kuriyama,

author

24. Indonesian and Russian Oilmen: Sharing Experiences and Learning from Each Other, by Victor Tarusin,

author

SECTION V: CULTURE AND EDUCATION

28. A Sentimental Journey through ASEAN (in the Russian Way), by Vladimir Anisimov,

author

30. No Books about Singapore in Russian? Give me a Break! (An Editor's Note), by Victor Sumsky,

author

31. National University of Singapore (NUS)-Russia: State of Collaboration, by Anne Pakir,

author

32. Soft Power: A Comparison between Britain, France and Russia, by Amy Lugg,

author

EPILOGUE