Civilizations in Embrace: The Spread of Ideas and the Transformation of Power; India and Southeast Asia in the Classical Age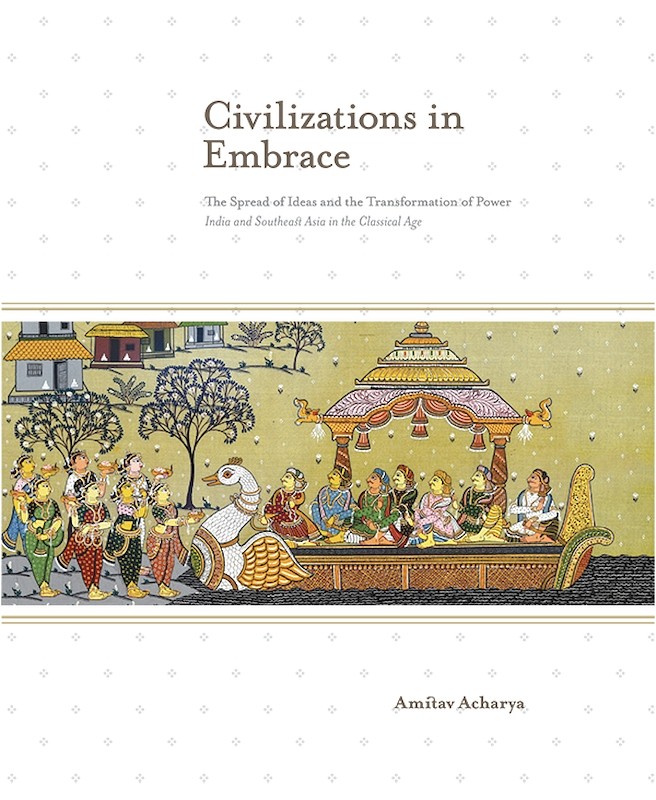 Date of publication:
2012
Publisher:
Institute of Southeast Asian Studies

Ebook is available
Review
Rahu Mishra. India Quarterly, 71(4): 1-3, 2015.
".... the work is also a substantial contribution to the academic works on India–Southeast Asia relations, which has also been a matter of scholarly deliberations, particularly in the last one decade.
.... The book, which targets the broader circle of readers interested in interactions between India and Southeast Asia, aims to contribute to the debate surrounding dialogue among civilisations and the ways and means through which they interact, particularly in the Indian context. The book, undoubtedly, does fairly well in meeting its objective.
.... A fascinating feature of the book is the photo section, which includes pictures taken by the author during his visits across several ancient cities across Southeast Asia, which in turn makes a significant portion of his work a first-hand experience. The ones worth mentioning include Cambodia, Java (Indonesia), Vietnam and Myanmar.
Acharya's work is an attempt to answer a few under-researched questions pertaining to India's influence over the Southeast Asian region across millennia. Analysing politico-cultural interactions through the lens of local initiative, localisation and convergence, Acharya has demonstrated that the process of such encounters can be pacific, and outcome-productive. With these ideas, he has certainly triggered a fresh debate on the discourse on 'civilisation interactions'.
... one may say that the book is a value addition to the existing literature as it provides one with exhaustive details of theoretical underpinnings of spread of India's soft power influence on the Southeast Asian region. Therefore, as India's interest in the Southeast Asian region is rejuvenating, it is strongly recommended for those interested in the study of transformation of various aspects of power and spread of Indian culture and influence on Southeast Asia in particular."
Michael, Arndt.
Internationales Asien Forum
. International Quarterly for Asian Studies, May 2013.
"The title which renowned Southeast Asian scholar and political scientist Amitav Acharya has chosen for his latest book embodies the major thrust and content of his main argument: when two ancient civilisations – the Indian and the Southeast Asian – met, they embraced, and they did not clash. ....
Acharya managed to seamlessly connect processes of ideational transmission with concepts of power, agency and identity in a brief and convincing study. The book constitutes an important contribution to the literature on international norm diffusion and transmission of ideas and will not only appeal to scholars and students of Southeast Asia, but to all those interested in question of how ideas travel and are treated and transformed in regional worlds."
About the publication
This study revisits one of the most extensive examples of the spread of ideas in the history of civilization: the diffusion of Indian religious and political ideas to Southeast Asia before the advent of Islam and European colonialism. Hindu and Buddhist concepts and symbols of kingship and statecraft helped to legitimize Southeast Asian rulers, and transform the political institutions and authority of Southeast Asia. But the process of this diffusion was not accompanied by imperialism, political hegemony, or colonization as conventionally understood. This book investigates different explanations of the spread of Indian ideas offered by scholars, including why and how it occurred and what were its key political and institutional outcomes. It challenges the view that strategic competition is a recurring phenomenon when civilizations encounter each other.
Contents
Civilizations in Embrace: The Spread of Ideas and the Transformation of Power; India and Southeast Asia in the Classical Age
[Whole Publication, ISBN: 9789814379748]

2. Debating Indian Influence in Southeast Asia

3. "Indianization", "Localization" or "Convergence"?

4. Understanding How and Why Ideas Spread

5. "Hellenization" of the Mediterranean Compared to "Indianization" of Southeast Asia: Two Paradigms of Cultural Diffusion?