The Indonesian Military Enjoys Strong Public Trust and Support: Reasons and Implications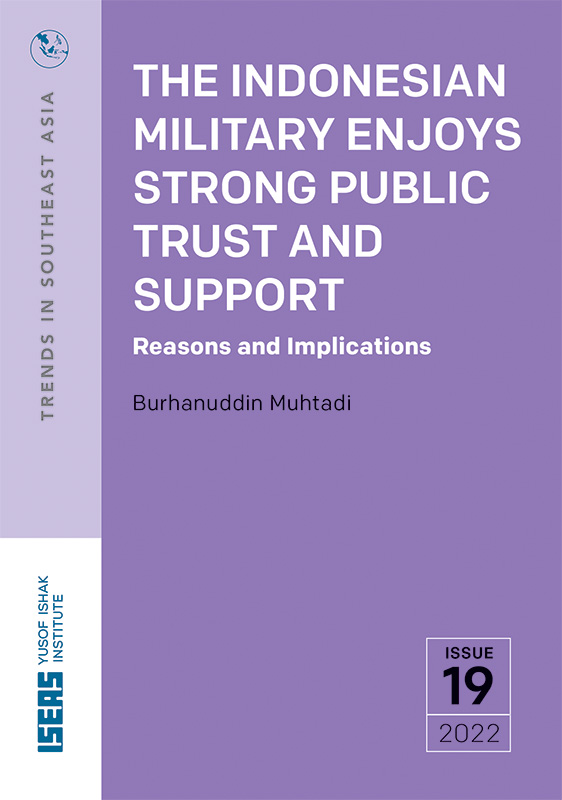 Date of publication:
2022
Publisher:
ISEAS – Yusof Ishak Institute

Ebook is available
About the publication
Opinion polls in Indonesia have repeatedly shown that the Indonesian National Army (TNI) is the state institution that enjoys the highest level of public trust. This is not something that is exclusive to Indonesia, however; according to several studies, people around the world place a higher level of trust in their military than they do in other institutions.
Even though there has been a surge of writing, both scholarly and non-scholarly, on this subject, there is a lack of information regarding the reasons why people put more faith in the military than in other institutions. Moreover, in Indonesia, public trust in the military has not been shaken despite the extensive anti-military campaigns that have been waged by the media and activists.
Consistent with previous works, the findings of my September 2021 survey indicate that the TNI has continued to enjoy the highest level of public trust among state institutions when compared to other political and social institutions. The respondents are also of the opinion that the military has been acting in the public's best interests.
Two of the five factors analysed as potential determinants of trust consistently and significantly explain the level of public trust in the TNI. First, respondents will have greater faith in the TNI the more they disagree with assertions that alleged human rights violations are the result of foreign interference or foreign fabrication. The public views human rights violations by the military as an unfinished internal reform task for the TNI; consequently, the public expects the military not to deflect blame onto external parties. Professionalism is also a significant predictor of public trust and confidence in the TNI being at the vanguard of representing the people's interests.
High levels of public trust in the military over the past few years have been followed by a rise in public support for a military government and strongman leaders. This trend occurs in the context of several worrisome factors, such as a reversal in the democratic consolidation process, President Joko Widodo's (Jokowi) lack of ideological commitment to democracy, and the growing involvement of the military in non-traditional roles.
Contents
The Indonesian Military Enjoys Strong Public Trust and Support: Reasons and Implications
[Whole Publication, ISBN: 9789815104004], by Burhanuddin Muhtadi,

author